This post may contain affiliate links, which means I earn a small commission if you purchase something I recommend - at no additional cost to you! Thank you for supporting this blog!
Air Fryer Chicken Thighs are rich, flavorful, and surprisingly fail proof! They're rich in vitamins and healthy fats, and perfect for family dinners, meal prepping, and leftovers alike.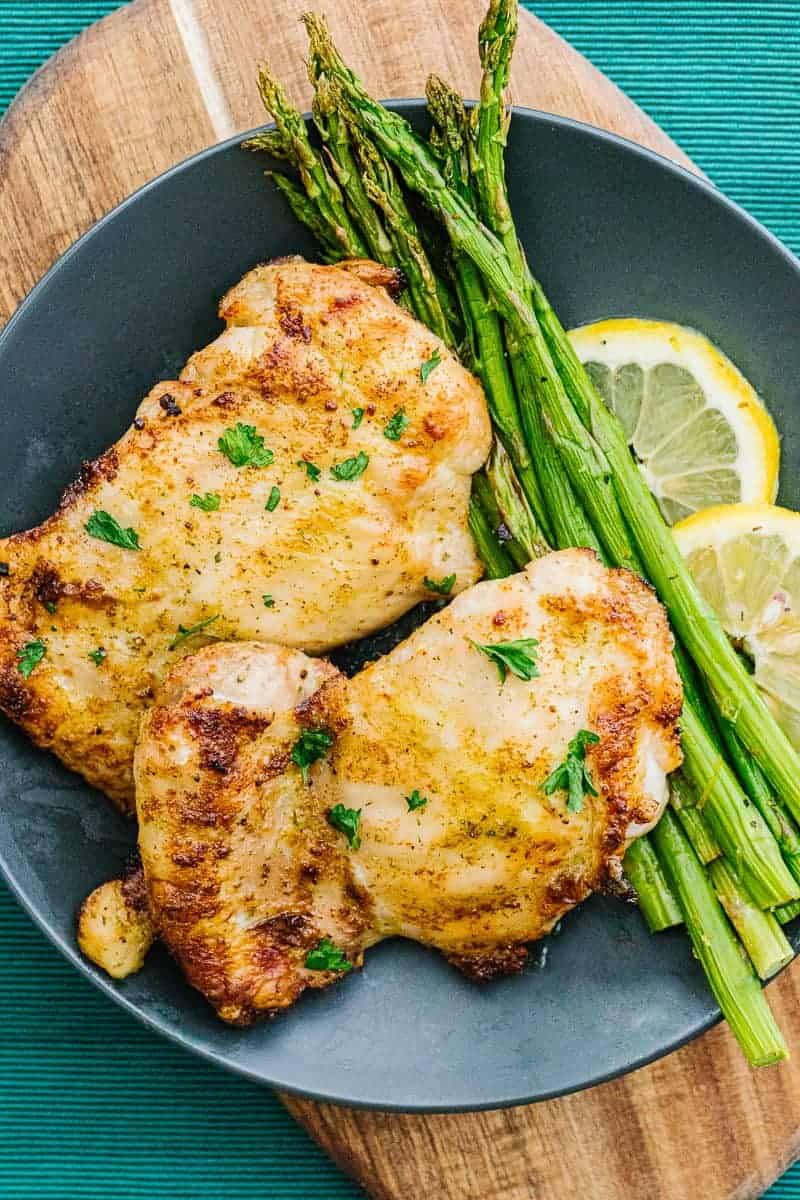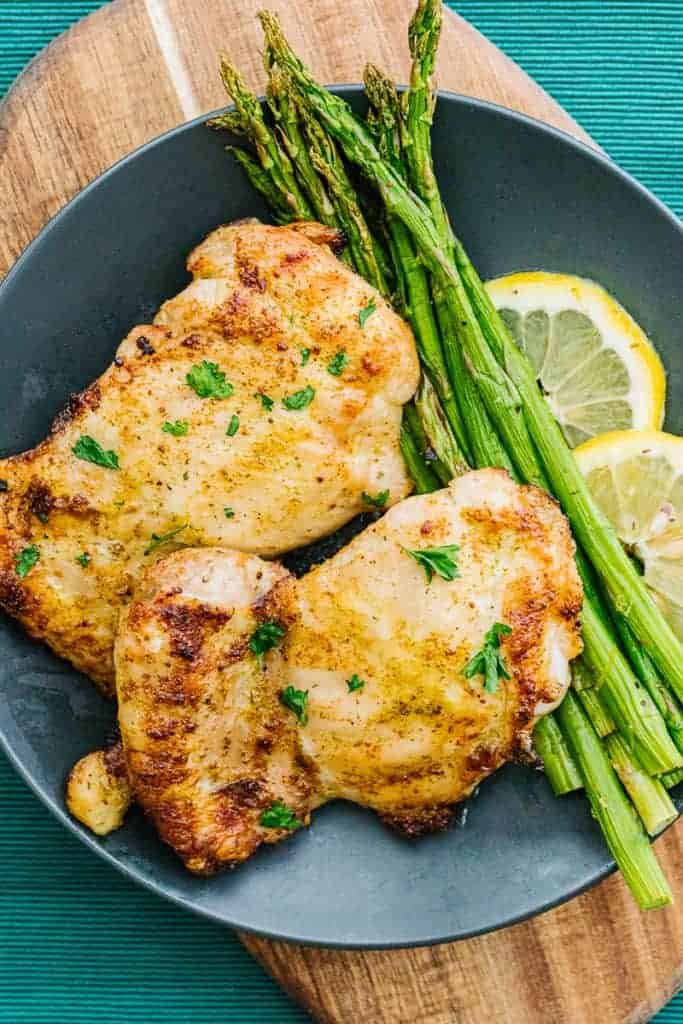 Perfect Air Fryer Boneless Skinless Chicken Thighs
Boneless skinless chicken thighs are super convenient, and they're easier to cook than bone-in, skin-on chicken thighs. They also waste less meat, and they're usually priced really well. If you have any extra meat, try my Instant Pot Chicken Thighs from Fresh or Frozen.
Boneless skinless chicken thighs have great flavor, so they're one of my favorite meats to marinate. Making them in the air fryer is really healthy and convenient — and they cook in half the time of traditional bone-in, skin-on chicken thighs.
Making chicken in the air fryer (fresh or frozen) is so easy. You need my Air Fryer Chicken Wings recipe next!
Air Fryer chicken thighs and potatoes
If you have room in your air fryer basket, you can make chicken thighs and potatoes at the same time! The process is similar to how I make Air Fryer Salmon and Air Fryer Green Beans at the same time. I also make this chicken with Air Fryer Asparagus at the same time.
Add your seasoned chicken and cubed potatoes (I like using red, russet, or fingerling/baby potatoes) to the air fryer basket and cook for 18 minutes, shaking about halfway through. If the chicken finishes cooking first, you remove it to a plate and cover with foil, then continue cooking the potatoes until you reach your desired texture.
The thing about chicken thighs in the air fryer is that even if you cook them longer than necessary, they hardly EVER dry out!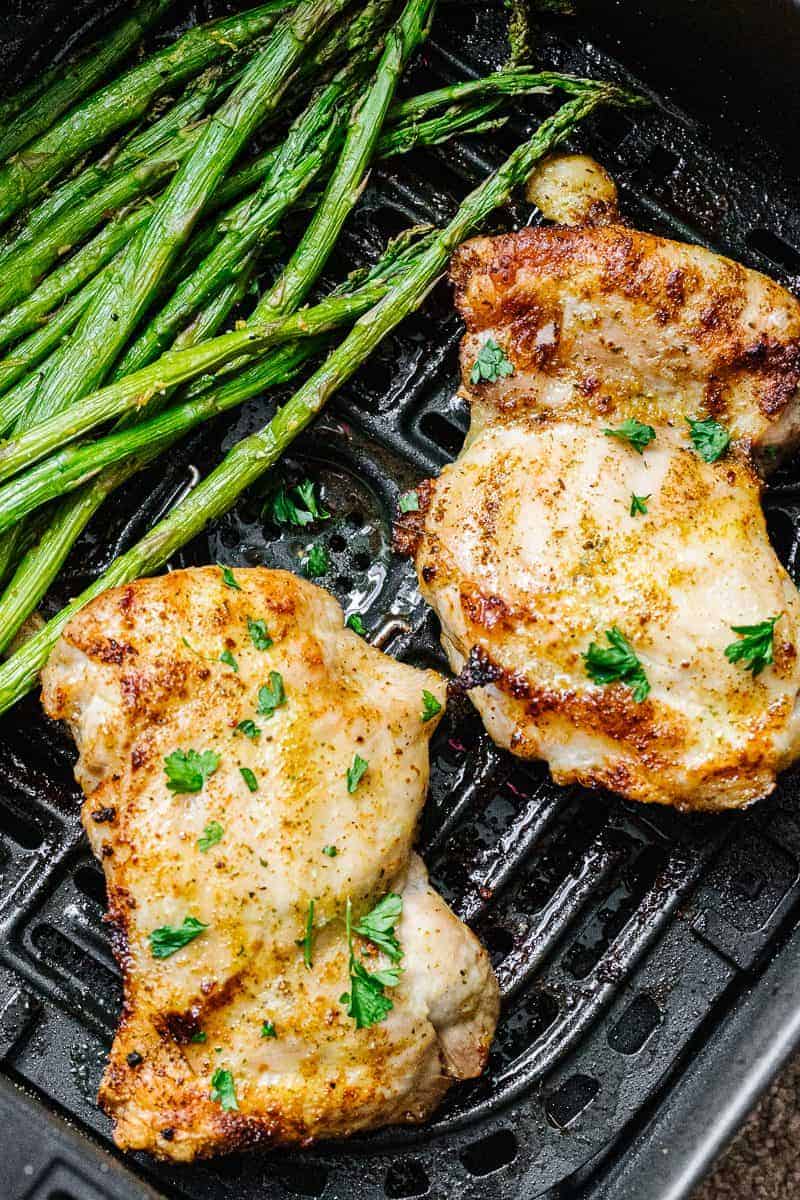 Thigh vs breast meat
Have you ever wondered the difference between thigh and breast meat? While both meats are undeniably yummy, they do have distinct differences—and their mode of preparation is different as well.
On a practical note, breasts tend to be easier to buy (they often come in large frozen bags), but thighs are usually cheaper. The key difference between the two is that thighs are dark meat while breasts are white meat. This means that the thighs will have more flavor, but they'll also have a slightly higher fat content (especially if you cook them with the skin on).
Fortunately, the fat in chicken thighs is the healthy kind. It makes a single serving more satisfying and keeps you fuller, longer. Air frying is a great method to cook chicken thighs because it allows you to enjoy the flavor and satisfaction of those healthy, natural fats without adding any additional fats from frying oils.
Learn how to make Air Fryer Chicken Breasts here.
Other ways to season air fryer chicken thighs
Much like Air Fryer Chicken Breasts, these thighs are a base recipe that can transform into a thousand different variations. I've seasoned these chicken thighs simply with salt, pepper, garlic pepper seasoning, and paprika, but you can really use any dry seasoning on them!
You can experiment with your own blends, or you can buy them premixed—Trader Joe's always has interesting new blends, as do most local grocery stores. HomeGoods and boutique grocery stores often have particularly unique or local spice blends to try.
You can even marinate your chicken thighs in your favorite marinade before air frying. Just make sure you leave a little bit of reserved marinade (not the stuff your raw chicken was in!) for basting afterwards.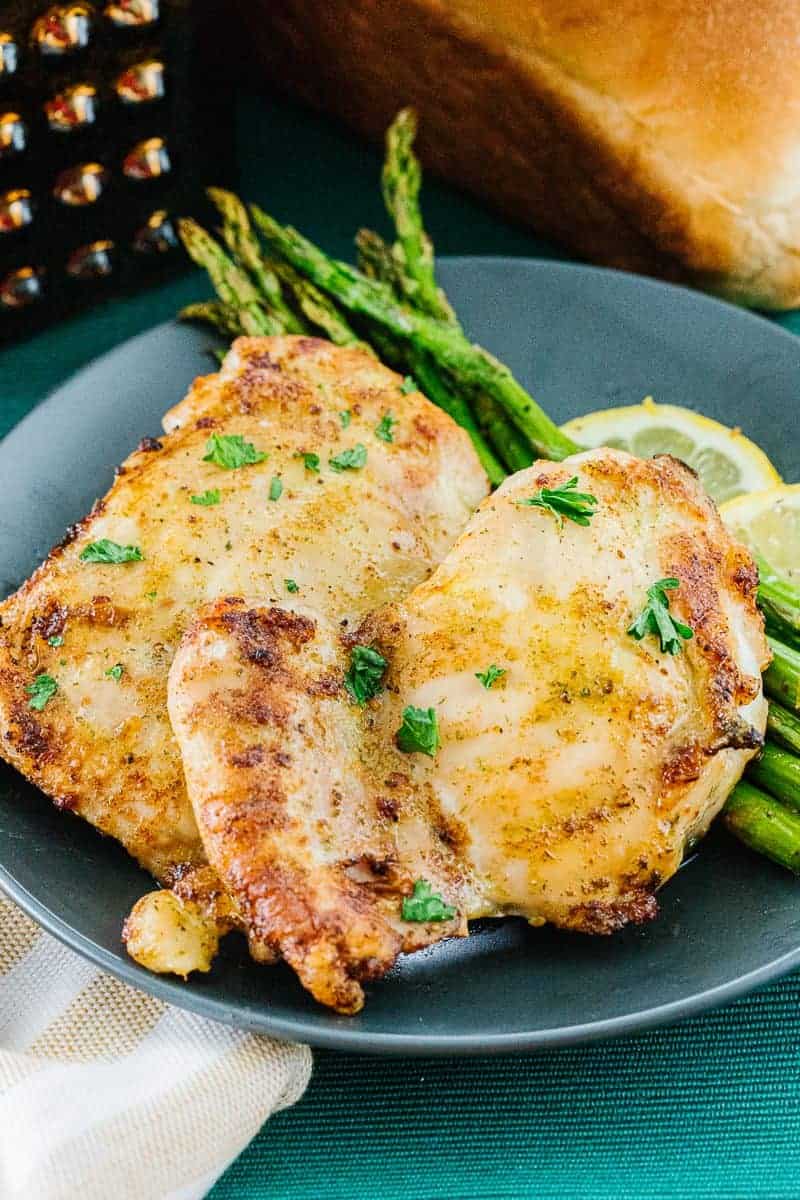 How to make chicken thighs in the air fryer
You'll want to season your chicken, then add it to a hot air fryer (take care not to let the pieces overlap!). Flip each piece once during cooking. Thankfully, because chicken thighs are dark meat, they're incredibly juicy and hard to dry out. And because they have more fat than chicken breasts, they're more tender and flavorful.
How long to air fry chicken thighs
Chicken thighs cook super quickly in the air fryer- 400º for 11-17 minutes. The smaller ones take about 10 minutes, and the larger, thicker pieces took me 17 minutes.
Be sure to cook your chicken thighs until an instant read thermometer reaches 165º at the thickest point of each thigh. I only use my Thermapen One and I use it daily!
How to use air fryer chicken thighs
These air fryer chicken breasts are yummy enough to serve up plain, fresh out of the air fryer, but that's not the only way to eat them! I like to serve them with some fresh veggies or potatoes for a quick and easy meal, but they're also great for meal prepping. Just pop them into a container with a side of your choice, and you have an easy meal-to-go.
You can also shred leftover meat and add it to salads, soups, and sandwiches—especially if the seasoning was relatively neutral. Sometimes I toss leftover chicken with some BBQ sauce and bake it onto a quick pizza!
I pulled together 100+ of my best Instant Pot chicken recipes that can help if you need some inspiration. My famous Instant Pot Chicken Noodle Soup recipe is a classic for leftover chicken.
More delicious and easy chicken recipes
Air Fryer Chicken Thighs
Air Fryer Chicken Thighs are rich, flavorful, and surprisingly fail proof! They're rich in vitamins and healthy fats, and perfect for family dinners, meal prepping, and leftovers alike.
Print
Pin
Rate
INGREDIENTS
4-5

boneless

skinless chicken thighs

3

teaspoons

seasoning blend

lemon pepper, bbq seasoning, or a mix of salt, pepper, and garlic powder
INSTRUCTIONS
Preheat the air fryer to 400º.

Season the chicken with your favorite blend or salt/pepper mix. You can also air fryer marinated chicken thighs.

Place the chicken into the basket to allow as much air flow around each piece as possible. I can fit 4-5 pieces in my air fryer. Do not overlap the chicken.

Cook for 11-17 minutes, flipping once halfway through cooking. Smaller pieces will cook in as little ast 10-12 minutes, while larger pieces can take up to 20. Always check the temperature of your chicken in the thickest portion. It should register a minimum of 165º for safely cooked chicken.

Remove the chicken from the air fryer and let rest 2-4 minutes and serve.
NOTES
I do not add extra oil or grease to my chicken thighs, as they already have a lot of fat in the cut of meat itself. I don't find that I need it for flavor or for appearance. You may spritz or brush your chicken with some extra virgin olive oil before cooking and seasoning, if you desire.
NUTRITION
Serving:
1
g
|
Calories:
463
kcal
|
Carbohydrates:
1
g
|
Protein:
68
g
|
Fat:
22
g
|
Saturated Fat:
7
g
|
Polyunsaturated Fat:
15
g
|
Cholesterol:
342
mg
|
Sodium:
2775
mg
|
Fiber:
1
g
---
---