*This post may contain affiliate links. This means as an Amazon Associate and affiliate for other products, I earn from qualifying purchases at no extra cost to you.
Air fryer salmon is moist, mess-free, and basically foolproof. Making salmon in the air fryer is so easy that it'll definitely make it into your regular dinner rotation.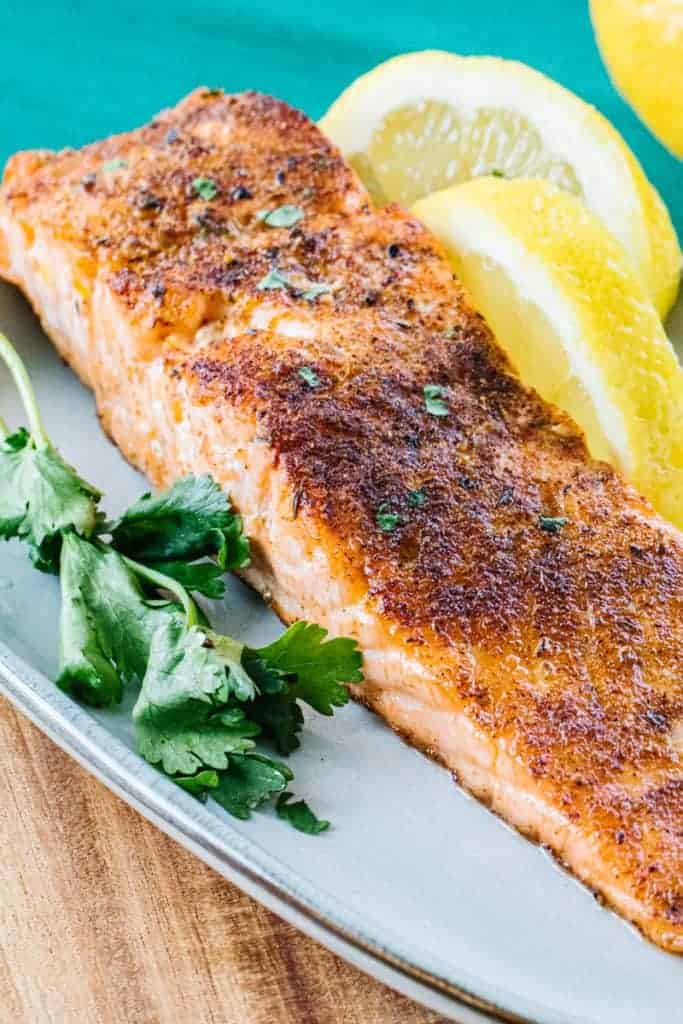 Air fried salmon recipe
Salmon is one of those meals that's so good, but at the same time, can be intimidating to cook if you're not used to it! Salmon is my absolute favorite protein. I usually season with kosher salt and pepper and pan-fry in a searing hot pan with butter, but this Air Fried Salmon recipe is ten times easier, faster, and less messy.
And that's just one more reason that I love my air fryer. Ever since I developed this air fryer salmon recipe, it's been game over for dried out salmon! Because the air fryer takes all of the guesswork out of the process, this recipe never fails to impress.
This recipe is basic: fresh salmon, neutral oil, some light seasonings, and lemon to top. Once you've mastered this basic, take it and run with it! I've included my favorite variations below (teriyaki salmon and garlic butter salmon), but I'd love to hear what you come up with!
Instant Pot Salmon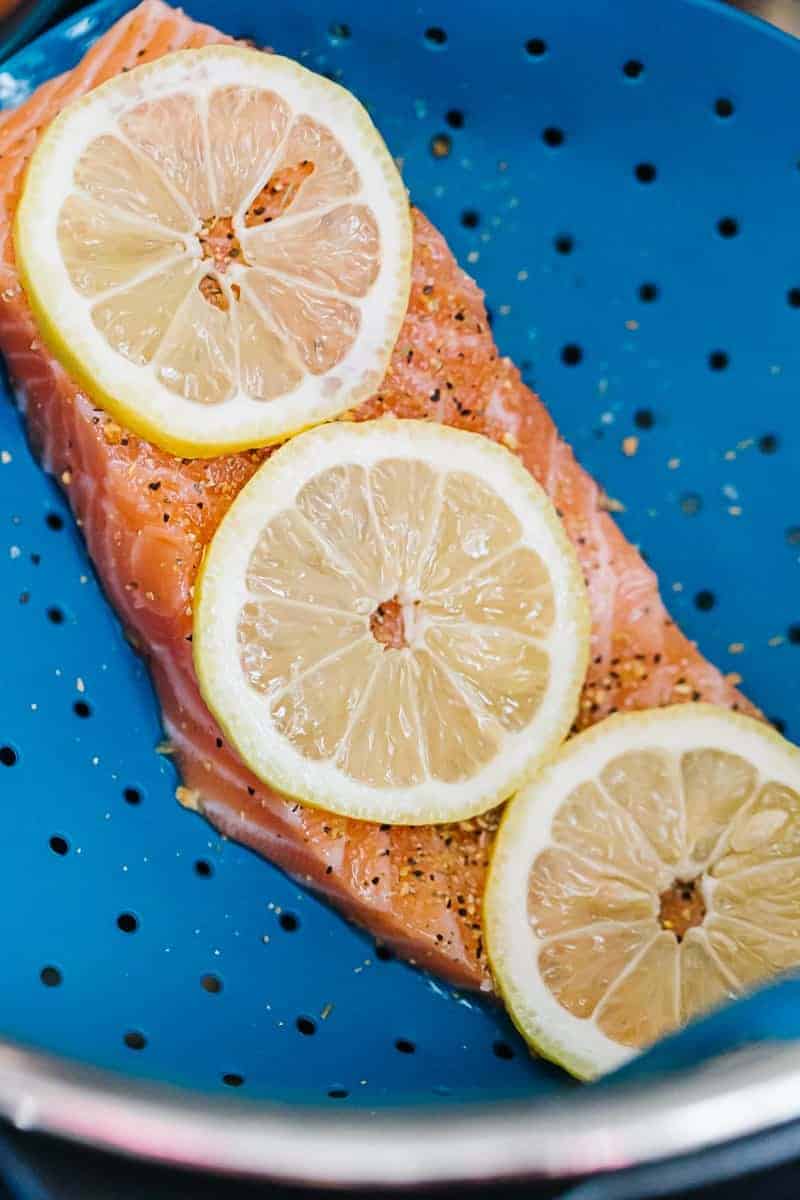 If you're looking for a healthy way to cook a soft, moist salmon filet, you'll want the recipe for Instant Pot Salmon. Making salmon in your pressure cooker makes it incredibly easy, healthy (no oil) and tender. Air fryer salmon will give you a crispier salmon filet.
Frozen salmon in the air fryer
While this recipe is for a fresh salmon filet, you can use frozen salmon in your air fryer as well.
Since seasonings won't stick to a frozen piece of salmon, you'll have to brush or spray the salmon with some oil to help the seasoning stay on.
Another option is to let the salmon cook in the air fryer for about 3 minutes to let it thaw, then season it in the air fryer.
Frozen salmon filets are almost always sold in thin, vacuum sealed bags where the fish is about a centimeter thick. That's way thinner than a fresh filet, which is usually about an inch thick. If your frozen salmon is less than an inch thick, you'll be able to cook the salmon in the air fryer for the same amount of time as a thicker, fresh filet.
If you're unsure, always use an instant-read cooking thermometer and cook salmon until it reaches an internal temperature of 145º F.
Teriyaki salmon
Teriyaki salmon is a great way to spice up a classic. To make teriyaki salmon in your air fryer, season your salmon with salt and pepper, then place it in an oven-safe dish that will fit into your air fryer. I like using a small cake pan.
If you don't have a pan that will fit in your air fryer, you can make a tray using heavy duty foil. Take a double layer of foil, then fold up the sides as tightly as possible to make a small tray. Pour 1-2 tablespoons of teriyaki sauce onto each portion of salmon, then air fry as directed in the recipe. Carefully remove the salmon from the air fryer with a spatula and baste with additional teriyaki sauce before serving.
Garlic butter salmon
Garlic butter salmon is another favorite at my house. You'll follow the instructions for teriyaki salmon above, but instead of using teriyaki sauce, you'll use your favorite garlic butter. You can use store-bought garlic butter, or you can mix your own with a little butter, salt, pepper, italian seasoning, and fresh garlic or garlic powder.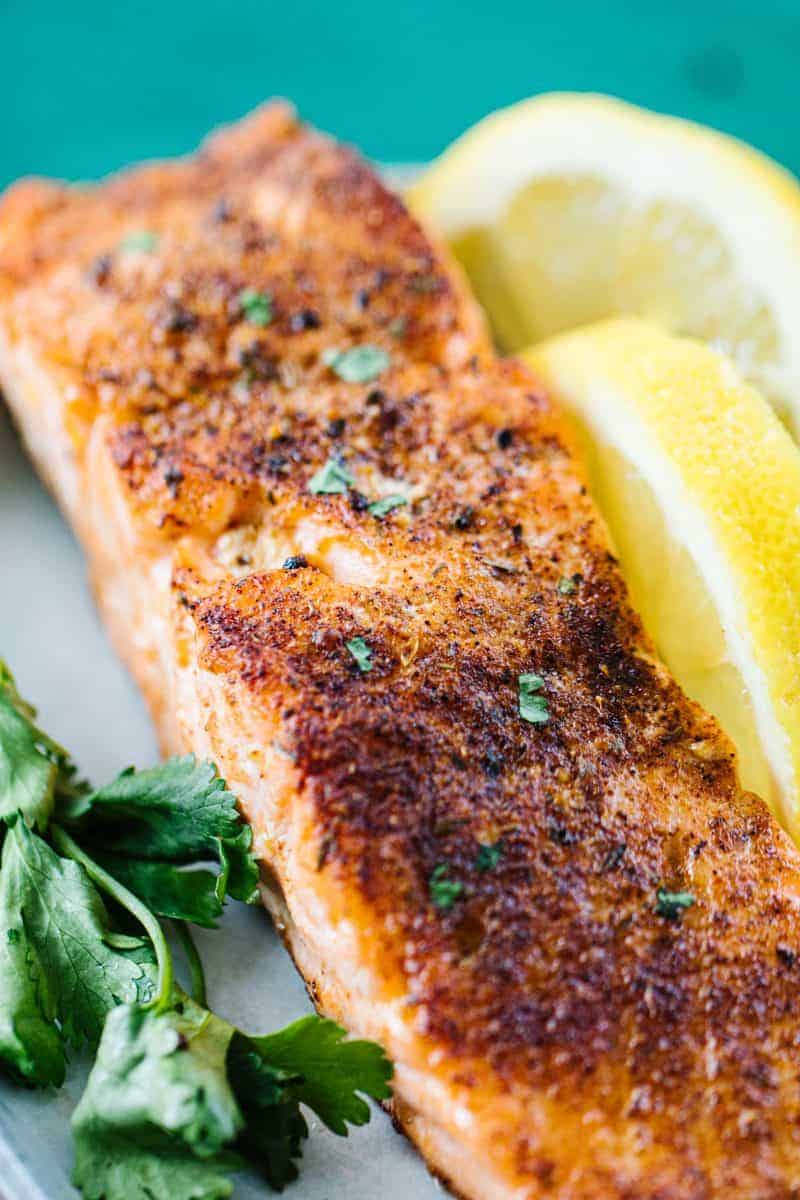 How to make air fryer salmon
To make this (incredibly easy) recipe, start by preheating your air fryer to 400º F. While that's heating, brush each side of your salmon filets with oil, then sprinkle them with your preferred seasoning.
I love using cajun seasoning or Redmond's organic lemon pepper seasoning,but you can't go wrong with just a little simple kosher salt and pepper.
If you don't have a heatproof silicone basting brush (you need one!), you can spray the salmon with a sprayable oil–I use olive oil in this oil mister.
That's all of the prep work needed! Place each fillet into the preheated air fryer basket and cook for about 9-11 minutes. If you have a meat thermometer, you'll want to look for 145º on the thickest part of the filet.
Remove and serve with a squeeze of lemon.
Air fryer salmon and vegetables
Cook this salmon with fresh green beans or broccoli at the same time for a zero-hassle meal. After 3 minutes of cooking the salmon, add some seasoned green beans or broccoli to the air fryer and cook for the rest of the cooking time. I like to toss my veggies with a little oil, salt, and pepper before air frying.
What to serve with salmon
About Lisa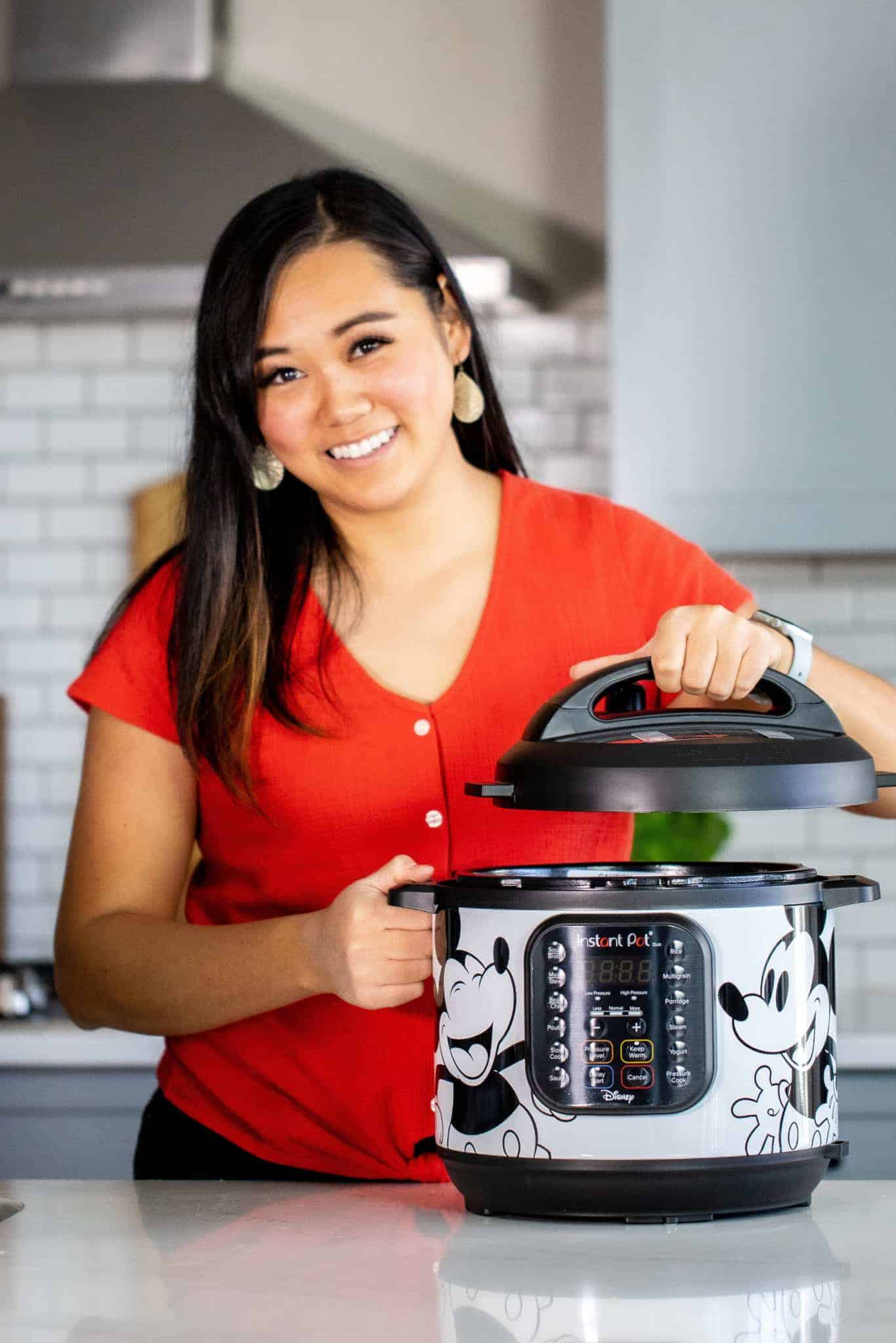 Lisa Childs is the food blogger behind Tried, Tested, and True. Join the hundreds of thousands of people each month that learn from Lisa-
Subscribe to her website, follow her on Instagram at @tried_tested_true, follow her on Pinterest, and find her on Youtube at Tried Tested and True. She is passionate about giving home cooks confidence using their Instant Pots. Make sure to sign up for our email newsletter to hear from personally from her weekly! Learn more about Lisa.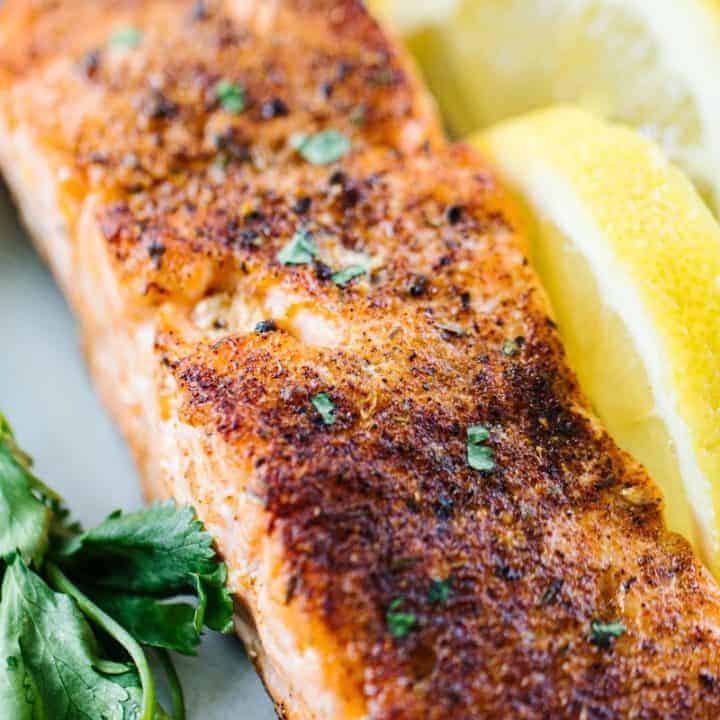 Air Fryer Salmon
Air fryer salmon is moist, mess-free, and basically foolproof. Making salmon in the air fryer is so easy that it'll definitely make it into your regular dinner rotation.
Ingredients
2 fresh salmon filets, 6.5 oz each (1 inch at the thickest edge)
1 teaspoon neutral-flavored oil (olive oil, grapeseed oil, etc)
1 teaspoon lemon pepper, cajun seasoning, and/or salt and pepper
Lemon wedges, for serving
Instructions
Preheat air fryer to 400º.
Brush or spray each salmon filet with oil on each side, then sprinkle with seasoning of your choice.
Place each filet in the air fryer basket and cook for 9-11 minutes or until the salmon filet registers 145º minimum in the thickest portion of the filet.
Remove the salmon from the air fryer to a plate and serve.
Recommended Products
As an Amazon Associate and member of other affiliate programs, I earn from qualifying purchases.
Nutrition Information:
Yield:

2
Serving Size:

1
Amount Per Serving:
Calories:

227
Total Fat:

14g
Saturated Fat:

2g
Trans Fat:

0g
Unsaturated Fat:

10g
Cholesterol:

58mg
Sodium:

2287mg
Carbohydrates:

5g
Fiber:

1g
Sugar:

1g
Protein:

21g