Frozen French Fries in the Air Fryer
---
This post may contain affiliate links, which means I earn a small commission if you purchase something I recommend - at no additional cost to you! Thank you for supporting this blog!
Frozen French Fries in the Air Fryer! From frozen to perfectly fried in less than 15 minutes, quickly satisfy your fry craving with less oil and sodium.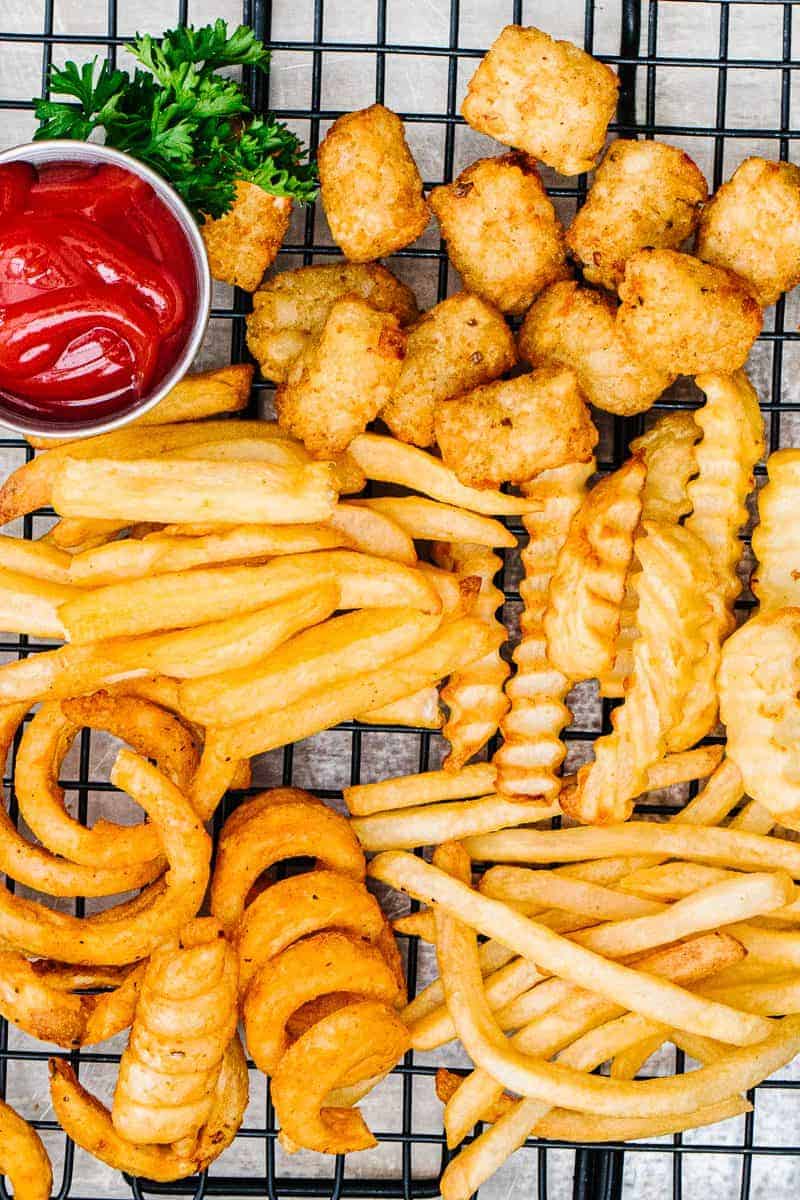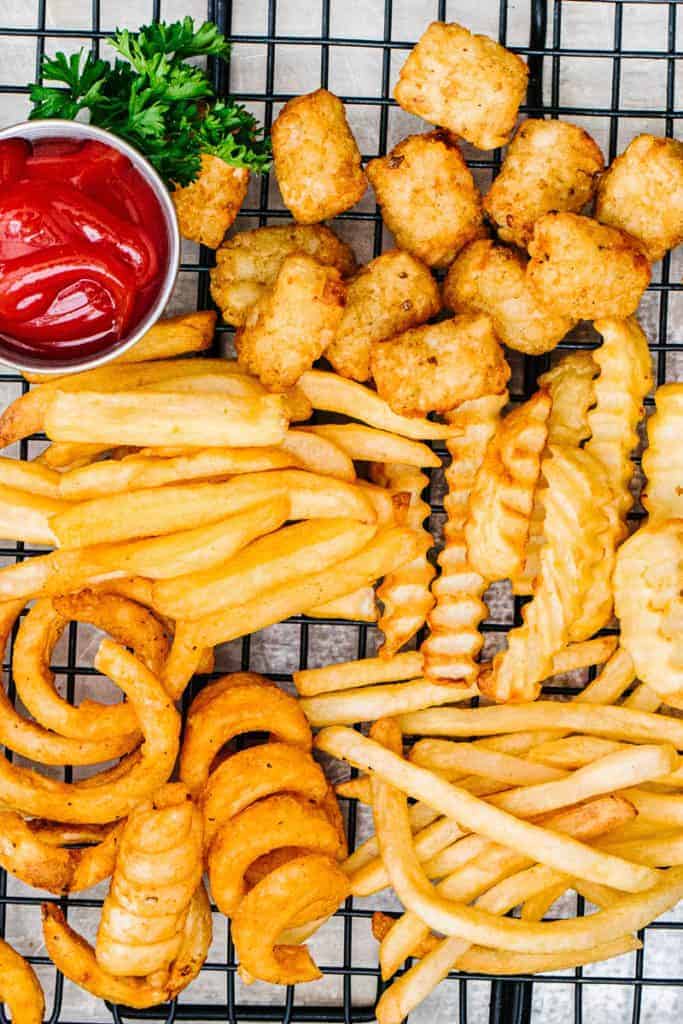 Air frying has transformed so many recipes, such as air fryer baked potatoes, air fryer cookies, air fryer chicken wings, and air fryer hamburgers. It makes everything quicker, healthier, and delicious. Frozen French fries in the air fryer is no exception!
Before I learned to air fry frozen french fries, I had to deep fry or oven bake my fries. Deep fried fries have extra oil and fat (plus it's so messy!). Oven baked fries take forever and can turn out dry.
The air fryer makes crispy, salty fries that taste deep fried, without the added oil and sodium. It's a game changer!
If you have a bag of potatoes lying around and you're looking for a homemade fry recipe, check out my amazing Air Fryer Potato Wedges!
Today, I'm teaching you how to make frozen french fries in the air fryer.
Are frozen French fries in air fryer healthy?
Potatoes are a fat free, filling, and low calorie food, rich in vitamins, minerals, and antioxidants! But they often get a bad rap as unhealthy and unhelpful for weight loss.
Fries are especially considered a fast, junk food because they're usually deep-fried and heavily salted, negating any health benefits.
Frozen French fries in the air fryer are a healthier way to prepare fries, while saving the added calories from traditional deep-frying.
I find that the air fryer helps me control the salt and oil content, without compromising on that delicious crispy, fried, and salty taste.
Do I need to defrost frozen fries before frying?
Nope! It's not necessary to defrost frozen fries before frying. Simply transfer the frozen French fries directly to the air fryer basket.
How long do you cook frozen French fries in the air fryer?
It usually takes just 6-9 minutes to cook frozen French fries in the air fryer. However, the cook time depends on your brand of air fryer, the basket size, and how full you fill the basket with fries.
I use the Instant Brand Vortex Plus Air Fryer. This air fryer takes a couple minutes to preheat before it starts cooking time. If your air fryer also does this, check your air fryer french fries after 5 minutes.
These days, most frozen french fries have air fryer instructions on the actual bag. Start with those instructions, and adjust as you see how it works in your air fryer.
The biggest tip with making frozen fries in the air fryer is to ensure they're in a single layer. Piling the frozen fries into the basket won't allow enough air flow between the fries to get them cooked and crispy.
How do you cook frozen French fries in the air fryer?
Preheat your air fryer to 400ºF.
Add frozen fries to the air fryer basket.
Spray lightly with oil.
Sprinkle with salt or seasoning to taste.
Cook for 7-9 minutes, tossing the fries every 4 minutes for best results.
Some frozen french fries have air fryer instructions on the bag. Use those if the manufacturer supplies them!
Frozen French Fries in Air Fryer Tips
Use this oil mister for a light coating of oil. Just enough to make perfectly crispy fries. You can also use cooking spray (which I did for years!) But the oil mister is nice because I can fill it with whatever oil I want to use and it doesn't contain any other ingredients.
The finer the salt, the better it sticks to the fries. I highly recommend Redmond Real Salt. I like to salt my fries immediately after air frying, because the oil is hot and the salt will stick to the fries.
Change up the flavor with other seasonings! Garlic or onion powder add flavor. Cayenne pepper or chipotle powder for heat. Cajun seasoning for a savory flavor with a kick. I've also seen stores carry French Fry Seasoning. Let me know how you season your fries in the comments!
Don't overcrowd the basket. There needs to be enough room for the air to circulate and cook each fry.
Shake the basket every 5 minutes. If your air fryer has a rotating rotisserie basket, you can put the fries in there to do the work for you!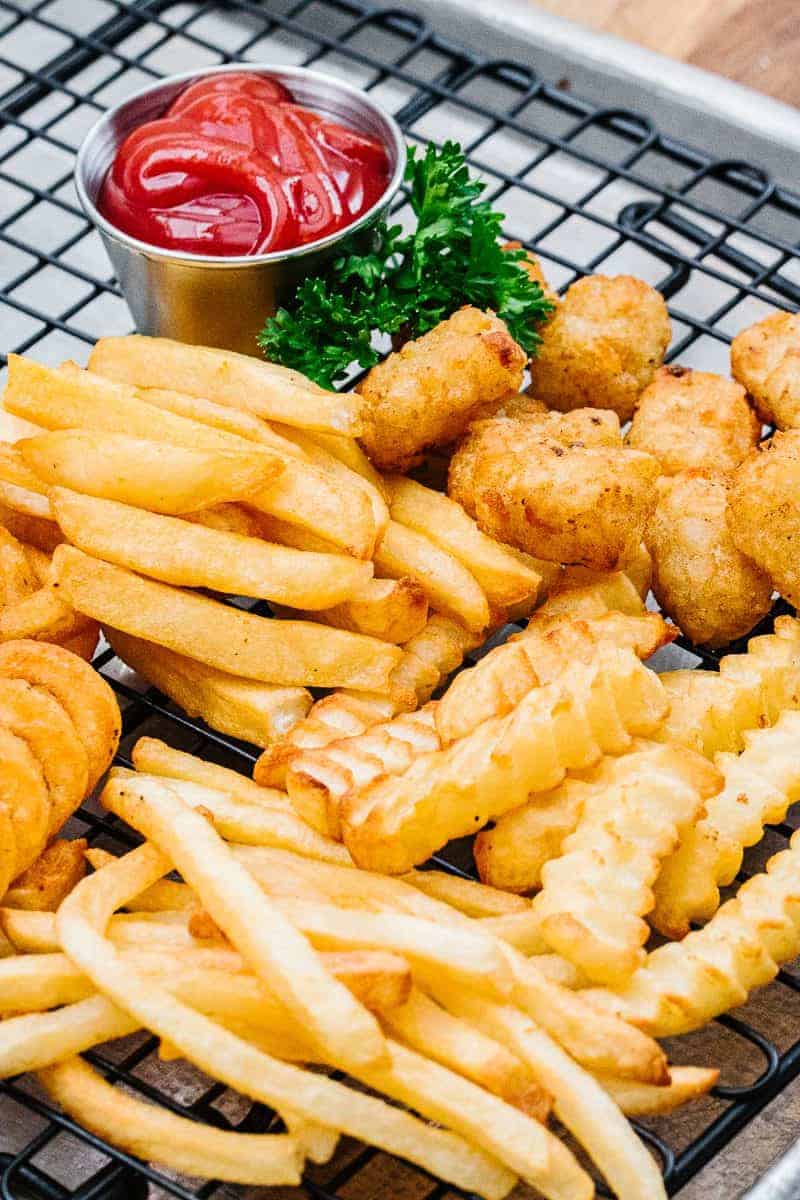 Different types of frozen fries in air fryer
Waffle fries: Overcooked waffles fries get incredibly hard so be careful with these! They cook much quicker than most french fries in the air fryer.
Frozen Curly fries: I love Arby's curly fries and you can purchase them frozen in the grocery store. Make sure to toss these every couple of minutes so they cook evenly.
Frozen Steak fries: steak fries take a little bit longer than other kinds of fries. Add 1-2 minutes.
Frozen Sweet potato fries: If you're not making homemade air fryer sweet potato fries, try Alexia sweet potato fries! They're so good.
Frozen Crinkle fries: the crinkle cut fries cooked the fastest for me. They took about 6 minutes.
Frozen Shoestring fries: These fries also took 6 minutes to cook in the air fryer.
Frozen Tater tots: Tater tots are some of my favorite! I find these take just an additional 2-3 minutes for extra crisp.
Air Fryer Burgers and Fries
It's easy to make burgers in the air fryer. I have instructions for both fresh burgers and frozen air fryer burgers.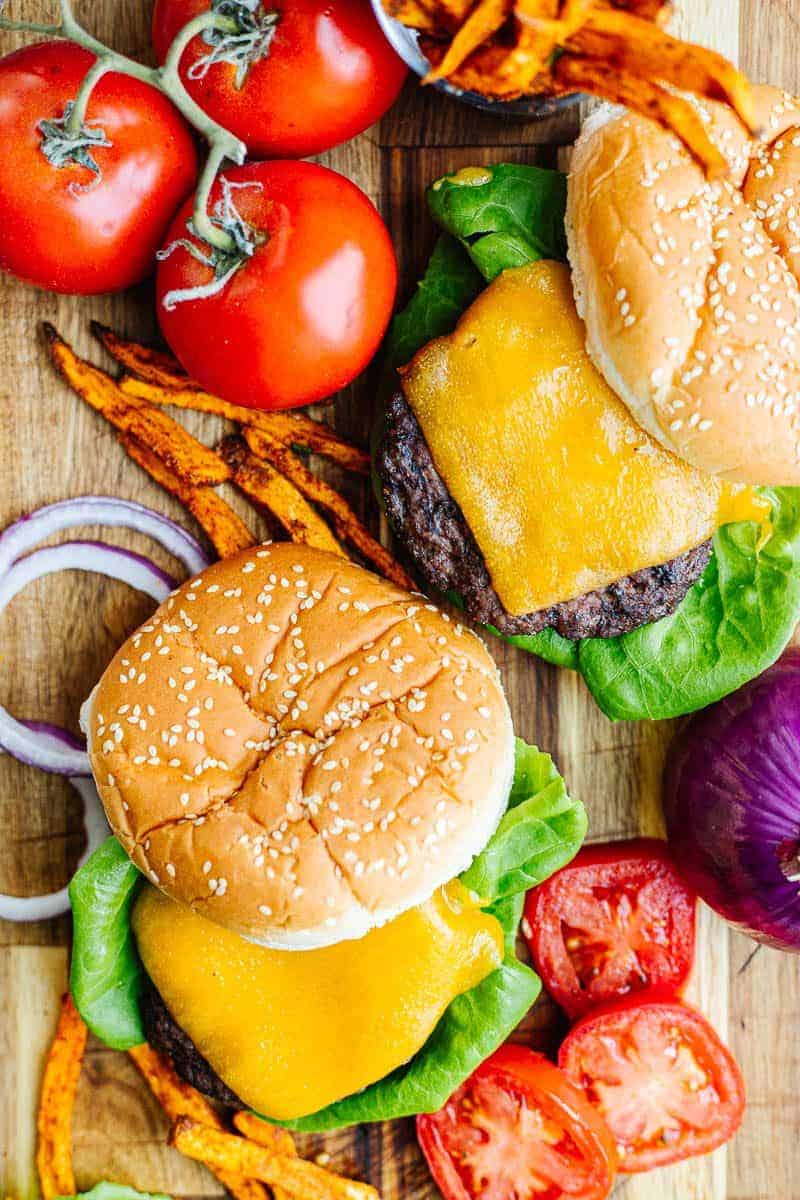 How to reheat fries in an air fryer
If you have leftovers (either homemade, store bought, or from a restaurant), store in an airtight container in the fridge for up to 3-4 days.
The fries will get dry and soggy in the fridge so I recommend eating them as soon as possible. 
To reheat fries in the air fryer, Place them in a preheated basket (400º) and mist with additional oil.Air fry for 2-3 minutes or until crisp.
I actually use this same method to reheat any leftover fry! Before my air fryer, I never took home fries because they didn't reheat well.
Fries reheated in the air fryer taste much better than microwaved fries. Life changing!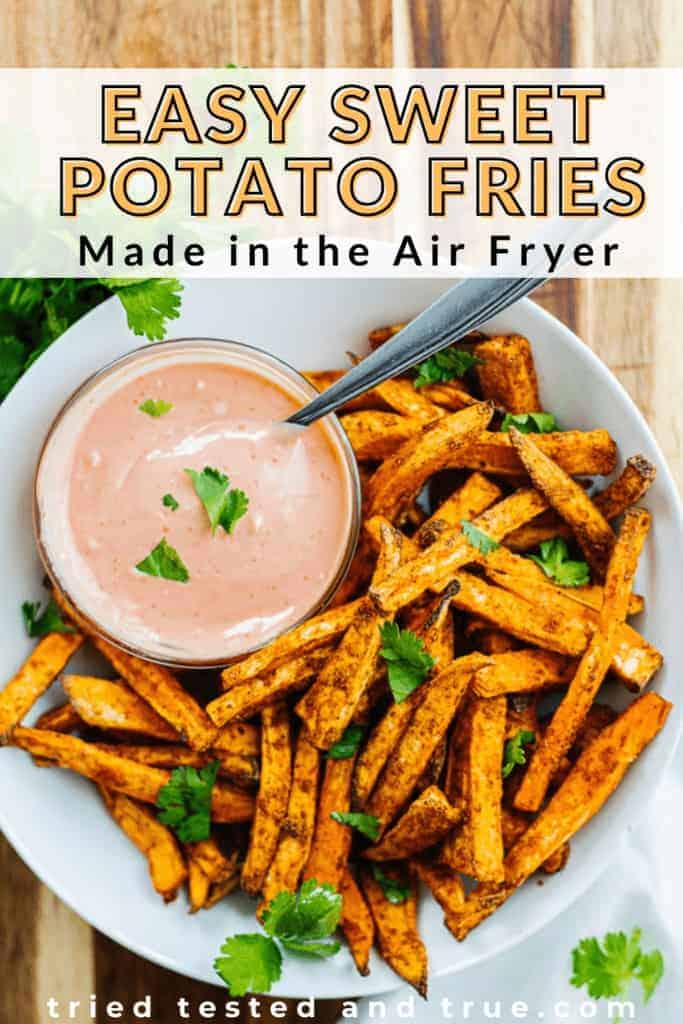 What's fry sauce?
I like serving my frozen air fryer fries with "fry sauce." Fry sauce is Utah's favorite condiment. Learn about the interesting history of fry sauce!
It's basically equal parts mayonnaise mixed with ketchup. I also like to add just a touch of bbq sauce for a slightly smoky fry sauce!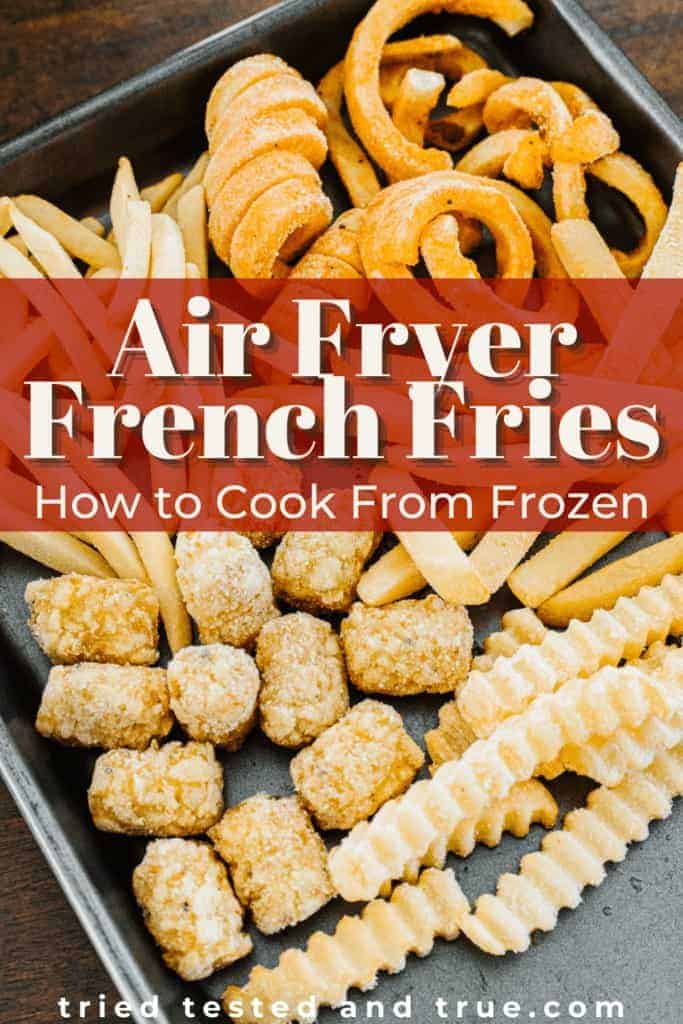 Frozen French Fries in the Air Fryer
Skip the drive-through line! Make delicious, crispy French fries at home in the air fryer. From frozen to perfectly fried in less than 15 minutes, quickly satisfy your fry craving with less oil and sodium.
Print
Pin
Rate
INGREDIENTS
1

lb

Frozen French Fries

crinkle cut, shoestring, tater tots, regular, curly fries, etc.

Cooking spray or oil in an oil mister

Salt or french fry seasoning
INSTRUCTIONS
Preheat the air fryer to 400º.

Add the frozen french fries in a single layer to the air fryer basket.

Spray with cooking spray, or mist with oil.

Cook for 6-9 minutes, shaking every 4 minutes.
NOTES
Many frozen french fries purchased in a store will have air fryer directions on the bag. Check your packaging to see if there is a recommended time and method for that specific type of frozen french fry.
NUTRITION
Serving:
1
g
|
Calories:
184
kcal
|
Carbohydrates:
17
g
|
Protein:
2
g
|
Fat:
12
g
|
Saturated Fat:
1
g
|
Polyunsaturated Fat:
10
g
|
Sodium:
363
mg
|
Fiber:
2
g
---
---