This post may contain affiliate links, which means I earn a small commission if you purchase something I recommend - at no additional cost to you! Thank you for supporting this blog!
Air Fryer Hamburgers are juicy, crispy, and delicious! Learn how to perfectly cook hamburgers in the air fryer in less than 15 minutes. Dress the burger with your favorite sauces and toppings for an easy, family-favorite dinner!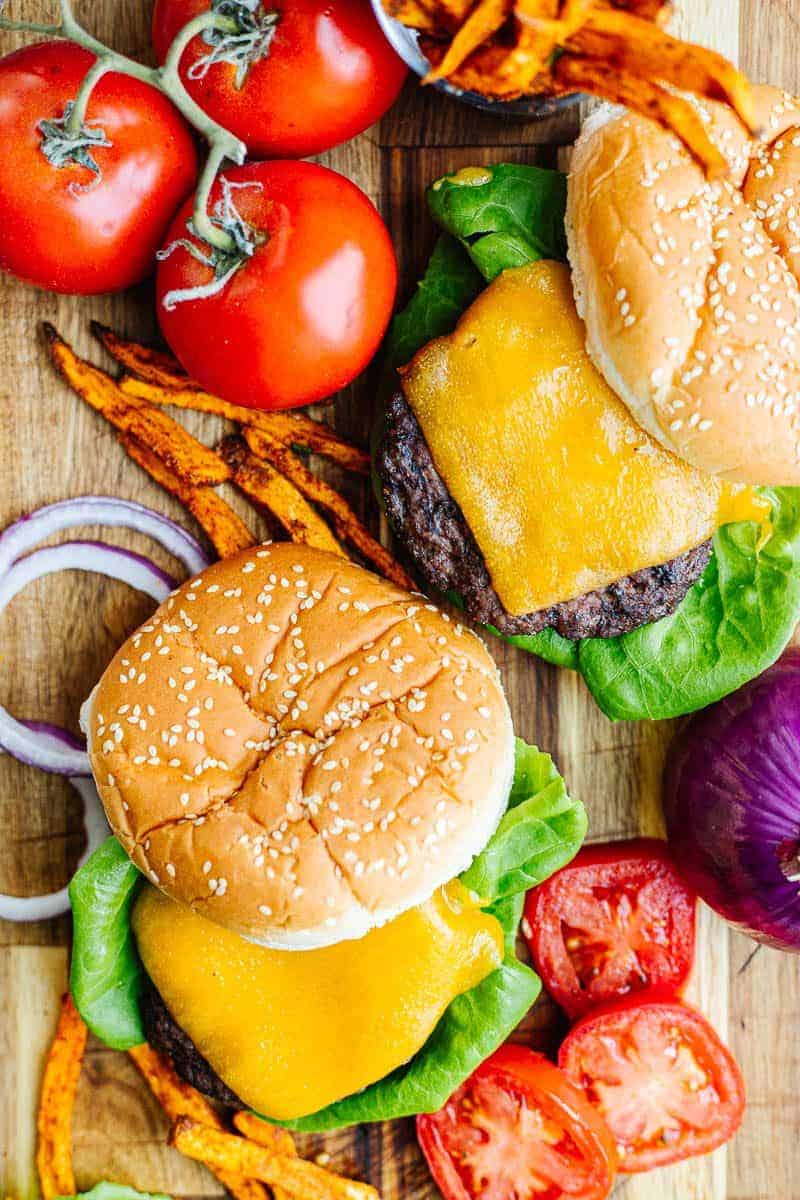 What to Air Fry
Just between you and me, I probably use my air fryer more than my Instant Pot. I even have a special shelf in my pantry with an outlet to keep it plugged in and ready for use. Here are some of my favorite ways to use the air fryer:
Frozen sausage patties. I air fry frozen sausage patties for my kids each morning. They come out AMAZINGLY delicious.
Reheating pizza. It's like it's fresh from the oven. No more soggy or rock hard crust!
Warm up tortilla chips. I squeeze a little lime on tortilla chips and warm them up in the air fryer for a few minutes. They taste freshly fried and restaurant quality!
Air fryer recipes. Cream cheese wontons, cookie dough wontons, bacon wrapped smokies, buffalo cauliflower bites, perfect baked potatoes, and air fryer hamburgers! Just to name a few. Yum.
Instant Pot's best friend. The air fryer is the perfect companion for the Instant Pot! The Instant Pot cooks with pressurized steam. Therefore, you'll never create something crispy in an Instant Pot. I often use my air fryer right after pressure-cooking to crisp a recipe, such as Instant Pot Salt Potatoes, Instant Pot Ribs, and Instant Pot Broccoli.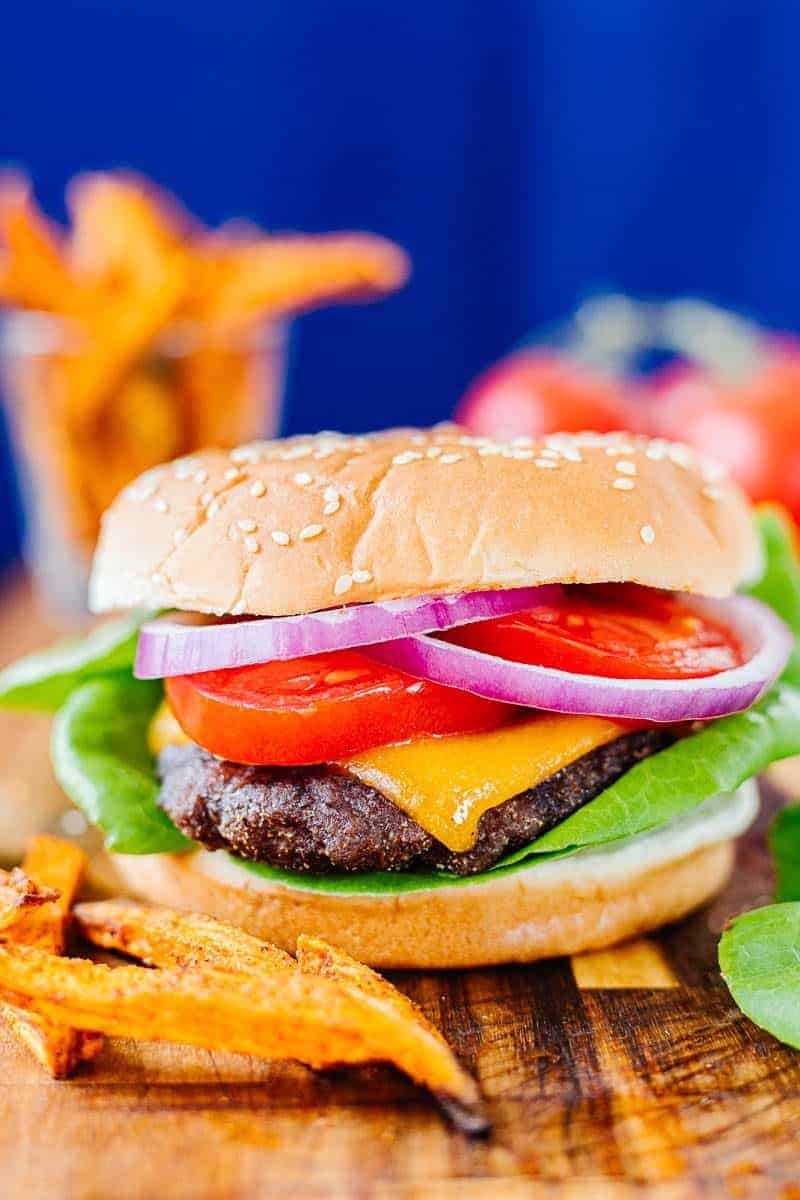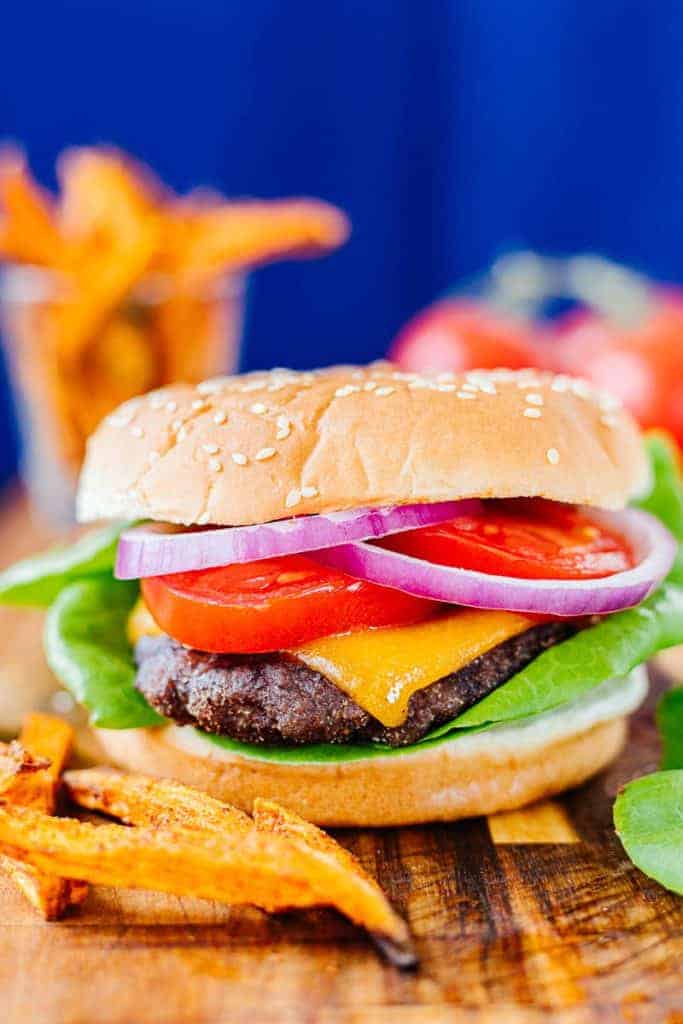 Which Air Fryer Should I Buy
Check out this post for my controversial opinion on the Instant Pot Air Fryer Lid, and my opinion on which air fryer is the best to buy.
Are Air Fryer Hamburgers Good?
There's so many ways to cook a hamburger—in the oven, on the stovetop, or on the grill. Yes, you can also air fry hamburger meat! I love Air Fryer Hamburgers for three main reasons:
Burgers in the air fryer cook quickly. It's great for an easy meal with minimal planning ahead.
The perfect texture. Air fryer burgers are juicy on the inside and crisp on the outside.
Healthier hamburger. The air fryer helps drain off some of the grease while cooking, which reduces fat and calories.
Very little mess. Since the burgers are contained in the air fryer, I don't have to worry about it splattering grease all over my stove.
No babysitting. I can put the patties in the air fryer and walk away!
How to air fry hamburgers
Divide the ground beef into four equal patties.
Note: This recipe makes 4 hamburgers. If you'd like to make less, simply use ¼ pound of ground beef (about ½ cup or 4 ounces) per patty.
Evenly season both sides of the hamburger patties. I like to use a seasoning blend like Montreal Steak seasoning, or I also love a simple kosher salt, black pepper, and garlic powder blend!
Place hamburger patties in the air fryer, evenly spaced.
Cook at 400º F for 12 minutes, or until the meat thermometer reads 160º-165ºF. If you like, you can flip the hamburgers in the air fryer halfway through cooking, but it isn't necessary.
It's that simple! Prepare your buns, sauces, and toppings while the air fryer burgers cook. You'll have a meal on the table in no time.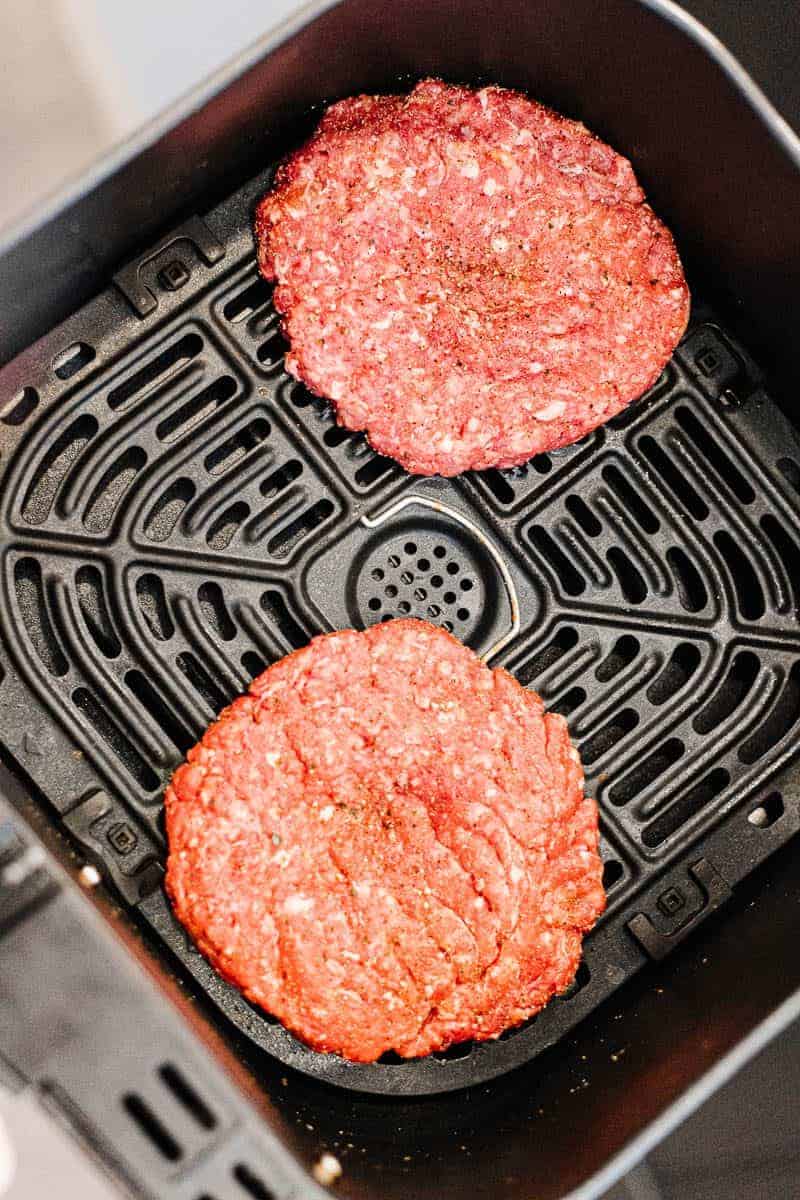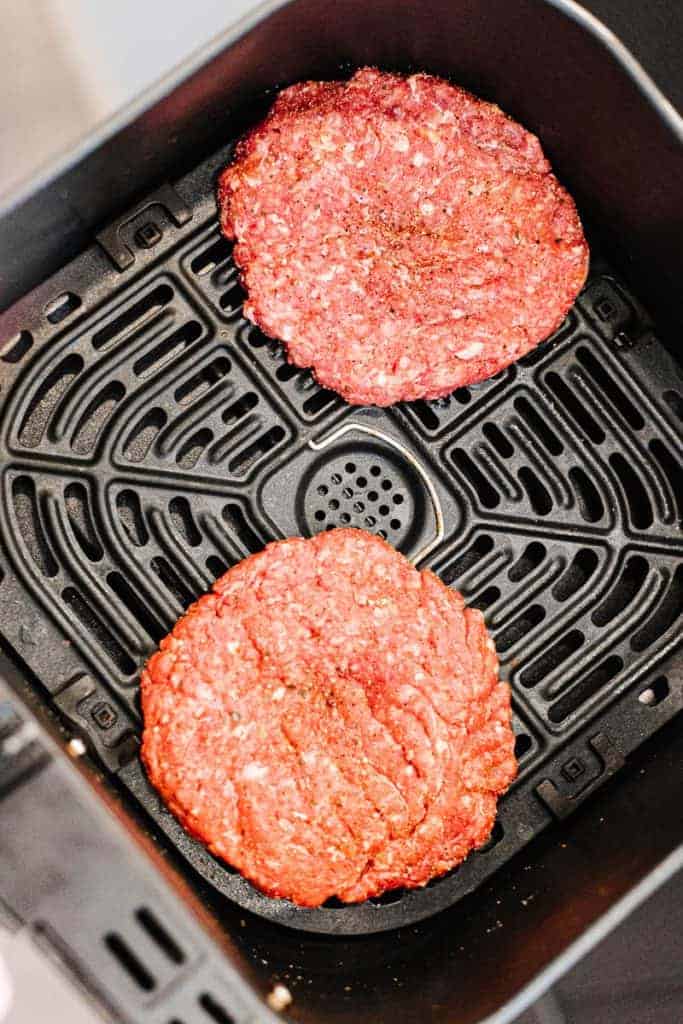 Air Fryer Hamburger Tips
I recommend using ground beef with 80/20 or 90/10 fat content. The burgers are too greasy with higher fat content.
Before cooking, gently use your thumb to press a divot in the center of each hamburger patty. This prevents the air fryer burger from getting too thick in the center and doming up while it cooks.
Space the hamburger patties evenly in the air fryer. If all four burgers can't fit without touching or overlapping, cook in batches. Air fryer burgers need space for the ventilation to cook them through. If you add too many burgers in the air fryer, it will result in a lot of steam and won't have that crispy outside and juicy center.
If you want an air fryer cheeseburger, simply add cheese on top of the patty one minute before the cook time is over and let it cook until melted.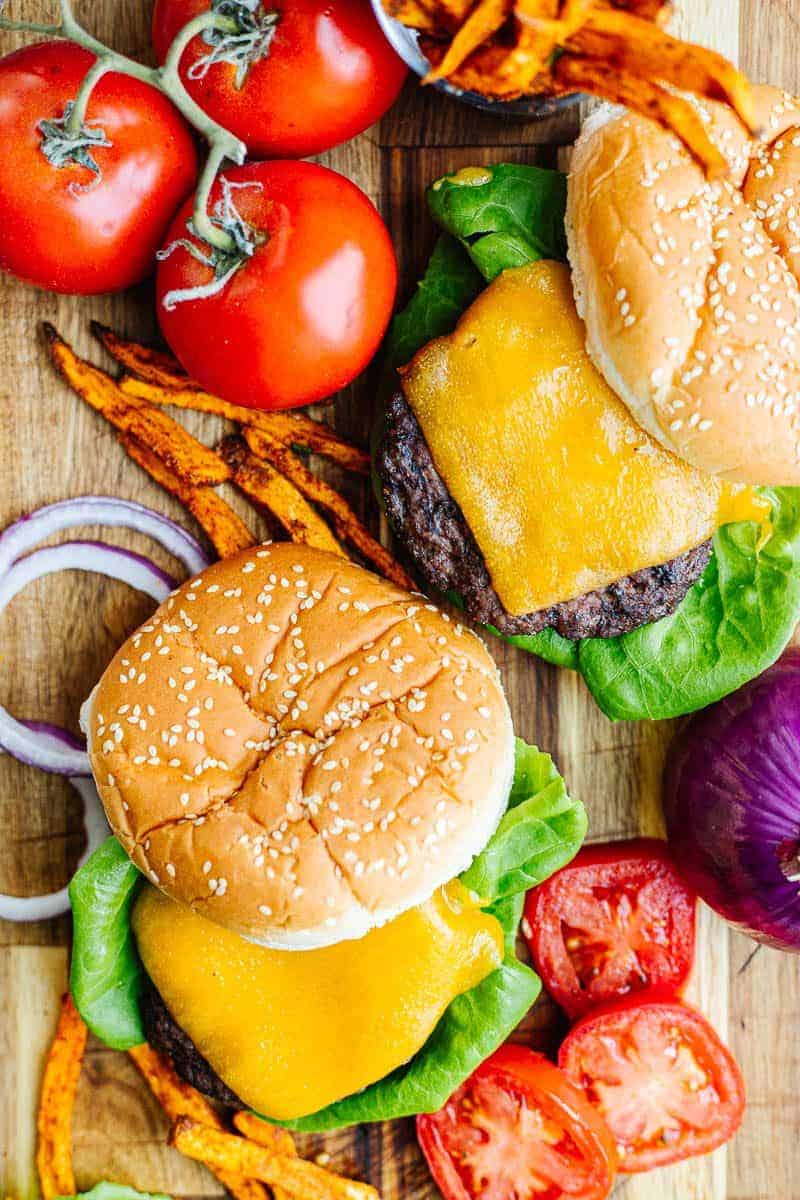 Air Fryer Burger Variations and Toppings
I love this recipe because you can adjust the toppings according to your needs, cravings, and preferences!
Top it with classic condiments, onions, tomato, lettuce, and pickle.
Make some air fryer bacon to top your burger!
Try adding pineapple for a Hawaiian burger.
Dress it with avocado and green chili for a Southwestern burger.
Smother it with your favorite BBQ sauce and onions for a delicious cowboy burger.
Before cooking the air fryer hamburger patties, quickly fry bacon in the air fryer for a bacon cheeseburger.
Mix together softened cream cheese and chopped pickled jalapenos for a delicious spread. I also love spreading a little pepper jelly on top of it for a Pepper Jelly burger.
Use a lettuce wrap or tortilla, instead of a bun, for a low carb option.
The possibilities are endless! Let me know in the comments how you dress your air fryer burger.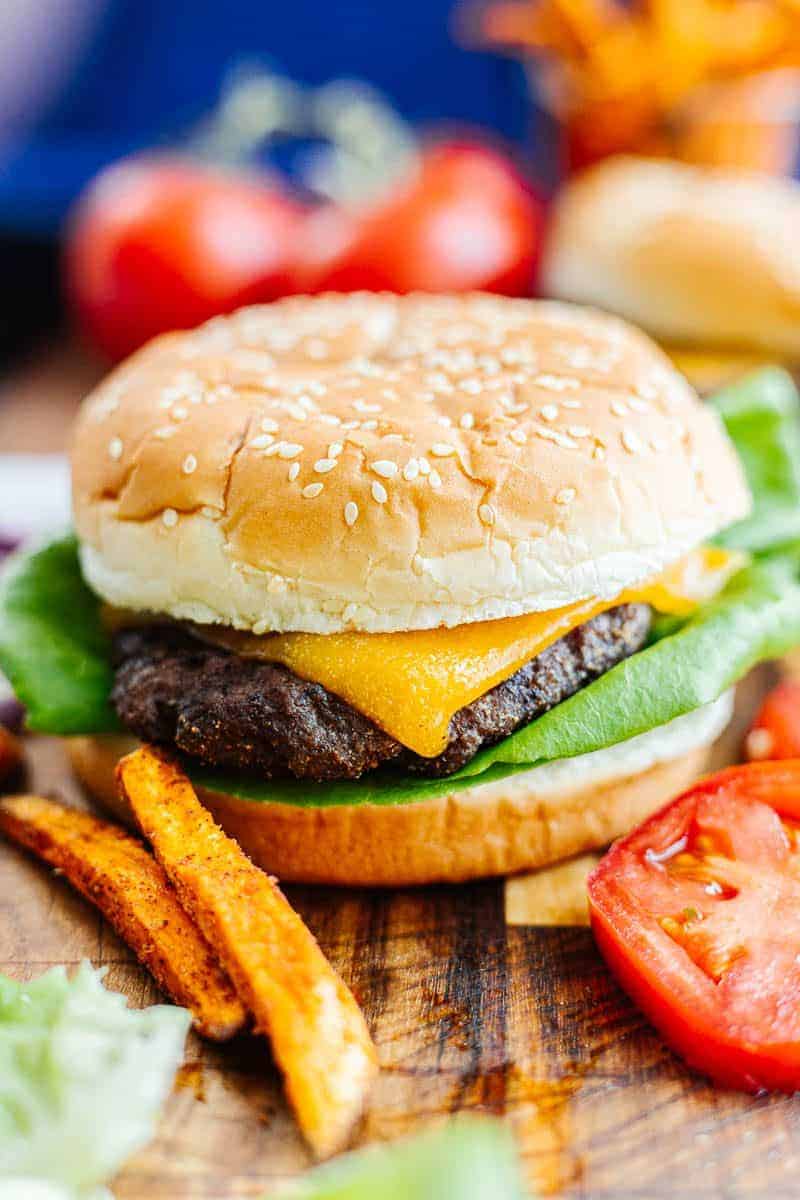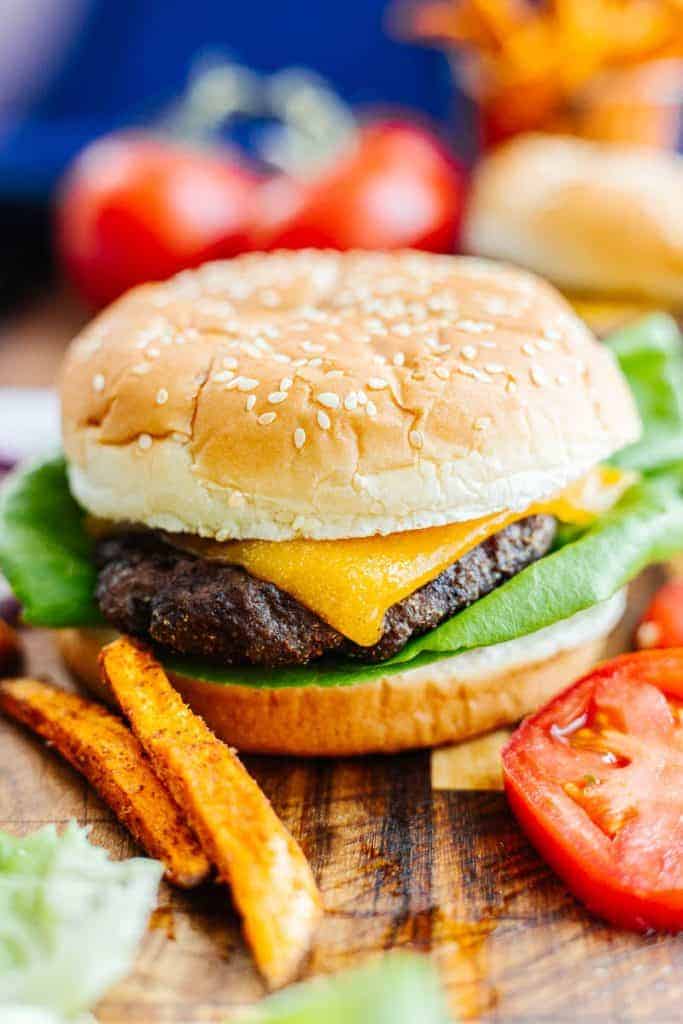 Can I make air fryer burgers with different meats?
Many people replace ground beef with ground turkey for a heart healthy alternative. Ground turkey is generally lower in saturated fat and calories than ground beef.
Simply replace the ground beef in this recipe with the same amount of ground turkey for an even healthier air fryer burger.
Since turkey can be less flavorful than ground beef and has less fat, I recommend adding additional seasoning to taste and even topping each patty with a little pat of butter (if you don't care about the calories).
Is it safe to eat a burger that's pink inside?
Unlike steak, ground beef is best cooked thoroughly. Bacteria from the outside of the meat can be incorporated throughout ground beef. That's why it's important to get the right temperature to cook fresh burgers in the air fryer.
To air fry hamburgers well done, the USDA recommends cooking hamburger patties to 160ºF. I use my favorite meat thermometer to check the temperature of the burger at the thickest part.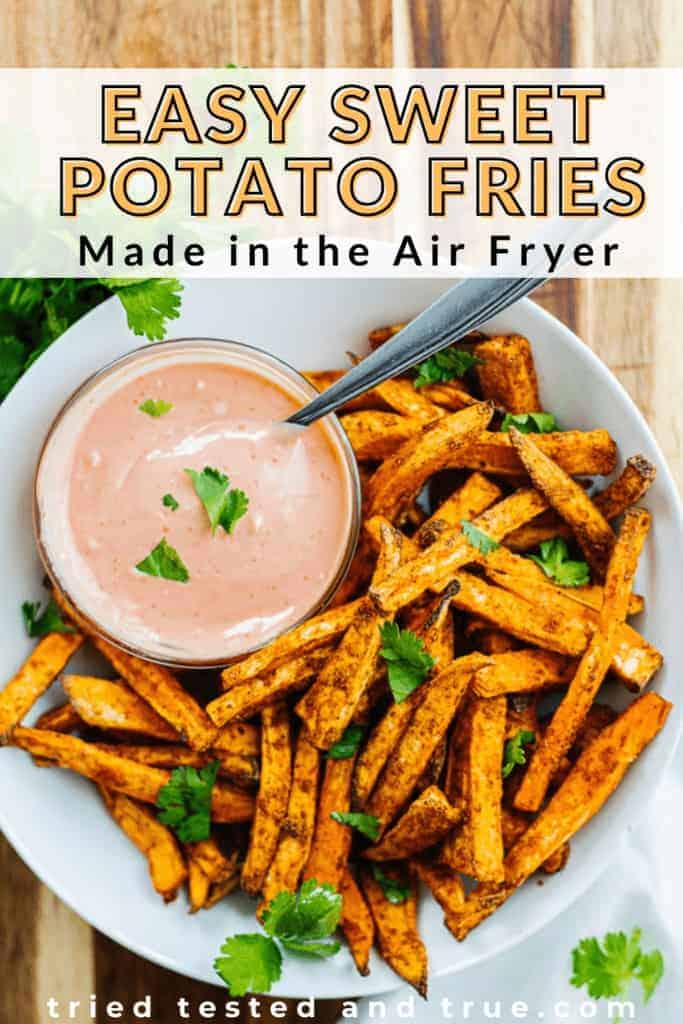 Air fryer burgers and fries
There's nothing better than serving a juicy hamburger with fries. Before you make your hamburgers, make these delicious Air Fryer Potato Wedges. Then make your air fryer burgers.
While you're dressing your burgers, pop the potato wedges back in the air fryer to reheat at 350ºF for a couple minutes. Serve with fry sauce!
Tip: I actually use this same method to reheat any leftover fries! Before my air fryer, I never took home fries because they didn't reheat well.
Fries reheated in the air fryer taste much better than microwaved fries. Life changing!
EASY AIR FRYER RECIPES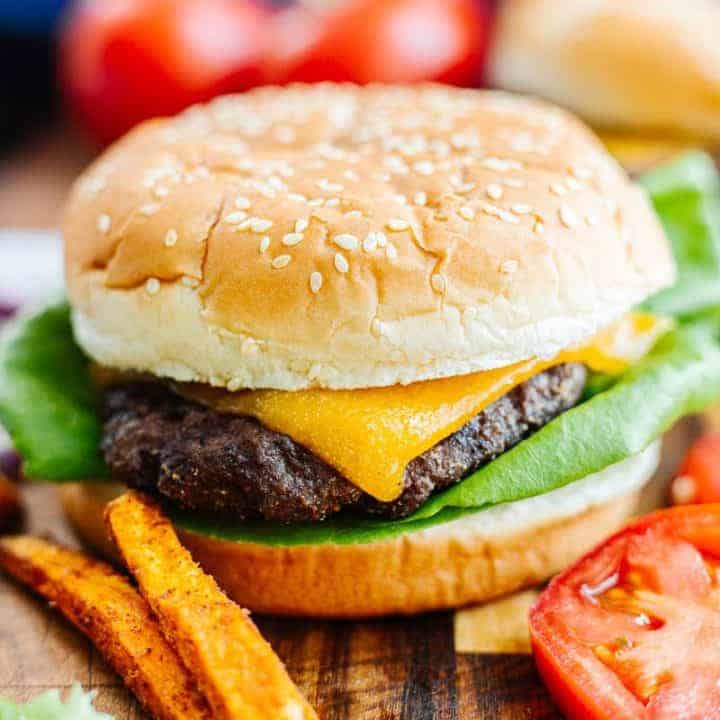 Air Fryer Hamburgers
Air Fryer Hamburgers are juicy, crispy, and delicious! Learn how to perfectly cook hamburgers in the air fryer in less than 15 minutes. Dress the burger with your favorite sauces and toppings for an easy, family-favorite dinner!
Print
Pin
Rate
INGREDIENTS
1

lb

ground beef

80/20 or 90/10 fat content

2

teaspoons

Montreal Steak seasoning

salt/pepper blend, or your favorite burger seasoning

Burger fixings: buns

lettuce, tomato, ketchup, mustard, cheese, etc.
INSTRUCTIONS
Preheat the air fryer to 400º F.

Divide the ground beef into four equal patties. If you'd like to make less than 4 hamburgers, use 1/4 lb per patty (about 1/2 cup or 4 oz).

Shape each patty to be about 1-2 centimeters wider than the width of the bun you're using. Using two fingers, press an indent into the middle of each burger.

Season each patty on both sides with 1/2 teaspoon of your favorite burger seasoning or salt and pepper.

Place each patty into the preheated air fryer and cook for 9-12 minutes, or until the burger registers at a minimum of 165º F using an

instant read thermometer.

Remove from the air fryer and serve immediately.
NOTES
If you'd like to add cheese to your air fryer hamburger, place a slice of cheese on top of the burger patty 1 minute before the end of the cook time.
I found that the burgers turned out pretty similar whether they were flipped halfway through the cook time or not. It's your preference.
---
---