Colcannon Recipe- Instant Pot Mashed Potatoes with Kale and Butter
---
This post may contain affiliate links, which means I earn a small commission if you purchase something I recommend - at no additional cost to you! Thank you for supporting this blog!
Colcannon is a traditional Irish dish of extremely creamy and buttery mashed potatoes with ribbons of sauteed kale and onion. This Instant Pot Colcannon recipe makes it SUPER easy to make in one pot!
Stovetop and Instant Pot instructions included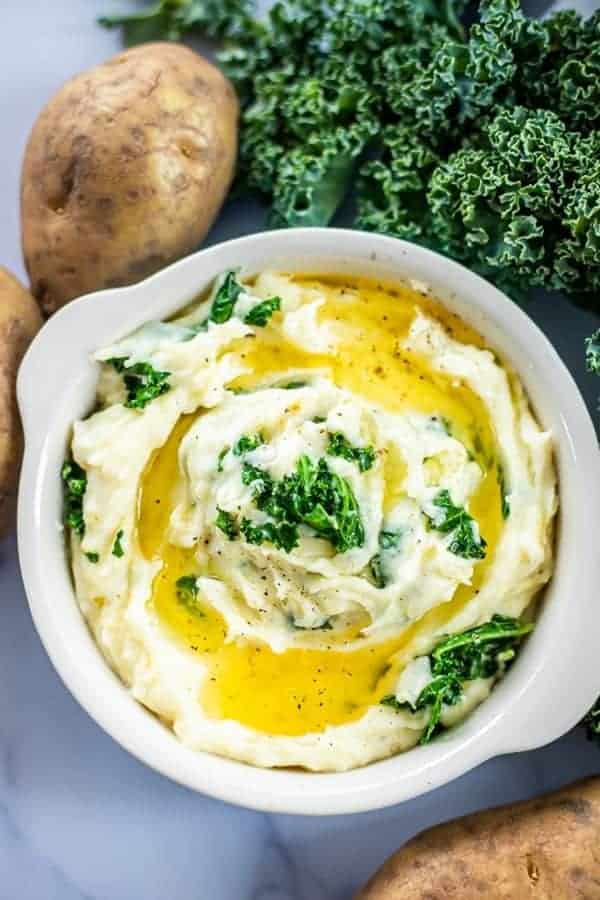 Colcannon Potatoes
I first tried Colcannon at a fancy restaurant in downtown Salt Lake City (read about it here). I had never had mashed potatoes that intentionally had mixins besides bacon and cheese, so I was intrigued!
The potatoes were incredibly smooth and ridiculously creamy, and had ribbons of sauteed onion and kale running throughout. The restaurant served it with their surf and turf and covered it in a reduced sauce of some kind. Delicious!
Colcannon Recipe
Traditional Colcannon is an Irish dish that is basically mashed potatoes with kale or cabbage. I choose to make my Colcannon recipe with kale and onion, but you can add any variation you like!
You can add green onions, leeks, chives, cabbage, kale, herbs, or other hearty green that has been sauteed and will add a nice texture to the smooth potatoes. On the same lines, you can omit the onions if you're not a huge fan.
The nice thing about this dish is that if some people in your family prefer regular mashed potatoes, you can scoop out their portion first before adding the kale to the rest of the pot, or vice versa.
Instant Pot Mashed Potatoes
I love making these potatoes in my 3 quart Instant Pot Duo. Having a mini 3 quart is SO nice to have to make all the side dishes while my 6 quart Instant Pot makes the main dish! I also almost always have it on the counter making Instant Pot yogurt.
Check out my post on the Best Instant Pot to Buy and the Best Instant Pot Accessories to buy and avoid!
Instant Pot Colcannon vs Instant Pot mashed potatoes
The difference between Instant Pot Colcannon and Instant Pot Mashed Potatoes is the FLAVOR!
There's a lot more creaminess and flavor to these potatoes than traditional potatoes, so there's no need for a gravy or sauce. These stand alone as a delicious vegetable side dish. These would also be an amazing addition to any holiday table!
I use seasoned salt, better than bouillon (chicken base), Cream Cheese, and a high quality butter to flavor this Colcannon recipe.
Tips for Making this Colcannon Recipe
Don't add too much butter when sauteeing the kale and onions, or it will have a hard time incorporating into the potatoes.
DO NOT OVERMIX the potatoes, lest you end up with something that resembles wallpaper paste.
Don't be modest with the butter and cream. We've already decided this is a luxurious dish that does not need any corners cut. Use the cream and butta! Don't hold back!
Stovetop instructions
If you prefer to make these colcannon potatoes on the stove than the Instant Pot, it's easy to do as well! Just follow these steps:
Bring a pot of water to a boil. Add a teaspoon of salt, potatoes, and the lid. Reduce the temperature to a simmer and simmer for 20 minutes, or until a fork can easily pierce through the potatoes.
While the potatoes are cooking, saute the kale and onions in a separate pan.
When the potatoes are done, drain them and return to the pot with the cream cheese, cream, butter, and salt and pepper. Close the lid and let the cream cheese and butter melt.
Carefully mash until smooth.
Gently fold in the kale and onions.
Spoon into a serving bowl and top with more melted butter and freshly cracked pepper.
Instant Pot Colcannon Potatoes
Buttery, creamy, deliciously smooth Colcannon Potatoes with kale and onion are incredibly easy to make in the Instant Pot
Print
Pin
Rate
INGREDIENTS
3

lb

Russet Potatoes

scrubbed, peeled and chopped into 1/2 inch pieces

3/4

Cup

Chicken Broth

If using Better than Bouillon, add 1 cup of water with 1 Tablespoon BTB

1

cup

Butter

high quality Irish butter like Kerrygold is best, divided

8

oz

one block Cream Cheese, softened

1/2

Cup

Heavy Cream or Half and Half

Seasoned Salt and Pepper

to taste

1/2

Medium Onion

thinly sliced (not chopped)

2

cups

Kale

washed and julienned (cut into thin ribbons)

2

Tablespoons

Water

divided

2

Tablespoons

Water

divided
INSTRUCTIONS
Saute Kale and Onions: Set the Instant Pot to NORMAL SAUTE and add 1.5 tablespoon of butter, sliced onion, 1 tablespoon of water, and a pinch of seasoned salt. Saute the onions for about 5-8 minutes or until translucent, soft, and fully cooked. Do not let the onion brown. If the pot gets too hot, adjust the Instant Pot to LOW saute. Once cooked, remove the onion and set aside. To the Instant Pot, add 1.5 tablespoons of butter, kale, 1 tablespoon of water, and a pinch of seasoned salt. Saute the kale until soft and cooked through, about 3-5 minutes. Remove and set aside.

*If the Instant Pot liner has any browned bits or marks, remove the pot and rinse it out so there are no browned marks, otherwise the flavor of the potatoes will be a bit darker and deeper.

Cook the Potatoes: Add chicken broth and potatoes to the Instant Pot. Lock the lid, turn the knob to SEALING, and cook on manual high pressure for 10 minutes. When the 10 minutes have elapsed, do a quick release by turning the knob from Sealing to Venting. Remove the lid.

Mash Potatoes: Add cream cheese, 1/2 cup butter (1 stick), and Cream or half and half. Replace the lid and wait 5 minutes to warm through the ingredients and melt the butter. Open the lid, and mash with a potato masher or very carefully with a hand mixer. Mash until smooth and no lumps remain, but do not overmix! Add more milk or cream to thin, if you prefer a softer mashed potato texture. Taste the potatoes and add more salt to taste.

Add Kale and Onion: With a rubber spatula, gently fold in the Kale and Onion to the mashed potatoes, careful not to overmix.

Add butter: Transfer the potatoes to a serving bowl, and create an indent on the top by swirling a spoon to make a well on the top. Pour some more melted butter in the well. Top with freshly cracked pepper and enjoy warm!
NUTRITION
Serving:
1
g
|
Calories:
544
kcal
|
Carbohydrates:
29
g
|
Protein:
11
g
|
Fat:
44
g
|
Saturated Fat:
27
g
|
Polyunsaturated Fat:
13
g
|
Trans Fat:
2
g
|
Cholesterol:
124
mg
|
Sodium:
550
mg
|
Fiber:
3
g
|
Sugar:
3
g
---
---