Instant Pot Stuffed Artichokes
---
This post may contain affiliate links, which means I earn a small commission if you purchase something I recommend - at no additional cost to you! Thank you for supporting this blog!
Stuffed Artichokes are a favorite Italian classic—now in your Instant Pot. A whole artichoke is stuffed with breadcrumbs, cheese, and herbs, and topped with lemon juice and butter for a delicious and fun appetizer.
How to make stuffed artichokes in an Instant Pot
Feeling nervous about how to cook stuffed artichokes in a pressure cooker? Worry not—I've got you covered!
I've broken the process down into four easy steps so that cooking your stuffed artichokes in an Instant Pot will be a cinch.
Prep Instant Pot Artichokes
Before you do anything else, add a cup of water into your Instant Pot. Then, add the trivet or a steamer basket. I like to use my 6 quart instant pot just because they're so big.
If you're using a 3 quart Instant Pot to make your stuffed artichokes, you'll be able to fit 1-2 artichokes.Wash your artichokes carefully under cool running water. Then, trim off the pointy barbs on the leaves—they can really hurt!
Make the stuffed artichoke filling
Traditional stuffed artichokes are filled with breadcrumbs, cheese, and herbs/spices. These artichokes are then usually steamed or baked, then dipped in butter or sauce for serving.
Our filling uses light and fluffy Japanese bread crumbs, garlic, Italian seasoning, and grated parmesan cheese. I recommend using a real parmesan cheese, vs. the stuff in the can.
Toss the mixture together, and it's ready for the artichokes.
How to stuff an artichoke
With your fingers, gently fan out the leaves to create sizable gaps between each leaf. Then, sprinkle your stuffing mixture evenly over the top. Gently use your fingers to press the mixture into the gaps. You don't want to mash the filling!
Now, just place your beautifully stuffed artichokes onto the steamer basket or on top of the trivet, and you're almost done with your delicious Instant Pot stuffed artichokes!
How long to cook stuffed artichokes in Instant Pot
Every stuffed artichoke recipe seems to have a different opinion for what cooking time is best. So, I've tested and tweaked until I found my sweet spot: 45 minutes for a 1lb artichoke.
You can read more about my recipe testing and my advice on how to cook Instant Pot® artichokes here.
Remember this: never undercook your artichokes!
How to serve stuffed artichokes
After pressure cooking your artichokes, carefully remove them to a serving plate using tongs. I do not recommend removing the artichokes with your hands, as they're incredibly hot.
Drizzle with lemon juice or butter, maybe snap a pic or two, and enjoy! These babies are best served piping hot.
How to eat stuffed artichokes
If you've read my Instant Pot artichokes recipe, then you'll know that I really struggled the first time I tried to eat these things! The process for these is basically the same as eating a regular artichoke, except that this time, each petal will be topped with yummy stuffing.
Eating an artichoke for beginners
Starting from the outer layer of leaves, peel off a petal (don't forget to get any stuffing on top, too!). Then, scrape the inside gently along your front teeth. Discard the tops of the leaves.
I like to keep an extra bowl or plate on hand for these discarded petals, just like I would for crab or shrimp.
That's it! Eating an artichoke is that easy.
Can you eat the artichoke choke?
Once you've eaten all of the outer leaves, you'll come to a fuzzy section at the center. This is called the choke, and it guards the most delicious part of the artichoke: the heart.
The choke is like a furry, fibrous flower at the base of the artichoke. Don't eat the choke!!
Carefully but firmly scrape off the choke with a spoon and throw it into your discarded petal bowl.
Other Instant Pot Vegetable Dishes
I hope that you'll love these stuffed artichokes as much as my family and I do! Let me know in the comments how this stuffed artichoke recipe turned out for you!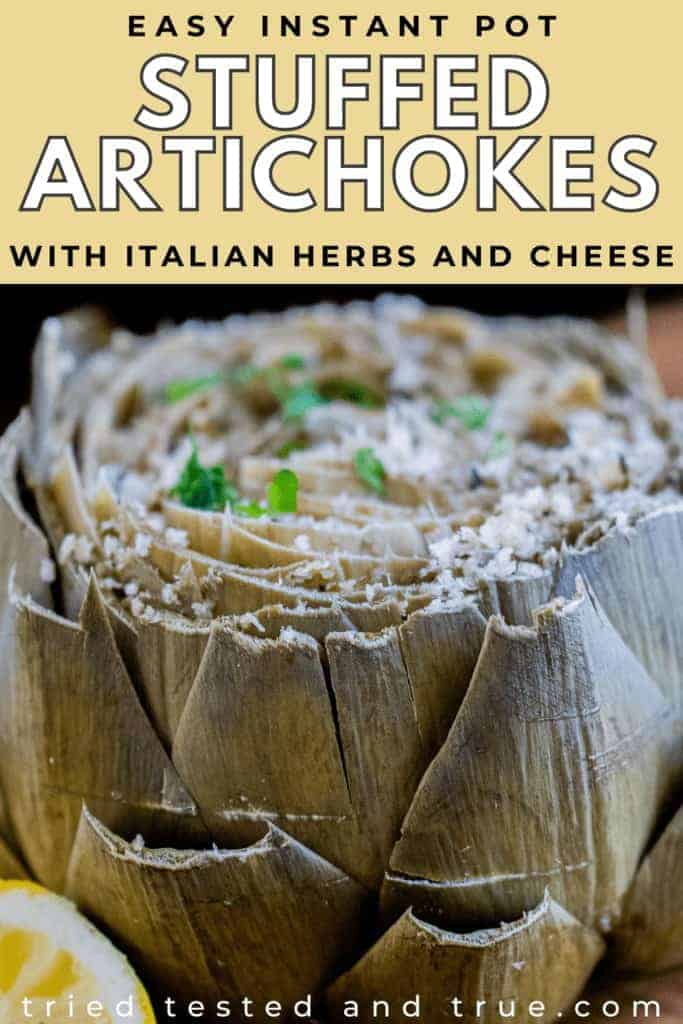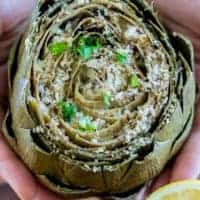 Instant Pot Stuffed Artichokes
This fancy-yet-simple appetizer is a favorite Italian classic. A whole artichoke is stuffed with breadcrumbs, cheese, herbs, and topped with lemon juice and butter for a delicious and fun appetizer. I use my favorite Japanese breadcrumbs, panko, for a lighter texture.
Print
Pin
Rate
INGREDIENTS
1

cup

water

2

large artichokes

over one pound

4

tablespoons

panko bread crumbs

1

teaspoon

Italian seasoning

1

teaspoon

minced garlic

4

tablespoons

parmesan cheese

grated

2

tablespoons

lemon juice

6

tablespoons

salted butter

divided and melted
INSTRUCTIONS
Pour water into Instant Pot®and add the trivet.

Cut the bottom stem off of the artichokes, then slice off the top ¼ of the artichoke and discard. Using sharp scissors, trim the tips of the outer leaves.

Gently spread the leaves to fan the artichoke out to create gaps between the leaves.

In a separate small bowl, toss together panko, Italian seasoning, garlic, and parmesan cheese. Using your fingers or a spoon, sprinkle the breadcrumb mixture evenly over the top of the artichokes and gently press down into the gaps.

Place artichokes onto the trivet.

Close the lid, turn the knob to Sealing.

Press Manual or Pressure Cook button and adjust time to 45 minutes.

When the timer beeps, turn the knob from sealing to venting, then remove the lid and carefully transfer the artichoke to a serving plate.

Drizzle with lemon juice and 1 tablespoon of butter on each artichoke. Serve with the remaining butter for dipping.
NUTRITION
Serving:
1
g
|
Calories:
476
kcal
|
Carbohydrates:
27
g
|
Protein:
9
g
|
Fat:
39
g
|
Saturated Fat:
24
g
|
Polyunsaturated Fat:
12
g
|
Trans Fat:
1
g
|
Cholesterol:
101
mg
|
Sodium:
656
mg
|
Fiber:
8
g
|
Sugar:
2
g
---
---