Instant Pot Spaghetti Squash with Lemon Cream Sauce
---
This post may contain affiliate links, which means I earn a small commission if you purchase something I recommend - at no additional cost to you! Thank you for supporting this blog!
Instant Pot Spaghetti Squash with Lemon Cream Sauce is light, yet savory. Tender strands of spaghetti squash are swirled with a lemony cream sauce and topped with lemon zest for an incredibly classy vegetarian dish where no one will miss the meat!
How to Cook Spaghetti Squash in the Instant Pot?
You're in the right place! Instant Pot Spaghetti Squash can be cooked whole or split in half, each is cooked differently in the Instant Pot. I'll walk you through how to cook spaghetti squash in the instant pot, with two halves.
Prep your spaghetti squash
First, rinse your spaghetti squash under cold, running water to remove any dirt and dust. You'll also want to remove any stickers.
Next, take the sharpest knife you own, and firmly cut the spaghetti squash in half — either vertically or horizontally. 
After cutting your spaghetti squash, take a large spoon, and scoop out all of the seeds and strands! My pro tip? To get those pesky strands, I like to use a pair of kitchen shears to snip them out!
Pressure cook the spaghetti squash
Now the fun begins! Place a trivet in your Instant Pot liner with one cup of water.
Place both pieces of the spaghetti squash onto the trivet/rack/sling, cut side up. Placing the Instant Pot spaghetti squash cut side up prevents it from falling out after cooking.
Lock the lid of your Instant Pot, and cook on manual high pressure for 9-12 minutes.
If you notice the squash is still firm, pressure cook it for an additional 2-3 minutes.
Cooking whole spaghetti Squash
Sometimes, cutting the spaghetti squash can be a pain because it is a very firm, hard vegetable.
If I have the time, I'll cook the spaghetti squash whole in the Instant Pot by placing it on the trivet or better yet, in a steamer basket. Then, I'll pressure cook it for 20-24 minutes.
Shred the squash and enjoy
After the steam releases from your Instant Pot, unlock the lid and carefully remove it. Take a fork and start fluffing the strands of spaghetti squash "noodles."
As you remove the strands (or noodles), be careful not to stir or smash!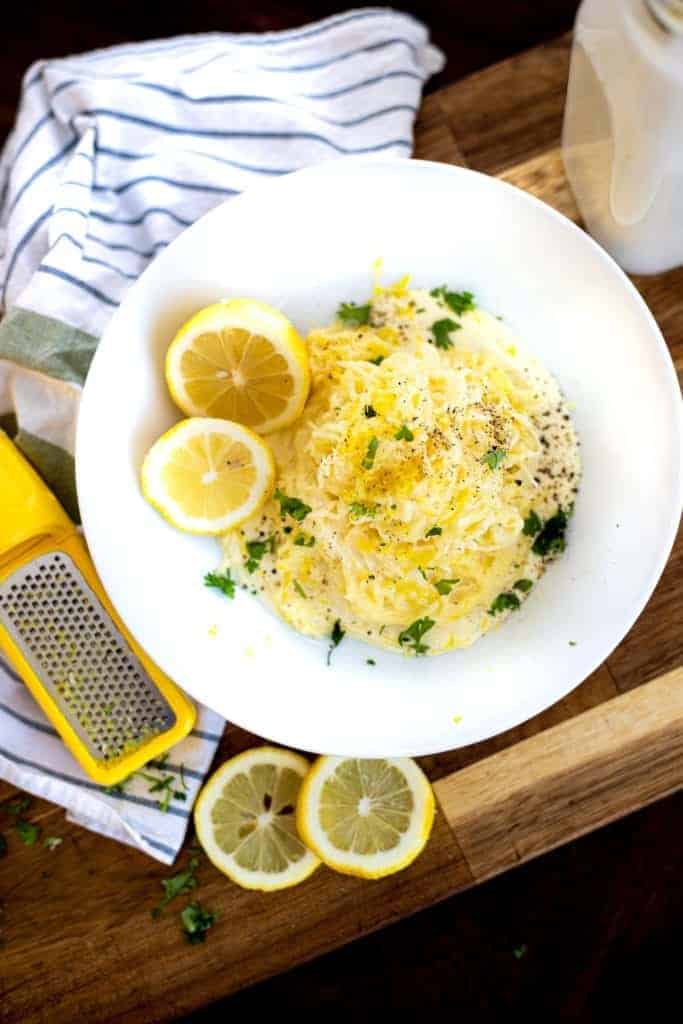 How to Make Instant Pot Spaghetti Squash with Lemon Cream Sauce?
After the spaghetti squash is cooked in the Instant Pot, we'll scoop it out and strain it really well. I like to push it on a fine-mesh strainer to get the liquid out.
Because it's been pressure cooked and spaghetti squash naturally contains a lot of liquid, it's important to get as much moisture out as possible to avoid a soggy end result.
The lemon cream sauce is mixed together really quickly in the Instant Pot to keep everything warm, and then the cooked "spaghetti" is tossed together. Voila! That's it!
How Long to Cook Spaghetti Squash in Instant Pot
Instant Pot spaghetti squash is a no-fuss recipe to make! Baking spaghetti squash in the oven can take anywhere from 30 minutes to an hour, or in the slow cooker for 4 hours!
In the Instant Pot, your spaghetti squash can cook within 9-12 minutes. I've found that with a 3-pound squash, 10 minutes is the magic number!
If your squash is extra large, thick, or old, Add an additional 5 minutes. Sometimes spaghetti squashes that are the same size cook for different lengths of time- I usually choose to err on the side of overcooking than undercooking.
If your spaghetti squash is crunchy, it is not done and you'll want to pressure cook it for a couple extra minutes.
Is Spaghetti Squash Healthy?
Absolutely! Spaghetti squash is traditionally a winter vegetable, packed with nutrients! I love to use spaghetti squash as a low-carb replacement for things like pasta.
This relative of pumpkin and zucchini is rich in antioxidants, promotes digestive health, and supports overall weight loss. Did you know that one cup of spaghetti squash has only an estimated 42 calories?
If spaghetti squash isn't a top pick when it comes to pasta replacements, consider spiralizing your favorite vegetables like carrots or butternut squash.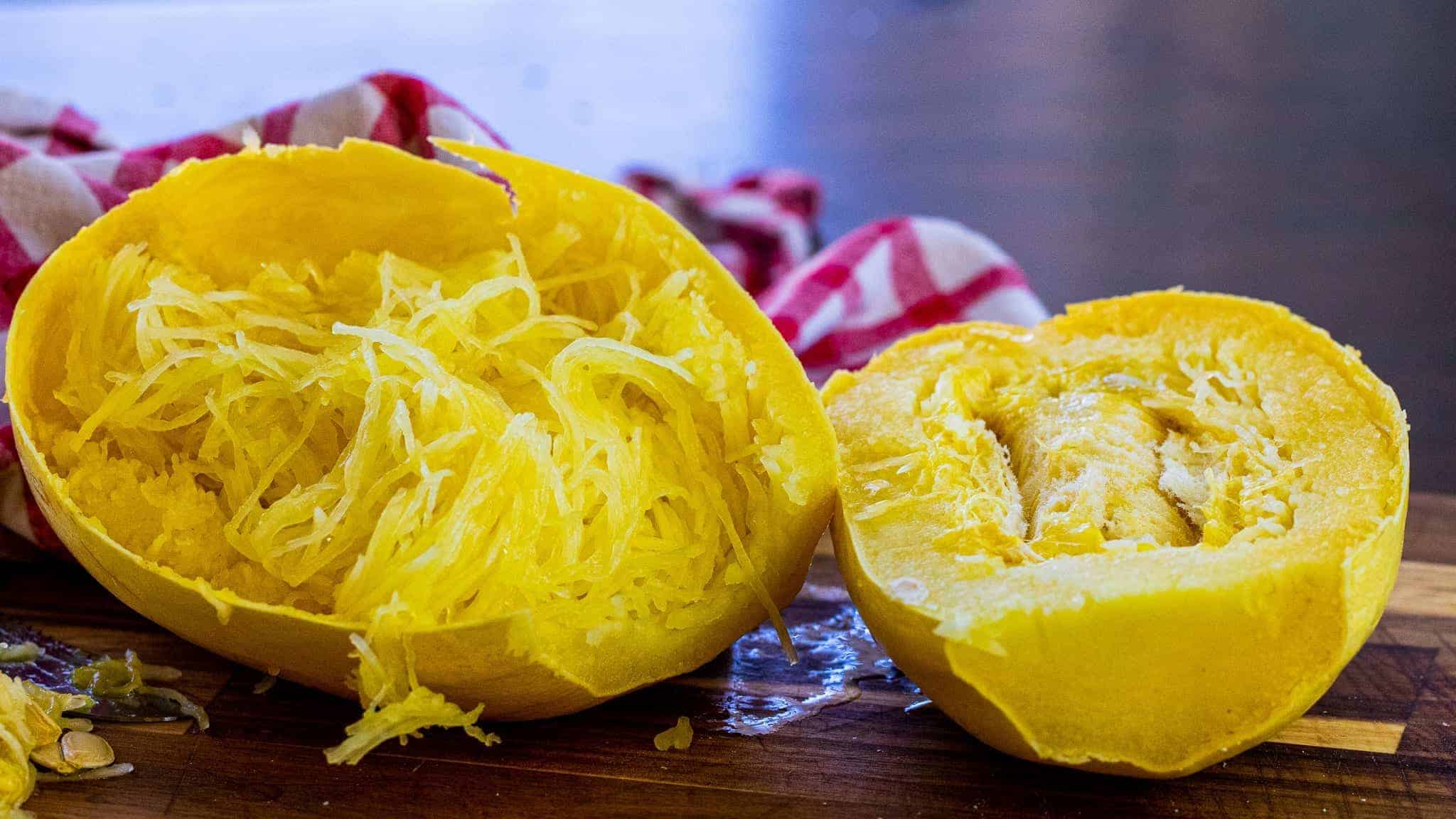 How Do You Keep Lemons From Curdling Cream?
Science! Okay, I'm actually excited to be talking about this, because we've all been there — staring at a sauce on the stove that is broken and curdled. And there are several reasons why a sauce may curdle:
Not enough fat
High-heat
Acidity
Too much salt
It's all about finding the right balance when it comes to lemon and a creamed sauce.
The right balance with acidity
Because lemons are considered high in acidity, I'm going to show you what you can do to avoid a broken or curdled lemon cream sauce with your Instant Pot spaghetti squash..
After incorporating your cream with lemon zest and salt, toss the spaghetti squash to coat it completely. Then, slowly drizzle the lemon juice into the spaghetti squash while stirring.
Don't dump the lemon juice directly into the heavy cream, or it'll curdle or turn into a heavy buttermilk. It's also important to mix it up well and eat as soon as possible to avoid the sauce from separating.
This Instant Pot Spaghetti Squash with Lemon Cream Sauce is a great recipe for someone looking for a low-carb, flavorful pasta dish for any night of the week!
Instant Pot Spaghetti Squash with Lemon Cream Sauce
This gorgeous dish is light, yet savory. Tender strands of spaghetti squash are swirled with a lemony cream sauce and topped with lemon zest for an incredibly classy vegetarian dish. No one will miss the meat!
Print
Pin
Rate
INGREDIENTS
1

cup

water

3

pound

spaghetti squash

(you'll need 2 cups cooked, drained, and packed for the dish)

2

cups

heavy cream

4

teaspoons

lemon zest

divided

1/2

teaspoon

salt

3

tablespoons

lemon juice

1/4

teaspoon

freshly cracked pepper

2

teaspoons

fresh parsley

2

tablespoons

parmesan cheese
INSTRUCTIONS
Pour water into Instant Pot®and add the trivet.

Place whole spaghetti squash onto the trivet.

Close the lid, turn the knob to Sealing.

Press Manual or Pressure Cook button and adjust time to 20 minutes.

When the timer beeps, turn the knob from sealing to venting, then remove the lid and carefully transfer the spaghetti squash to a cutting board. Let cool for 10 minutes.

Carefully slice the spaghetti squash in half. Cutting the squash through the stem will result in shorter strands while cutting in the middle will result in longer strands. Scoop out the seeds from each halve, then using tongs or a fork, gently scrape and pull the spaghetti squash out of the shell into a strainer. Push the squash against the sides of the strainer to remove as much liquid as possible, then measure two cups, packed, for the dish and reserve the rest. This should be about half the squash.

Drain and rinse out the Instant Pot® liner and place it back in the base. Press the Saute button and adjust to low. 

Add 2 teaspoons lemon zest, heavy cream, and salt to the Instant Pot® and stir to combine. Add spaghetti squash and toss to coat. Slowly stir in the lemon juice and transfer to a serving bowl.

Swirl the spaghetti squash into a tall mound, then top with freshly cracked black pepper, fresh parsley, parmesan cheese, and the remaining lemon zest.
NUTRITION
Serving:
1
cup
|
Calories:
469
kcal
|
Carbohydrates:
7
g
|
Protein:
6
g
|
Fat:
46
g
|
Saturated Fat:
29
g
|
Polyunsaturated Fat:
1.7
g
|
Trans Fat:
3
g
|
Cholesterol:
158
mg
|
Sodium:
130
mg
|
Fiber:
10
g
---
---
Step 8 reads to add 2 teaspoons lemon zest (because in the ingredients it is 4 teaspoons, divided) and all of the heavy cream.