Instant Pot Ramen Stir Fry
---
This post may contain affiliate links, which means I earn a small commission if you purchase something I recommend - at no additional cost to you! Thank you for supporting this blog!
This Instant Pot ramen stir fry is packed full of veggies so it's super healthy, right? I love making this meal for my kids using up any odds and ends in the fridge and pantry. Everything tastes better mixed up with ramen noodles, even veggies!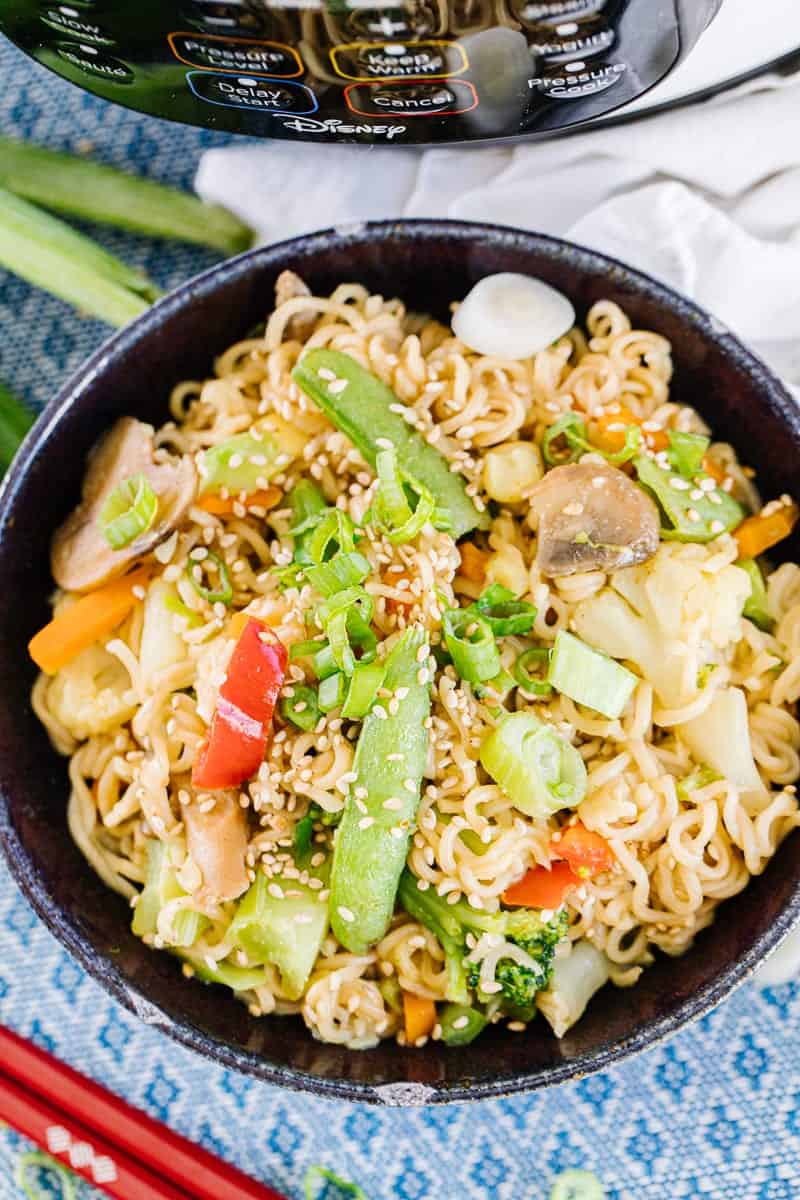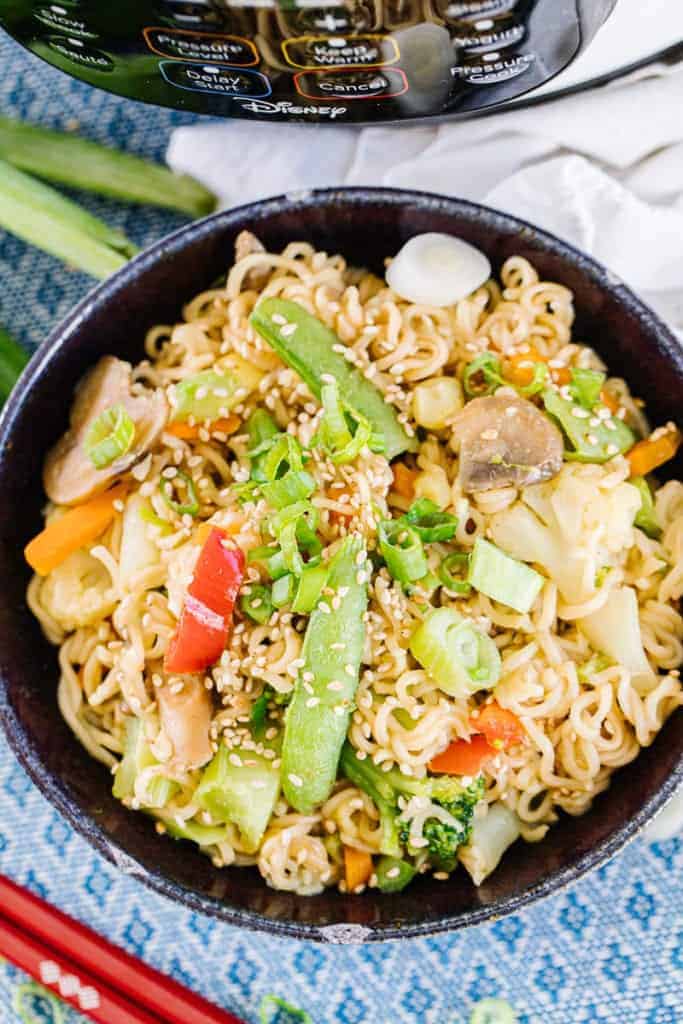 The best Instant Pot ramen hack
If you found this recipe by googling "Maruchan ramen recipes" in the hopes of finding something easy, fast, and oh-so-satisfying, congrats!
You're in the right place.
This Instant Pot ramen stir fry is my all-time favorite ramen hack. It's done in only two minutes more than regular ramen, and it's packed with healthy veggies.
Because it only uses a half teaspoon of the ramen's included flavor packet, it's even healthier.
And you won't miss the flavor packet because this recipe is packed instead with fresh garlic, soy sauce, and sesame oil. Yum!
Ramen noodle stir fry—in an Instant Pot?
"But Lisa, it's an Instant Pot, not an instant wok—does it really work for stir fry?"
Yes!!!
You can definitely make stir fry in an Instant Pot, and it's absolutely delicious! Plus, there's no actual frying involved, so you won't have to worry about accidentally setting off your smoke alarm.
If you do decide that you want your noodles to be extra crispy, feel free to pop your Instant Pot onto Sauté and toss them with tongs for a minute or two.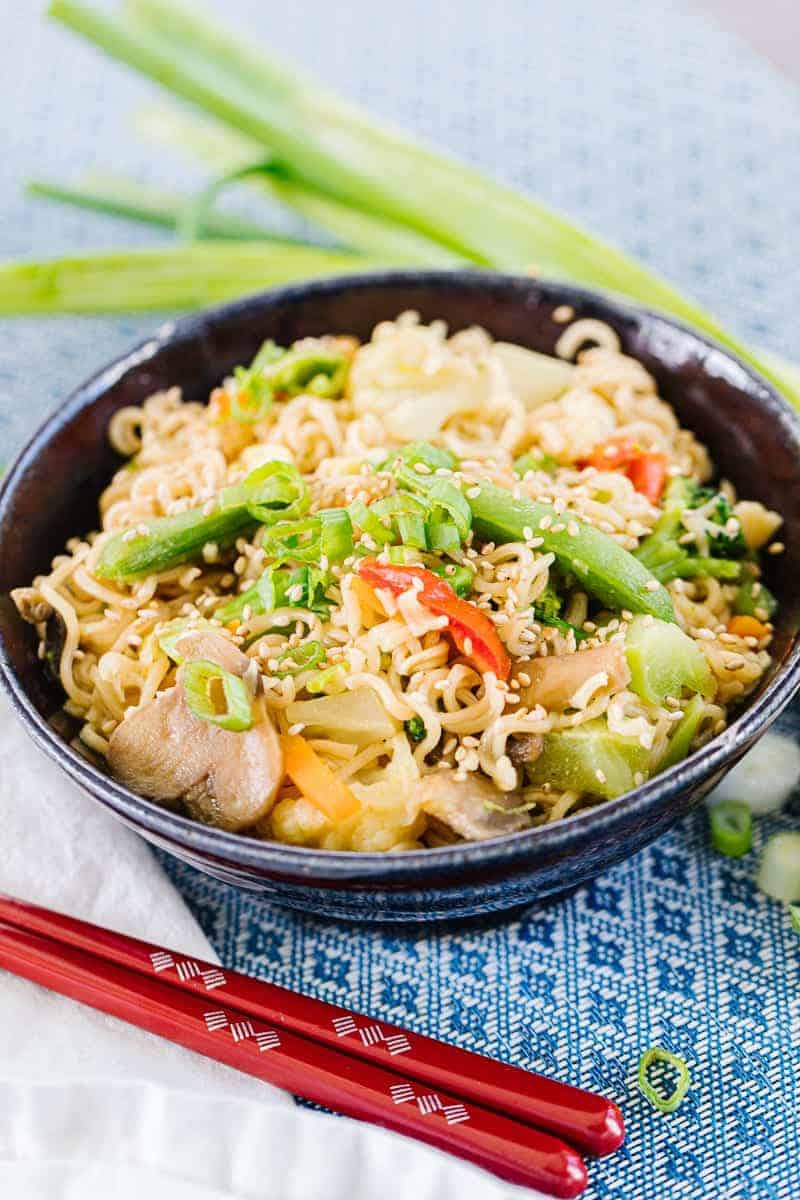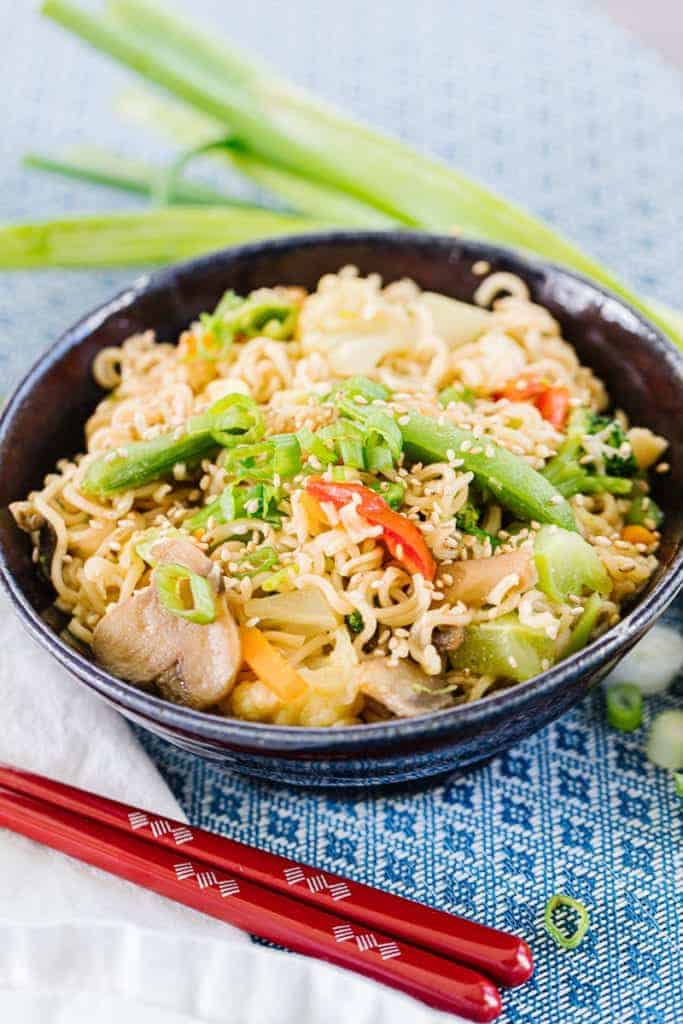 My favorite way to top off any ramen noodle stir fry is with a crispy egg on top—bonus points if you can manage to keep the yolk runny!
There's nothing more satisfying than mixing all of that savory egg flavor into an already scrumptious bowl of ramen.
It's also an easy and inexpensive way to add protein to this filling meal.
Easy Top Ramen stir fry recipe for Instant Pot
Like a lot of my recipes, this stir fry is as easy as one-two-three.
Throw ingredients into the Instant Pot
Cook
Fluff & serve
To make things easier, I designed the recipe for one so that you can just multiply it times however many people you're feeding.
Bonus: this recipe only takes 1 minute to cook in the Instant Pot. So depending on how quick you get at throwing all of your ingredients in to cook, you might be able to get this from pantry to table in 10 minutes!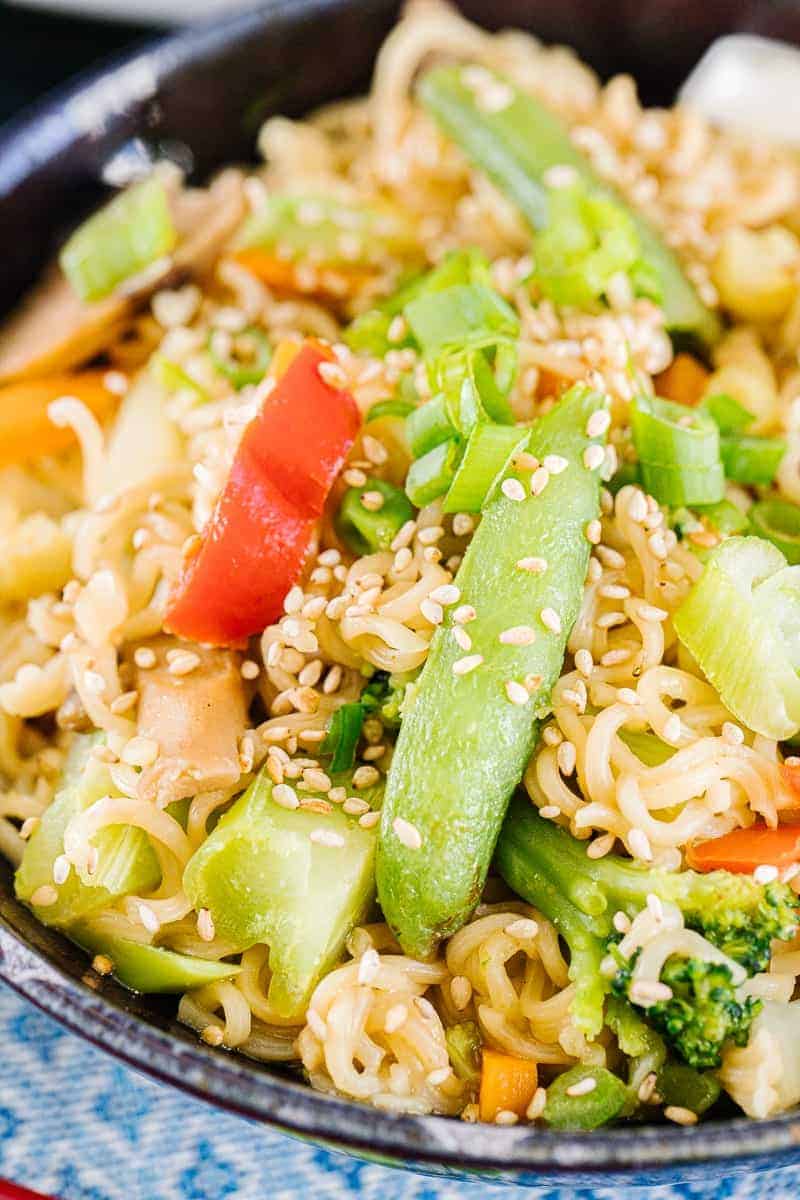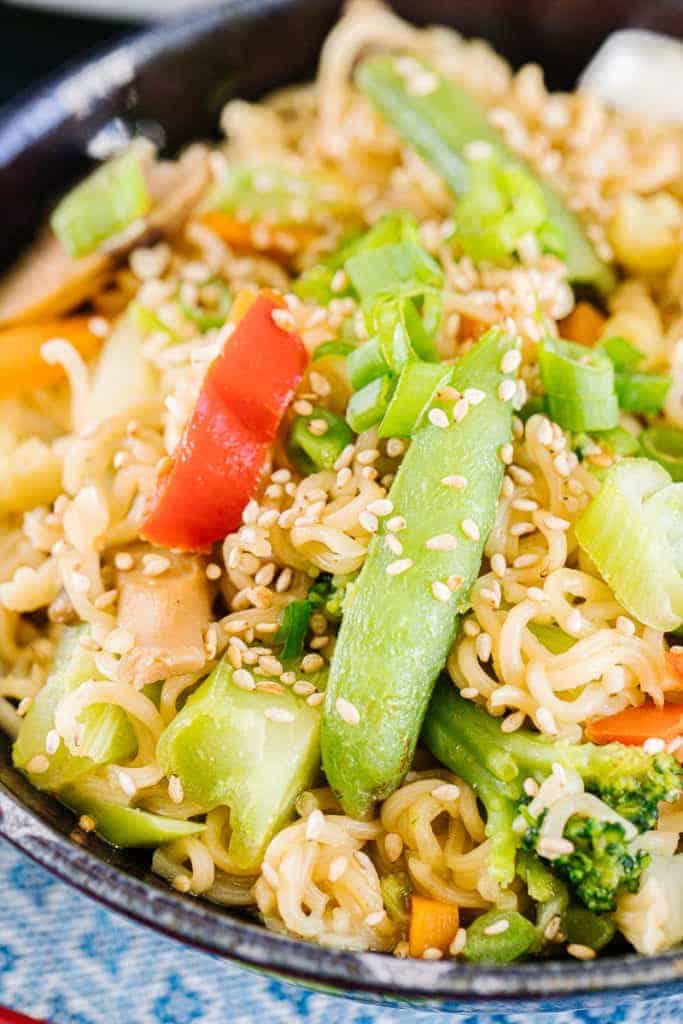 Instant Pot ramen noodle soup
Maybe it's mid-December and you're freezing. Maybe it's mid-July and you just want soup!
Whatever your reason, this dish is insanely easy to turn into a soup. Keep all of those delicious veggies and prepare with two cups of water and the entire seasoning packet. 
Boom!
Instant Pot ramen noodle soup.
Can I use garlic powder instead of fresh garlic?
Sure! I do this all the time if I'm in an extra hurry or don't have any fresh garlic on hand.
If you know that you're just the kind of person that hates chopping up garlic, I recommend using the jarred minced garlic. It still has lots of amazing flavor, just minus the hassle. 
Can I add chicken to my ramen stir fry?
Yes, definitely!
If you're not adding an egg on top of your stir fry, this is a great way to add some protein to your meal.
Since this recipe only cooks for a couple of minutes, you won't be able to add raw chicken to this recipe without overcooking the noodles.
Instead, you can use the saute feature on the Instant Pot to saute chicken (thighs, breast, or tenderloins) with some oil, salt, pepper, and garlic powder before adding the rest of the noodles.
You can also just throw some chopped precooked chicken into the Instant Pot on top of the ramen and veggies.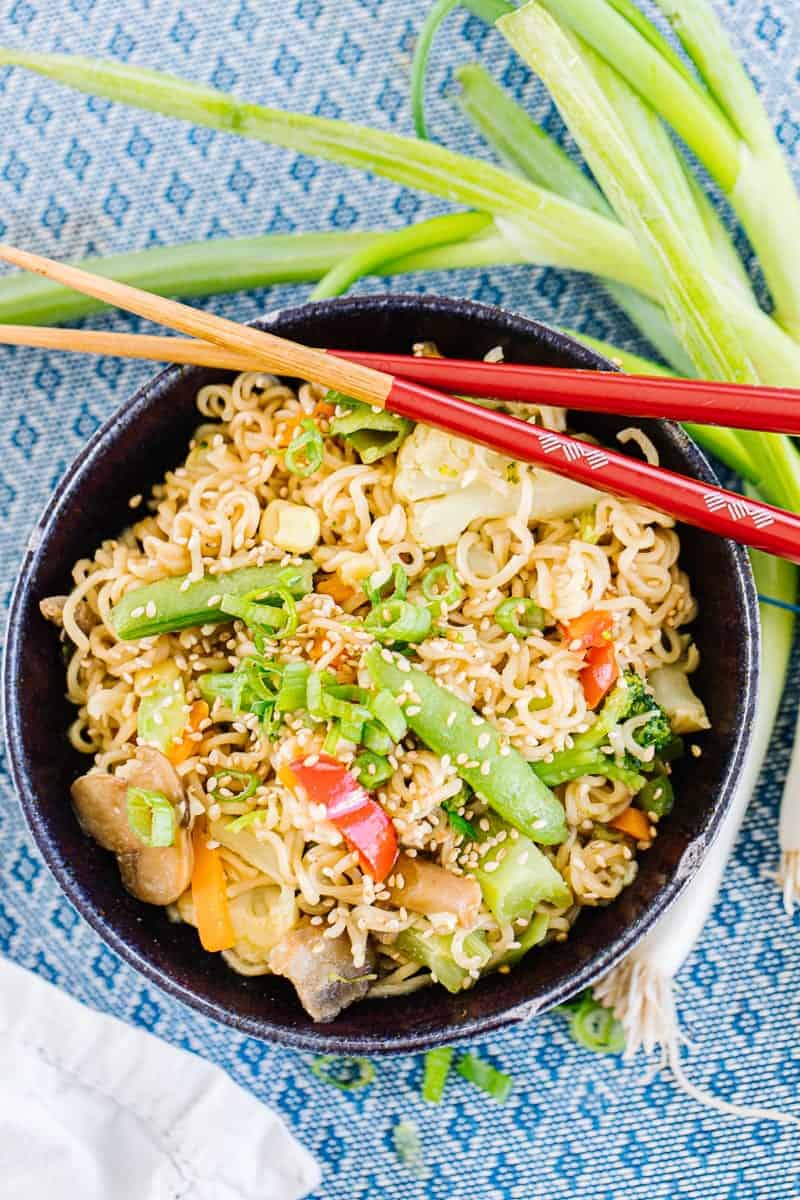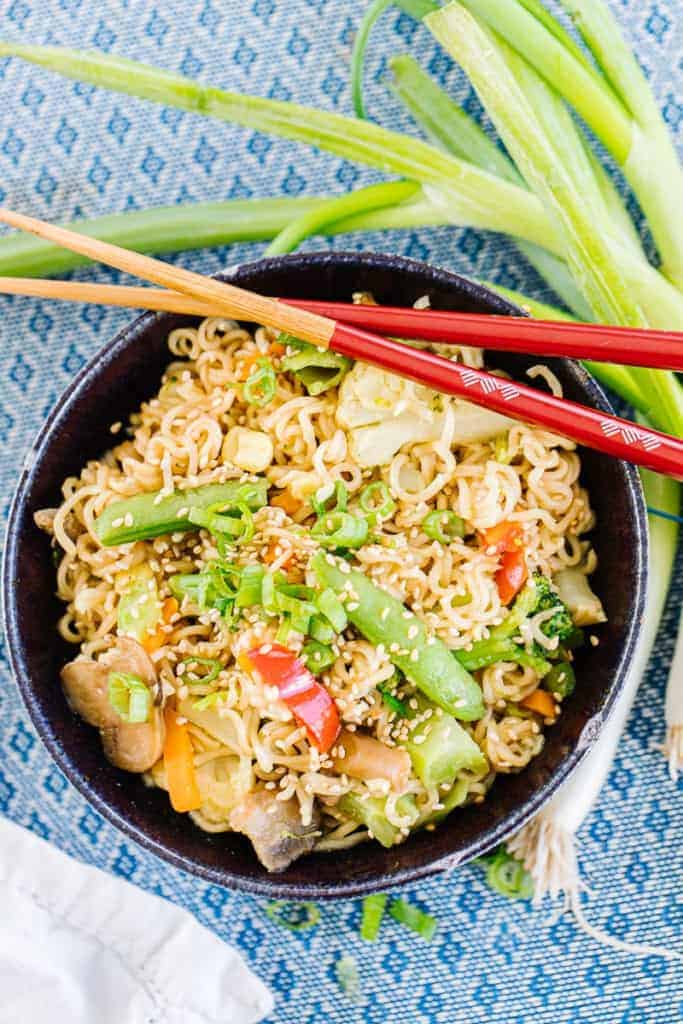 What kinds of vegetarian/vegan protein are good for this?
For a meat/dairy free approach, I recommend using tofu, seitan, or shrimp (if you eat seafood).
As usual, you can just pop these into the Instant Pot with the ramen and veggies. Shrimp especially don't need much work.
The other three are best with a bit more love. For all of these plant-based proteins, I recommend marinating them in some soy sauce, sesame oil, garlic, and salt for 20 or so minutes before tossing them onto a baking sheet and into a frying pan for about 3-5 minutes.
This marinating and baking step gives some much-needed extra flavor, so it's worth the extra time! Once the protein is cooked (I like mine crispy), you'll just add it to the already-cooked ramen stir fry.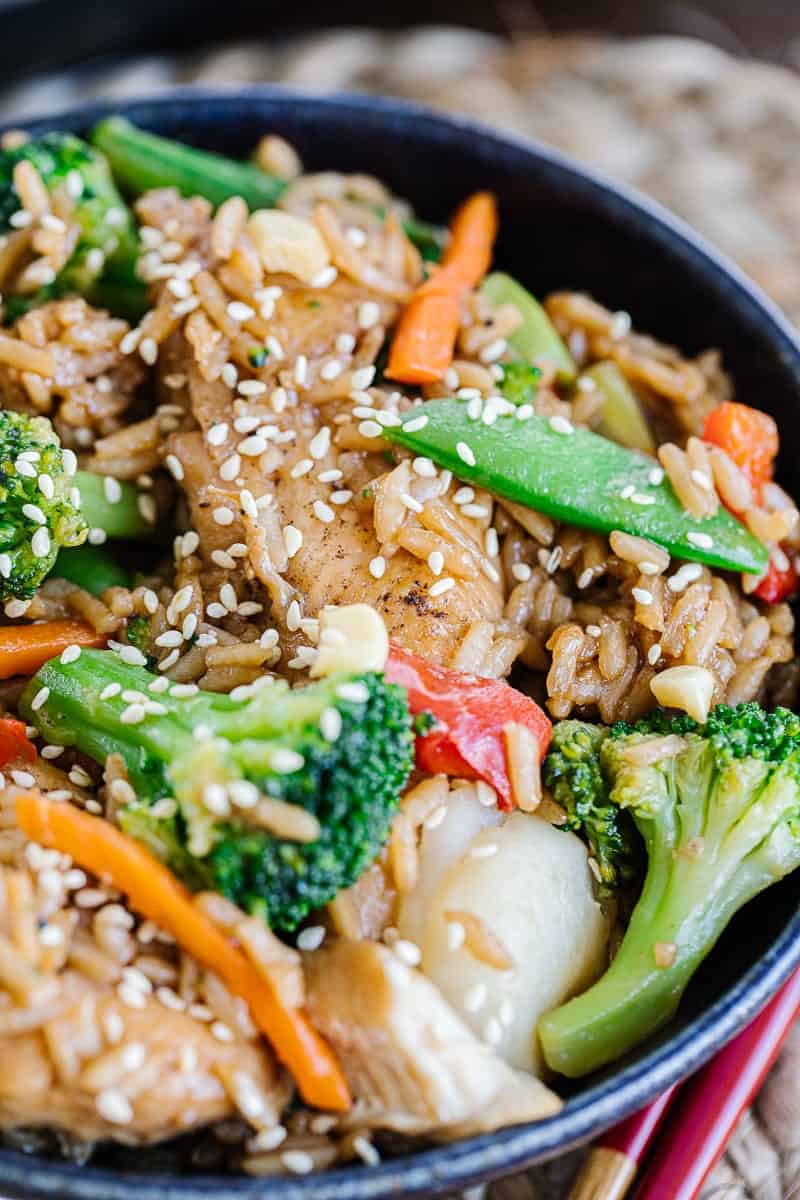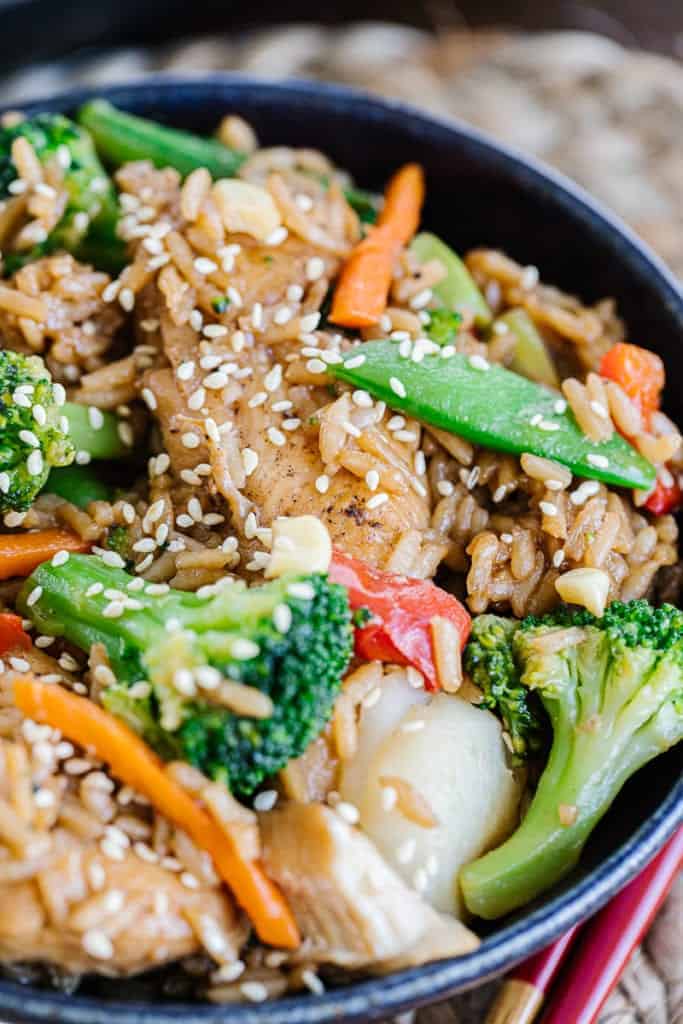 Can I make a gluten free ramen stir fry?
Conventional ramen noodles are made with wheat, so you'll want to avoid those if you're gluten free. Soy sauce is also packed with gluten, so avoid that as well.
But, just because you're gluten free doesn't mean that you can't eat delicious ramen stir fry! Simply sub out conventional ramen for gluten free ramen and conventional soy sauce for coconut aminos.
For protein, you can definitely use an egg or some chicken, but be sure to avoid seitan. Tofu and tempeh can be gluten free, but you'll want to double check to be sure!
Can I meal prep this ramen stir fry?
Yes, yes, yes! This recipe is perfect for meal prep (or opportune leftovers—whatever you want to call them).
If I know that I'm going to be busy the next day, I just make an extra portion or two and package it up! I really love these meal prep containers because they keep everything pre-portioned and super easy to reheat and serve.
I wouldn't recommend prepping more than 2 days ahead for these, as the noodles can get soggy.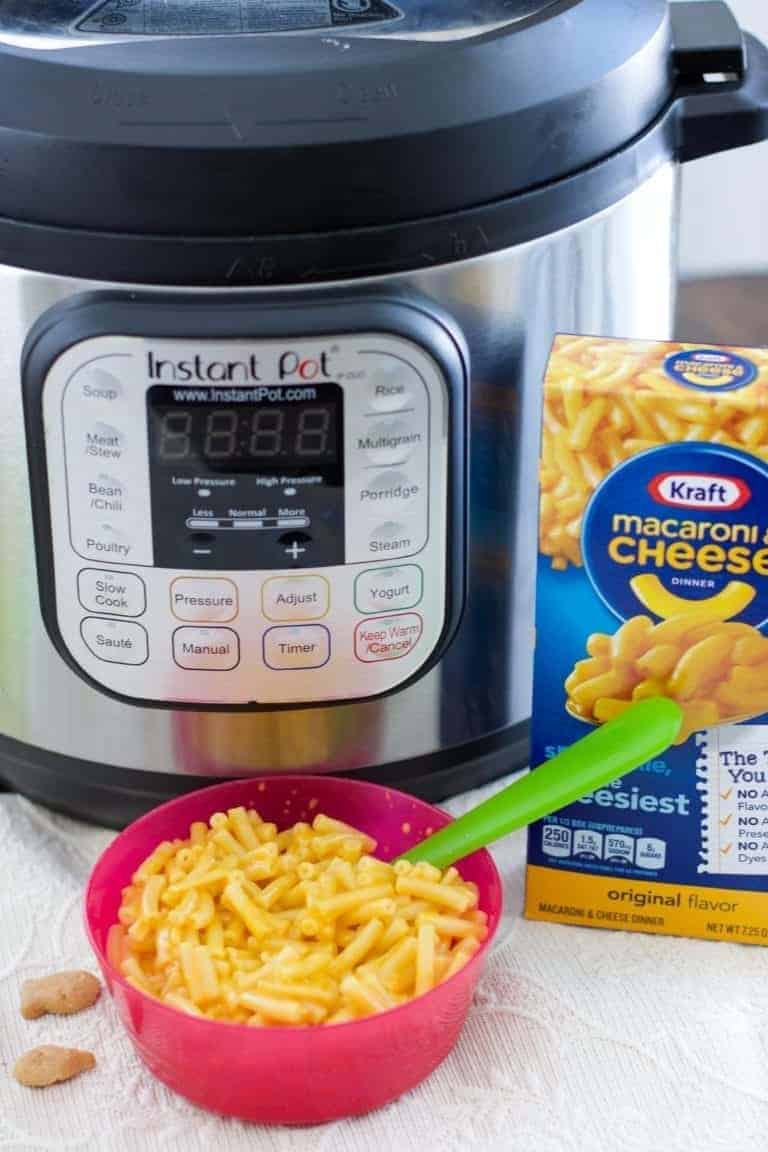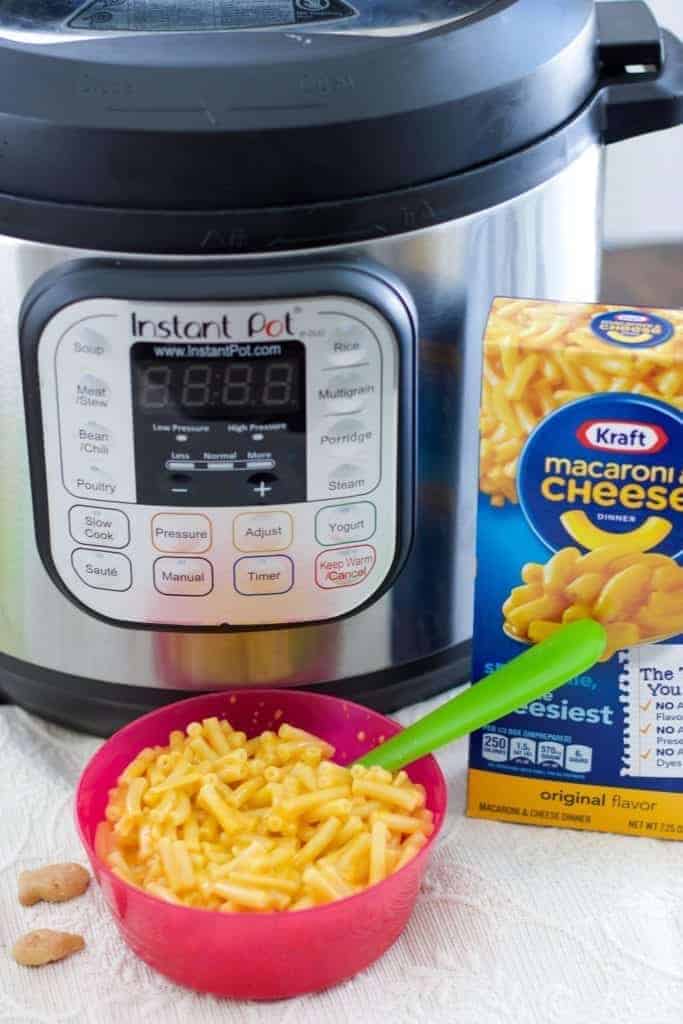 More easy one pot meals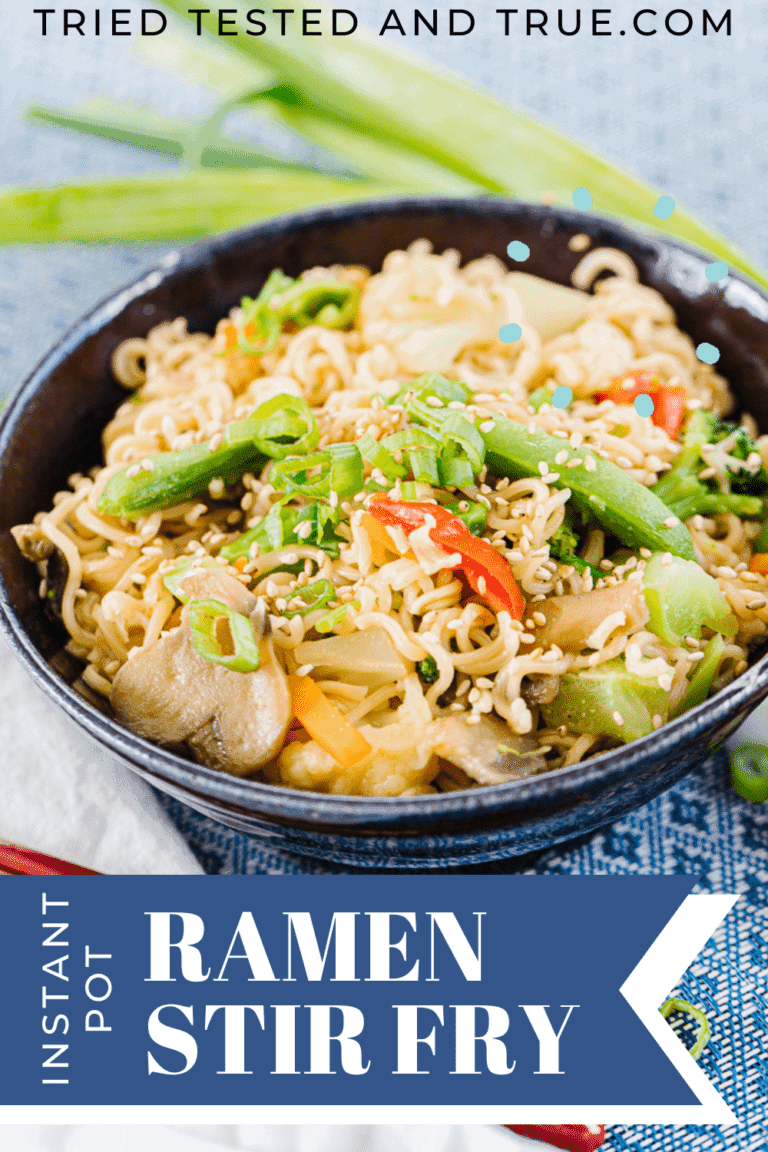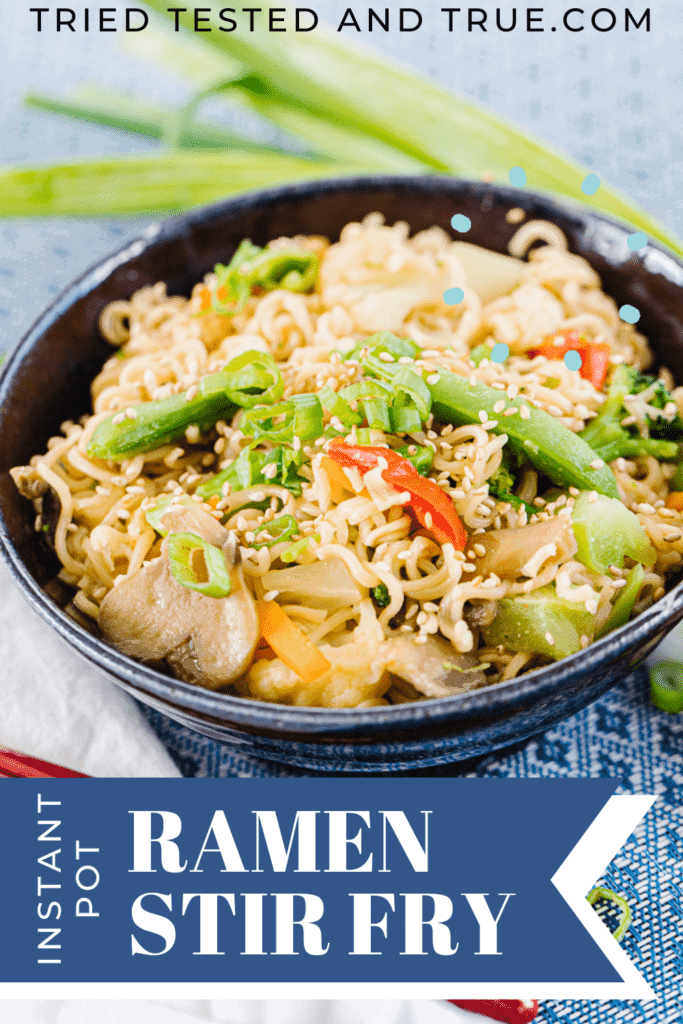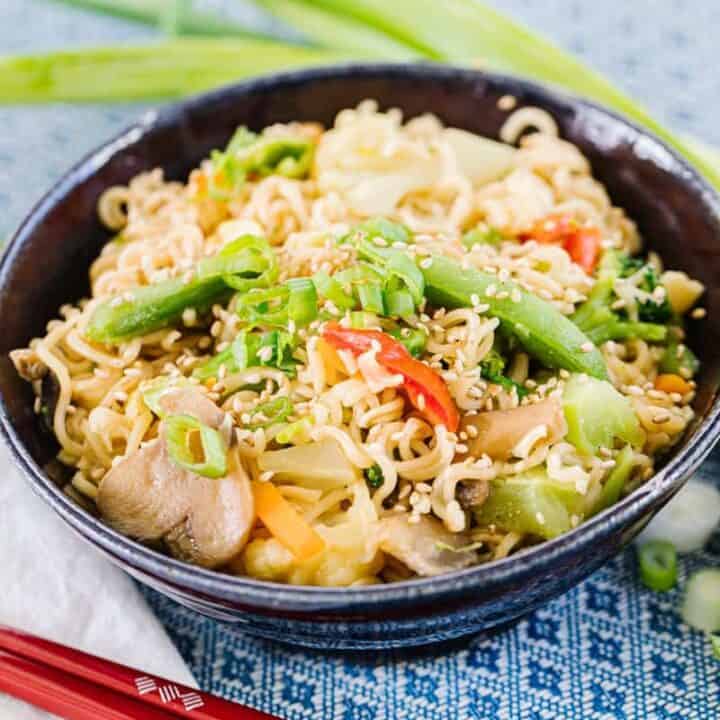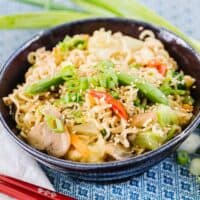 Instant Pot Ramen Stir Fry
This ramen is packed full of veggies so it's super healthy, right? I love making this meal for my kids using up any odds and ends found in the fridge and pantry. Everything tastes better mixed up with ramen noodles, even veggies! 
Print
Pin
Rate
INGREDIENTS
1, 3

oz

package dried ramen

soy sauce flavor for vegetarian or chicken, beef, etc.

1

cup

water

1

cup

frozen stir fry mixed vegetable mix

¼

teaspoon

minced garlic

¼

teaspoon

sesame oil

¼

teaspoon

soy sauce

1

teaspoon

sesame seeds
INSTRUCTIONS
Break up the ramen noodles and scatter evenly in the Instant Pot®. Add the rest of the ingredients to the pot along with ½ teaspoon of the included seasoning packet. Discard the remainder.

Close the lid, turn the knob to Sealing.

Press Manual or Pressure Cook button and adjust time to 1 minute.

When the timer beeps, turn the knob from sealing to venting, then remove the lid, fluff the noodles and vegetables together, and serve.
NOTES
Ramen Noodle Soup
You can prepare this dish with 2 cups of water and the entire seasoning packet to make Instant Pot® ramen soup.
Add an egg or cooked chicken to this meal for a quick and easy way to add protein.
---
---