Instant Pot Cajun Sausage and Rice
---
This post may contain affiliate links, which means I earn a small commission if you purchase something I recommend - at no additional cost to you! Thank you for supporting this blog!
Instant Pot Cajun Sausage and Rice is a hearty dish, packed with flavors and veggies! Throw it all in the Instant Pot together, and you've got a delicious one pot meal.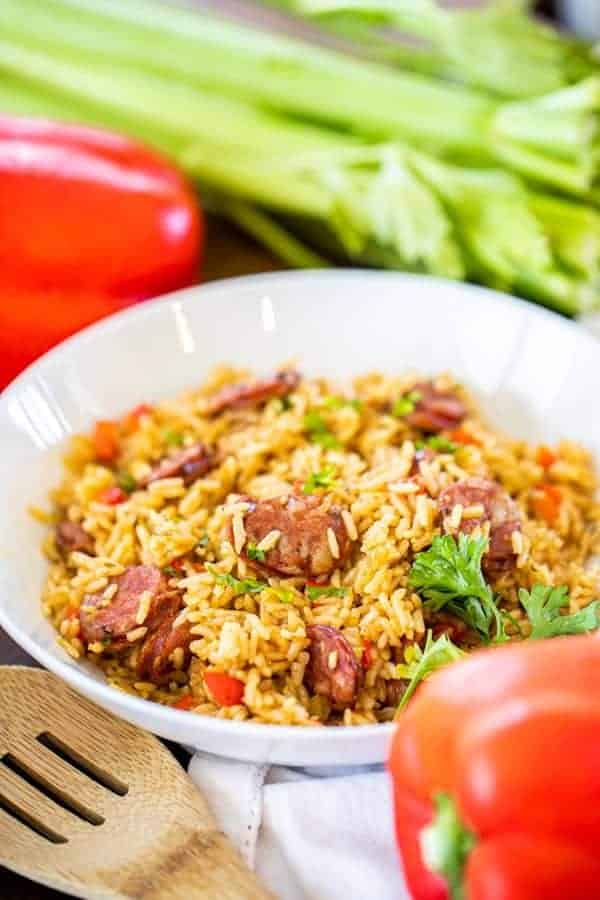 IS CAJUN SAUSAGE AND RICE THE SAME AS DIRTY RICE?
It's the golden question, and it depends on who you ask. Cajun rice, dirty rice, and even rice dressing are all just slightly different versions of the same thing.
Traditionally, dirty rice was a poor man's food. Locals filled it with all of the cheap parts of a chicken: the liver, gizzards, and heart.
They then ground up those parts and tossed them into the rice, giving it a "dirty" appearance. In fact, many people say that "dirty rice" isn't authentic without the liver!
My Instant Pot Cajun rice recipe has a slightly more modern twist: it has all of the traditional flavor that you love in a pile of dirty rice, but it gets the flavor from andouille sausage instead of liver and gizzards.
It's easier, smells better, and tastes delicious.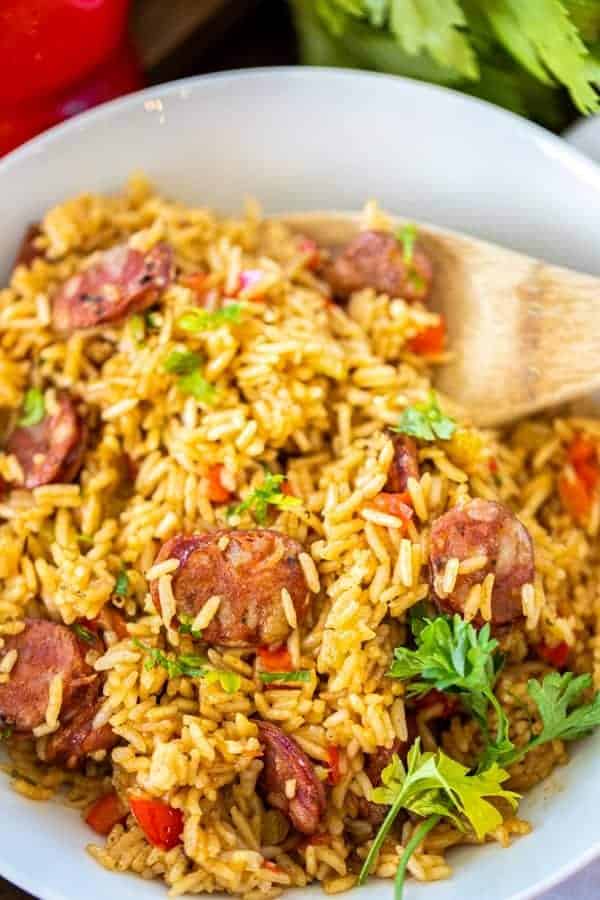 IS CAJUN SAUSAGE AND RICE A ONE POT MEAL?
Using your Instant Pot, Cajun Sausage and Rice is one of the easiest one pot meals there is.
I like to use this recipe as a fridge cleaner: throw everything together, and you're set with a delicious entree all from one pot (so no extra dishes)!
CAN I MEAL PREP WITH INSTANT POT CAJUN SAUSAGE AND RICE?
This recipe is perfect for meal prepping! Because Instant Pot Cajun Sausage and Rice has both carbs and protein, it can make a great dinner one night and then a lunchtime entree the next day.
Your Cajun Rice should last about 5-6 days in the fridge, so you can easily cook and prepare ahead for the whole week.
I swear by these meal prep containers: they're plastic (aka practically unbreakable), stackable, microwave and dishwasher safe, and BPA free.
Basically, they're the perfect container for kids and parents alike.
INSTANT POT SAUSAGE AND PEPPERS
CAN YOU ADD CHICKEN OR PEPPERS?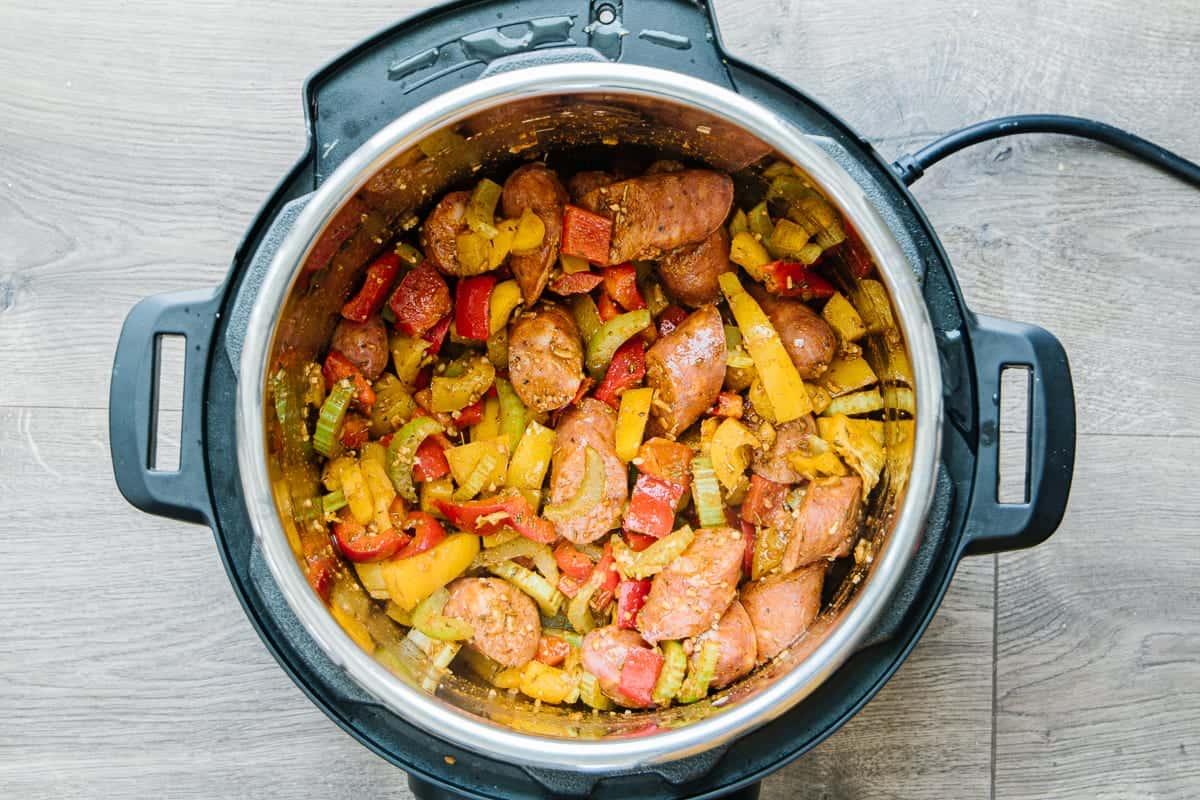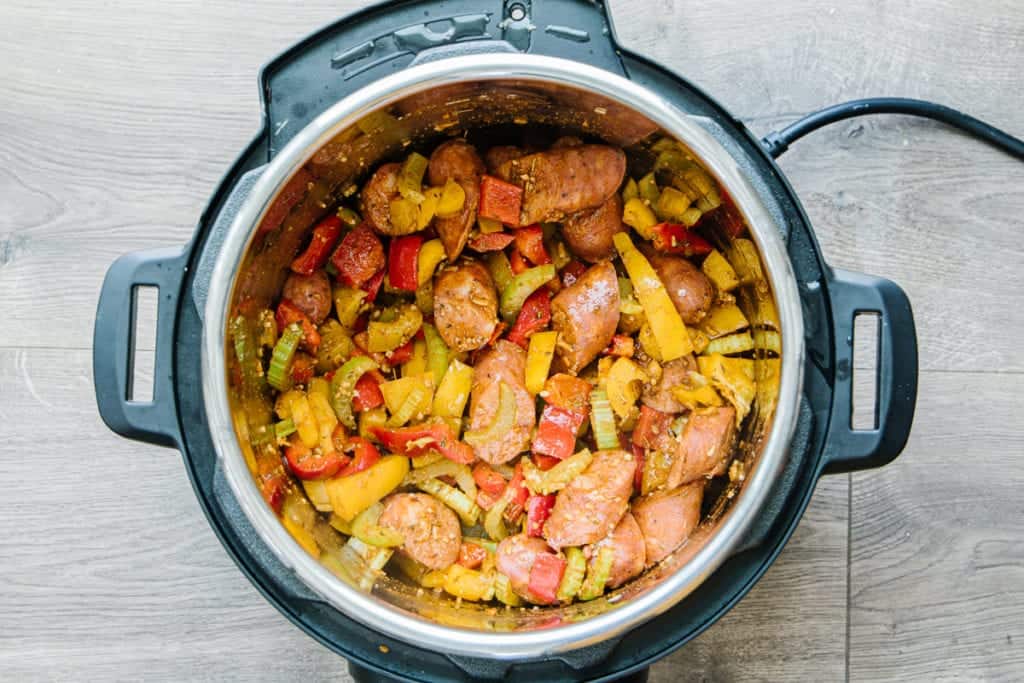 Yes!
One of the best things about this recipe is that it's so flexible. I make my Cajun rice with peppers and sausage, but feel free to mix things up and add chicken.
I prefer tenderloins tossed with extra cajun seasoning, or any other ingredients or vegetables you have on hand.
This is a pretty classic recipe, but once you've mastered it, you can even change up the seasonings and really make it your own.
In the old South, locals said that no two families would ever agree on a recipe for Cajun rice because each family customized their recipe so much. So get creative and tailor this to your family—and let me know how it goes!
One reader, Becca, shared, "I love this recipe and have made it numerous times. Tonight I added frozen, peeled shrimp and cooked as directed. It was so great!"
CAN YOU COOK RICE AND MEAT AT THE SAME TIME IN THE INSTANT POT?
I have several popular, one pot recipes for Instant Pot chicken and rice!
Watch this video for Instant Pot Cajun Chicken and Peppers.Included in this video are recipes for Ritz Chicken and Rice Casserole, Instant Pot Lemon Garlic Chicken and Rice, and Instant Pot Chicken Teriyaki Bowl
What kind of rice should I use?
Some people swear by basmati, but I've found that any kind of long-grain white rice works great.
I usually use American long-grain white rice, but feel free to use basmati or jasmine as well!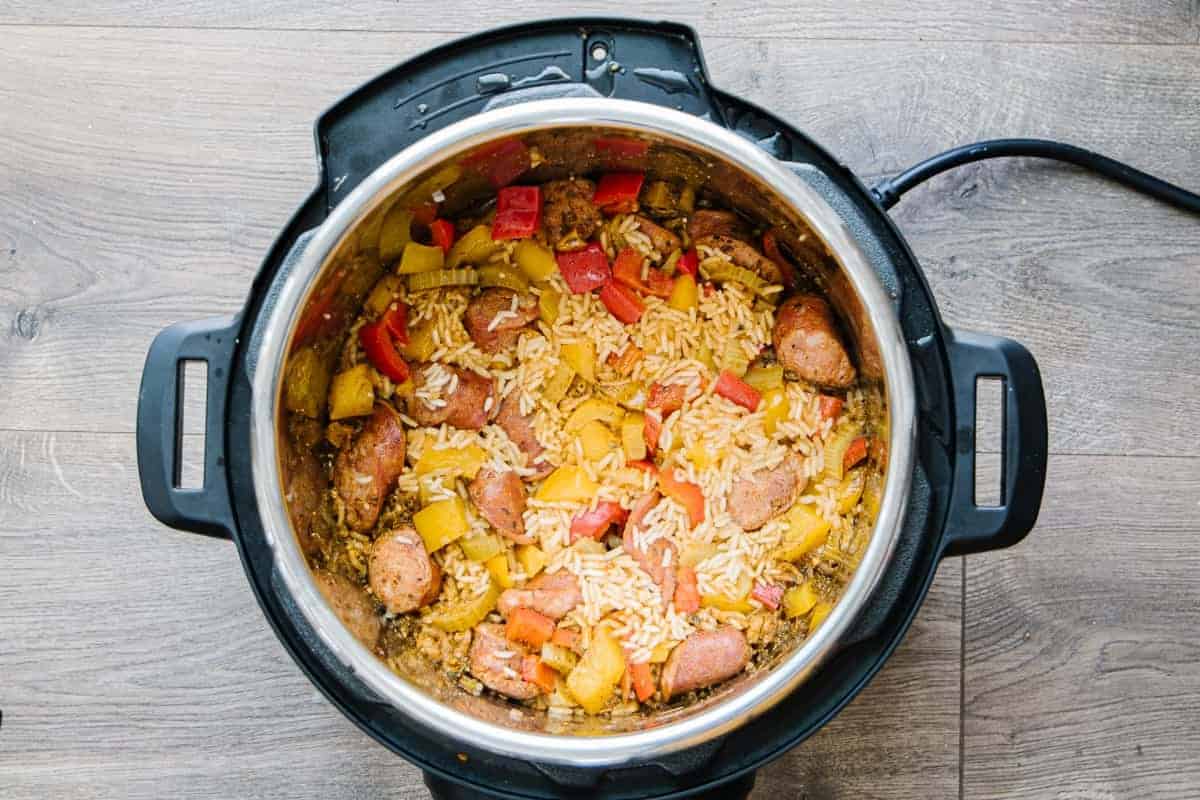 HOW TO MAKE INSTANT POT CAJUN SAUSAGE AND RICE
This recipe is as easy as 1-2-3:
Chop up your veggies and sausage, then toss them into your Instant Pot to sauté. I've found that this chopper makes my life SO much easier! Trust me—if you've never tried one, you're missing out.
After sautéing for a couple of minutes, add in the rest of the ingredients and stir.
Let everything cook for literally 5 minutes. Let your Instant Pot release slowly for another 10, and that's it!
I love this recipe because it's just so easy. I know that I can take this from fridge to table in less than 25 minutes—and as a mom, quick meals are game changers!
If you like this recipe, you'll love my Instant Pot Low Country Boil!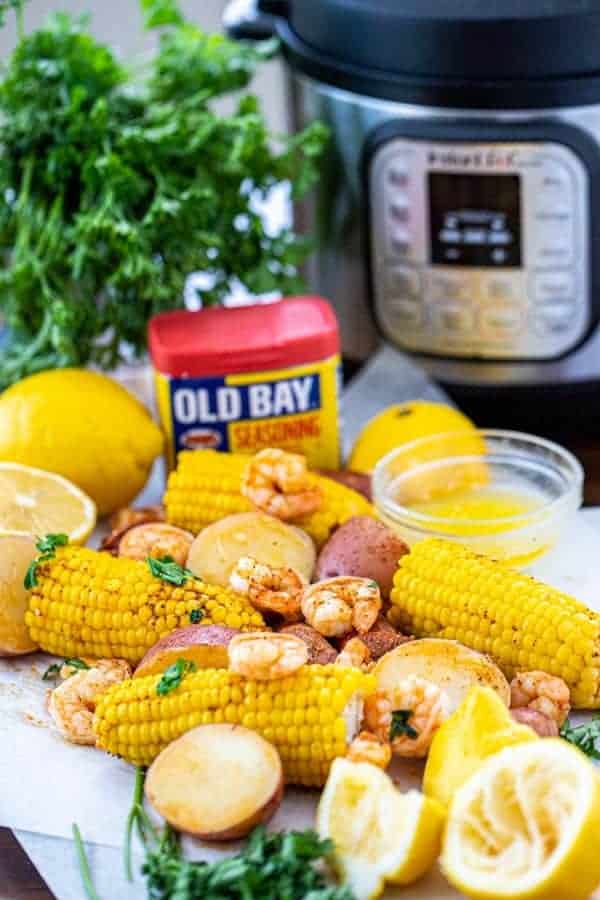 HOW TO DOUBLE INSTANT POT ANDOUILLE SAUSAGE AND RICE
It would be simple to double this recipe in an 8 quart Instant Pot. Double the ingredients, follow the recipe as written, and add about two minutes to the cook time.
WHY DID I GET THE BURN NOTICE?
The key to avoiding a burn notice with this recipe is deglazing the pot after sautéing!
Deglazing sounds fancy, but it's a basic technique! It simply means adding liquid to a hot pan and gently loosening the caramelized bits, also known as fond, from the bottom.
It's how you get the flavor off the bottom of the pan and into your mouth!
SHOULD I USE RICE BUTTON ON INSTANT POT?
The Rice setting on the Instant Pot is a preset for 12 minutes on LOW pressure.
For this recipe, I recommend using the Manual/Pressure Cook button, as there are other ingredients in addition to the rice.
I actually prefer to use the Manual/Pressure Cook setting when making rice in my Instant Pot.
DOES THE RICE BUTTON ON INSTANT POT WORK?
As noted above, I prefer to manually set the time on the Instant Pot when cooking rice.
The "Rice" setting on the Instant Pot is a preset cycle that was designed specifically to cook long grain white rice. It defaults to 12 minutes on low pressure.
One of the most popular functions in pressure cooking is making rice. However, it takes some time to figure out the right water-rice ratio and cook times.
I use the Manual/Pressure Cook setting to customize the cook time, depending on the rice.
Each variety of rice cooks a little differently in the Instant Pot! I made it easy for you with this Rice Roundup List.
When using the rice function for any type of rice, always ensure to allow a 10-15 minute natural pressure release after the pressure cook time.
Of course, follow my recipe for the specific cook time for Instant Pot andouille sausage and rice.
What goes with Cajun Sausage and Rice?
This recipe is a one pot meal, but if you'd like to serve it with other side dishes, I recommend: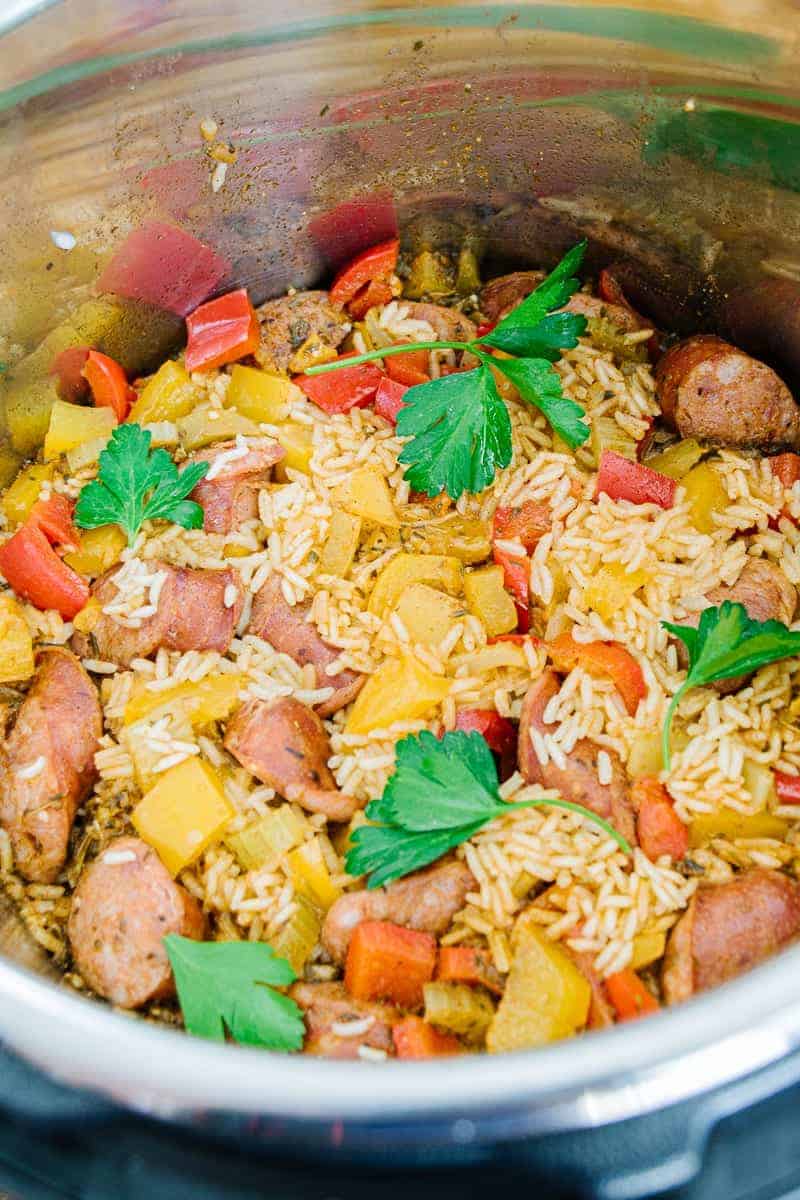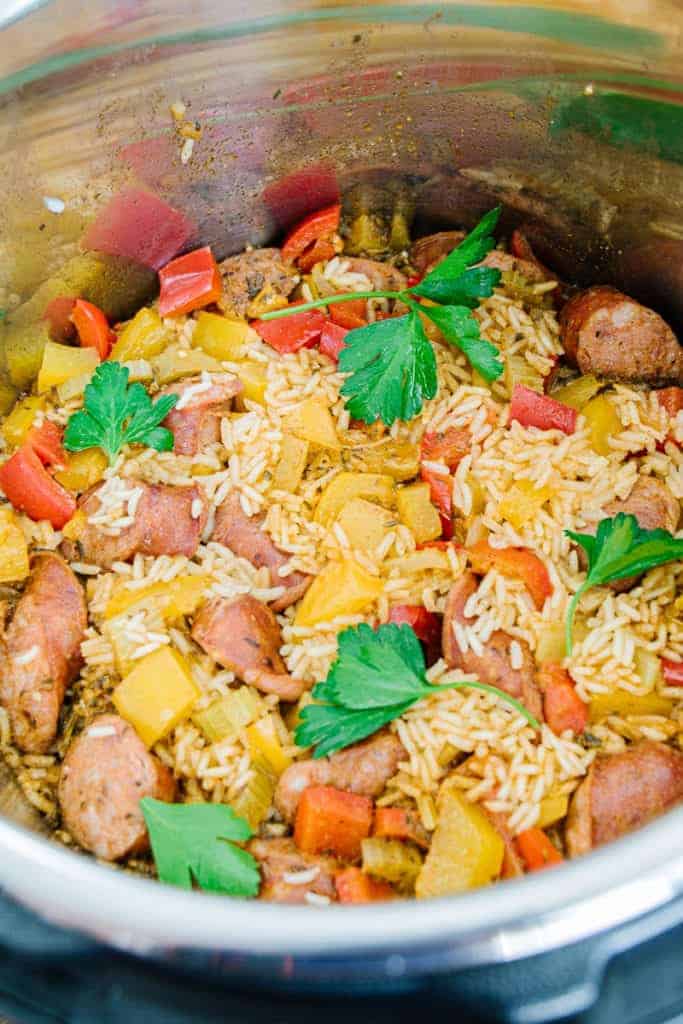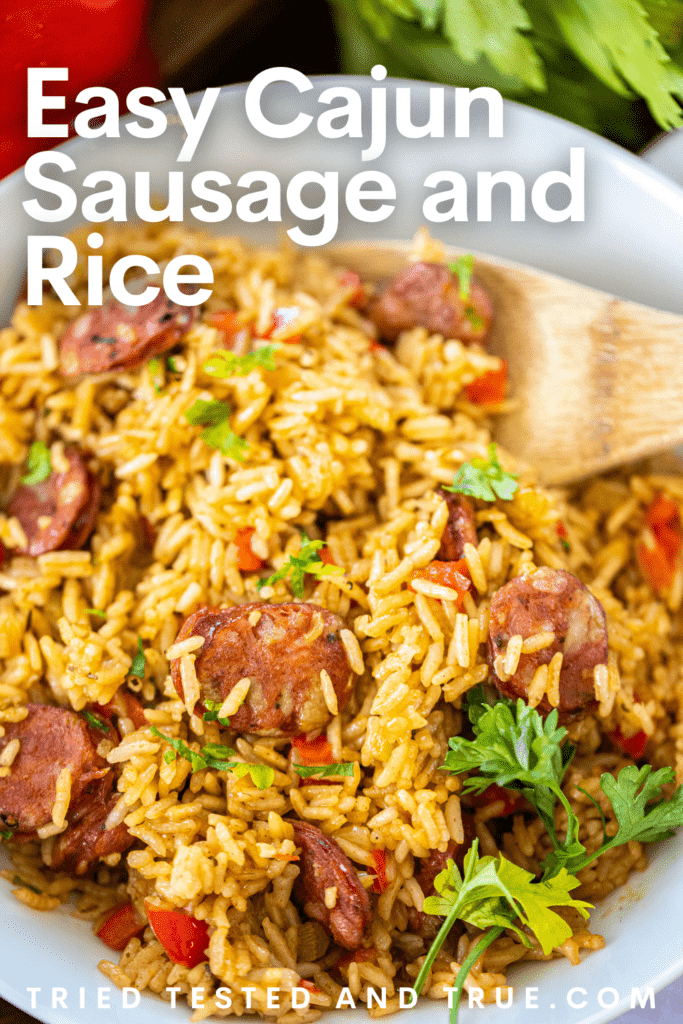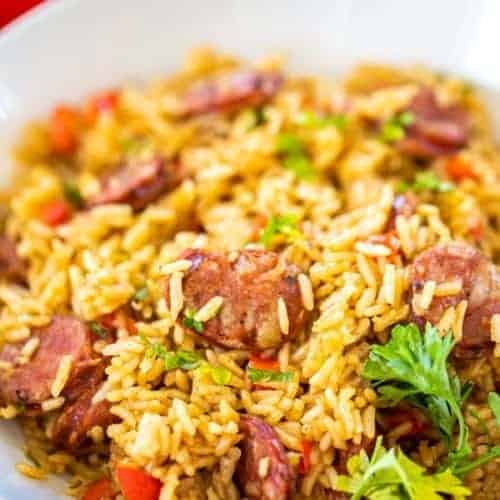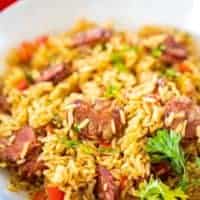 Instant Pot Cajun Sausage and Rice
Instant Pot Cajun Sausage and Rice is a hearty dish, packed with flavor and veggies! Throw everything in the Instant Pot, and you've got a delicious one pot meal.
Print
Pin
Rate
INGREDIENTS
1

tablespoon

extra virgin olive oil

1

large red bell pepper

diced into medium pieces

1

large yellow or orange bell pepper

diced into medium pieces

3/4

cup

celery

diced into small pieces

1

tablespoon

dried onion flakes OR 1/2 a medium yellow onion

diced

12-20

ounces

Cajun Style Andouille Sausage

I used one, 12 ounce package of Aidells brand Cajun Style Andouille Sausage, but you can add more if you prefer.

1

teaspoon

minced garlic

3

teaspoons

Cajun seasoning

1/4

teaspoon

dried thyme

1/4

teaspoon

smoked paprika

1

teaspoon

dried oregano

1

tablespoon

soy sauce

1

cup

chicken broth

1/2

cup

water

1 1/2

cups

long grain white rice or jasmine rice
INSTRUCTIONS
Press the Saute button on the Instant Pot and adjust to high. Add the olive oil and let it warm up. Add the bell peppers, onion, celery, sausage, garlic, Cajun seasoning, thyme, paprika, and oregano. Saute for about 3-5 minutes or until very fragrant.

Deglaze the pot by adding the soy sauce, broth, and water. Turn off the Instant Pot and scrape all the browned bits off the bottom of the pot. Do not skip this step, or else you might get a burn notice during the pressure cook stage.

After all the browned bits are lifted from the pot, add the rice and stir to combine.

Close the lid and turn the knob from venting to sealing.

Press the Manual or Pressure Cook button and cook for 5 minutes on high pressure. Allow a 10 minute natural pressure release.

Remove the lid and fluff the rice. Serve immediately.
NOTES
If you'd like to add additional protein to this dish, you may add chicken tenderloins seasoned with cajun seasoning. Add them in to the pot after stirring in the raw rice. The cook time will stay the same (5 min/10 min)
NUTRITION
Serving:
1
g
|
Calories:
5453
kcal
|
Carbohydrates:
52
g
|
Protein:
208
g
|
Fat:
484
g
|
Saturated Fat:
159
g
|
Polyunsaturated Fat:
256
g
|
Trans Fat:
4
g
|
Cholesterol:
1039
mg
|
Sodium:
15349
mg
|
Fiber:
2
g
|
Sugar:
20
g
---
---
Hi Karen! You could double it in an 8 quart. I'd suggest adding 2 minutes to the cook time!


There is no way to make this without ending up burning the rice on the bottom. Seriously. I'm no novice.

For real, at least I wasn't the only one. Cooked the rest in sauté turned out ok

Love your content! I am using a 6 quart. I am at sea level. Does anything need to be adjusted time wise?

Hi Anthony! Unfortunately I don't have experience cooking at sea level but I have millions of readers each year from around the world and haven't ever had too many issues. I believe you'll be just fine!

The Instant Pot is pressure regulated. It will cook at the same pressure & temperature regardless of elevation. It might take slightly long to come up to pressure in Denver or Mexico City than here in Seattle but it would be negligible. The great thing is you don't have to add extra salt to raise the boiling point of the water!

I love this recipe and have made it numerous times. Tonight I added frozen, peeled shrimp and cooked as directed. It was so great!

That sounds so delicious!! Thank you so much, Becca!! – Lisa

Hello Lisa,
Is the ratio of1-1/2 cup of water and 1-1/2 cup of rice correct? I thought you needed a little more water than rice? Thank-you.

Hi Brian, yes this is correct. The liquid from the rest of the ingredients help make up for everything.


This is so so good. I've made it exactly as the recipe states many times and have also added peeled uncooked frozen shrimp.


The family asked me to do this again! its so easy and everyone thinks that I slaved all day to make it. I am going to add a can of drained/rinsed black beans to it!


I have made this dish countless times using your YouTube video to follow the recipe, but I wanted a printable version to have on hand so I thought I'd leave a review to let you know. We've actually started adding shrimp alongside the sausage and it's chef's kiss!! I love how flavorful this is and in my experience; I've never had it burn like someone else commented on here, you just need to make sure to scrape the bottom of the pan to remove anything that's stuck to it before setting it to pressure cook!

Thank you for the kind, thoughtful comment on this post! We appreciate it so much. Glad you enjoy the recipe.

Hi, Lisa
I want to make this dish, and now I noticed that in your video you use 1 c. of rice, and in the recipe card it says 1 1/2 c. of rice. Which amount is right?
Thank you for clarifying.
Ingrid

Thank you for catching that! This recipe can actually be made with 1 cup up to 1.5 cups of rice. Using less rice will make a softer finished dish with softer rice (like in the video), and using more will add a little more bulk. I recommend starting with 1 cup of rice and then adding more next time if you'd like a little more filler!