*This post may contain affiliate links. This means as an Amazon Associate and affiliate for other products, I earn from qualifying purchases at no extra cost to you.
Instant Pot Cajun Sausage and Rice is a hearty dish, packed with flavors and veggies! Throw it all in the Instant Pot together, and you've got a delicious one pot meal.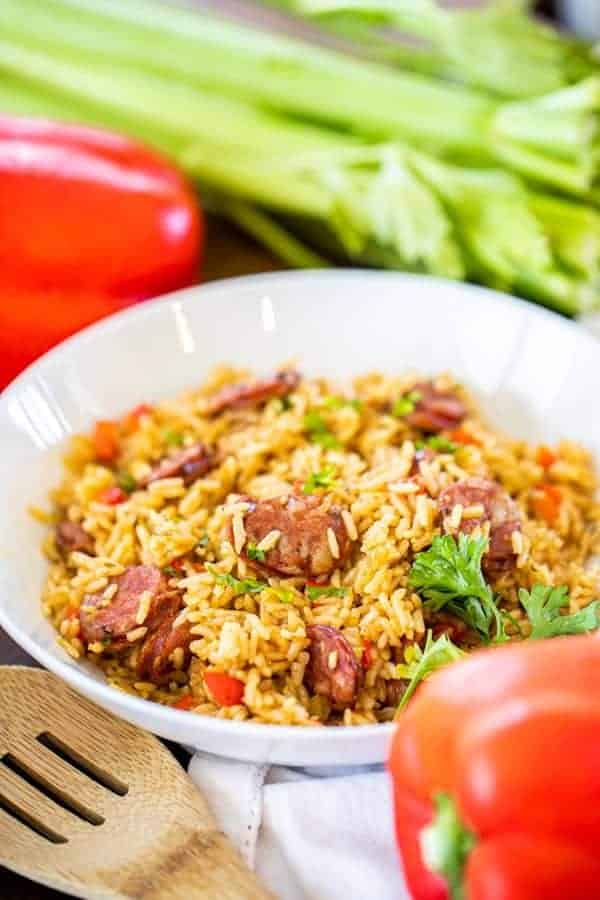 Before I start into the recipe itself, let me answer some questions that I get a lot.
Is Cajun Sausage and Rice the same as dirty rice?
It's the golden question, and it depends on who you ask. Cajun rice, dirty rice, and even rice dressing are all just slightly different versions of the same thing.
Traditionally, dirty rice was a poor man's food. Locals filled it with all of the cheap parts of a chicken: the liver, gizzards, and heart.
They then ground up those parts and tossed them into the rice, giving it a "dirty" appearance. In fact, a lot of people say that "dirty rice" isn't authentic without the liver!
My Instant Pot Cajun rice recipe has a slightly more modern twist: it has all of the traditional flavor that you'd love in a traditional pile of dirty rice, but it gets its flavor from andouille sausage instead of liver and gizzards. It's easier, smells better, and tastes delicious.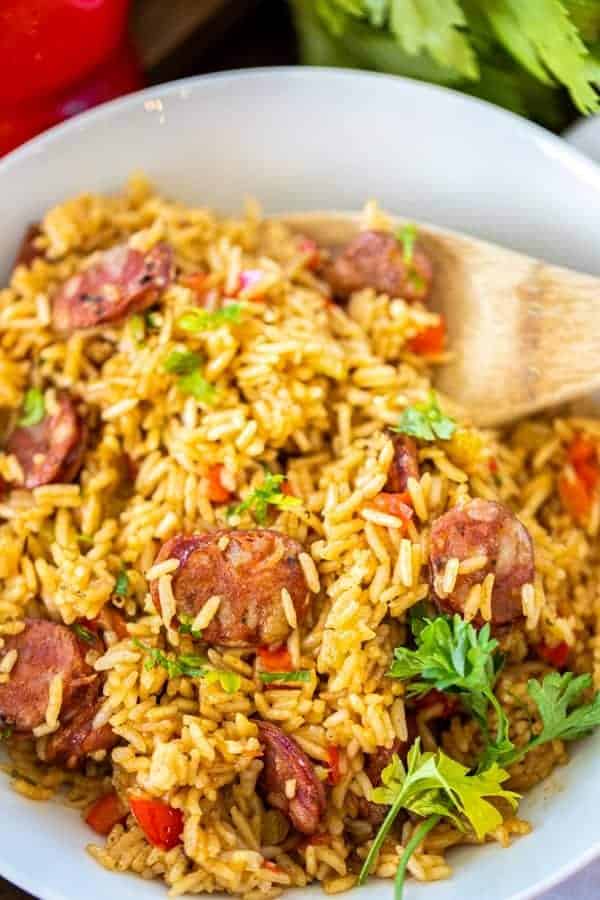 Is Cajun Sausage and Rice a one pot meal?
Using your Instant Pot, Cajun Sausage and Rice is one of the easiest one pot meals there is. I like to use it as a fridge cleaner: throw everything together, and you're set with a delicious entree all from one pot (so no extra dishes)!
Can I meal prep with Instant Pot Cajun Sausage and Rice?
This recipe is perfect for meal prepping! Because Instant Pot Cajun Sausage and Rice has both carbs and protein, it can make a great dinner side one night and then a lunchtime entree the next day.
Your Cajun Rice should last about up to 5-6 days in the fridge, so you can easily cook and prep ahead for the whole week.
I swear by these meal prep containers: they're plastic (aka practically unbreakable), stackable, microwave and dishwasher safe, and BPA free. Basically, they're the perfect container for kids and parents alike.
Can I add chicken or peppers?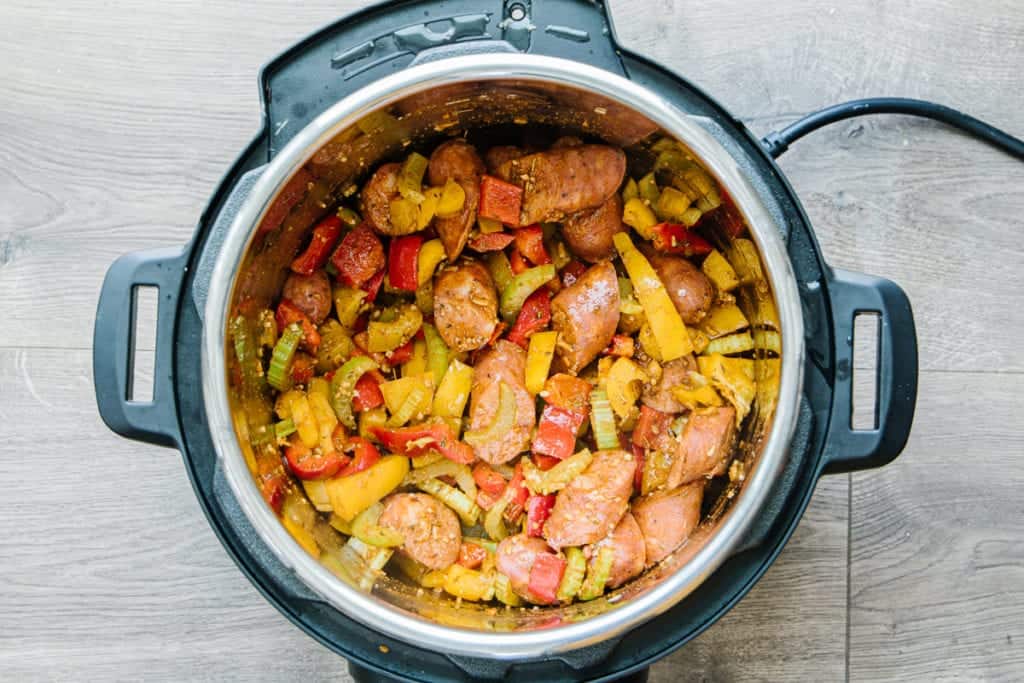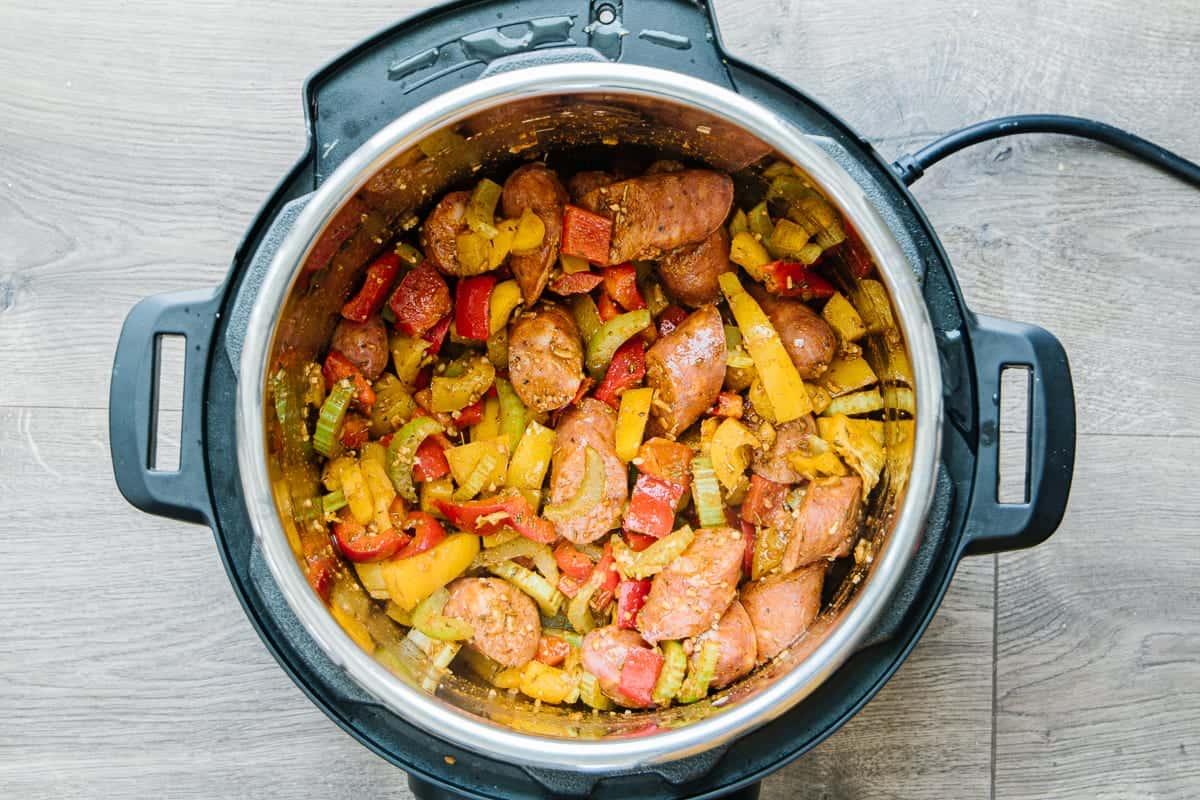 Yes!
One of the best things about this recipe is that it's so flexible. I make my Cajun rice with peppers and sausage, but feel free to mix things up and add chicken (I prefer tenderloins tossed with extra cajun seasoning) or any other ingredients or vegetables you have on hand.
Watch this video for Instant Pot Cajun Chicken and Peppers.
Included in this video are recipes for Ritz Chicken and Rice Casserole, Instant Pot Lemon Garlic Chicken and Rice, and Instant Pot Chicken Teriyaki Bowl
This is a pretty classic recipe, but once you've mastered it, you can even change up the seasonings and really make it your own.
In the old South, locals said that no two families would ever agree on a recipe for Cajun rice because each family customized their recipe so much. So get creative and tailor this to your family—and let me know how it goes!
What kind of rice should I use?
Some people swear by basmati, but I've found that any kind of long-grain white rice works great. I usually use American long-grain white rice, but feel free to use basmati or jasmine as well!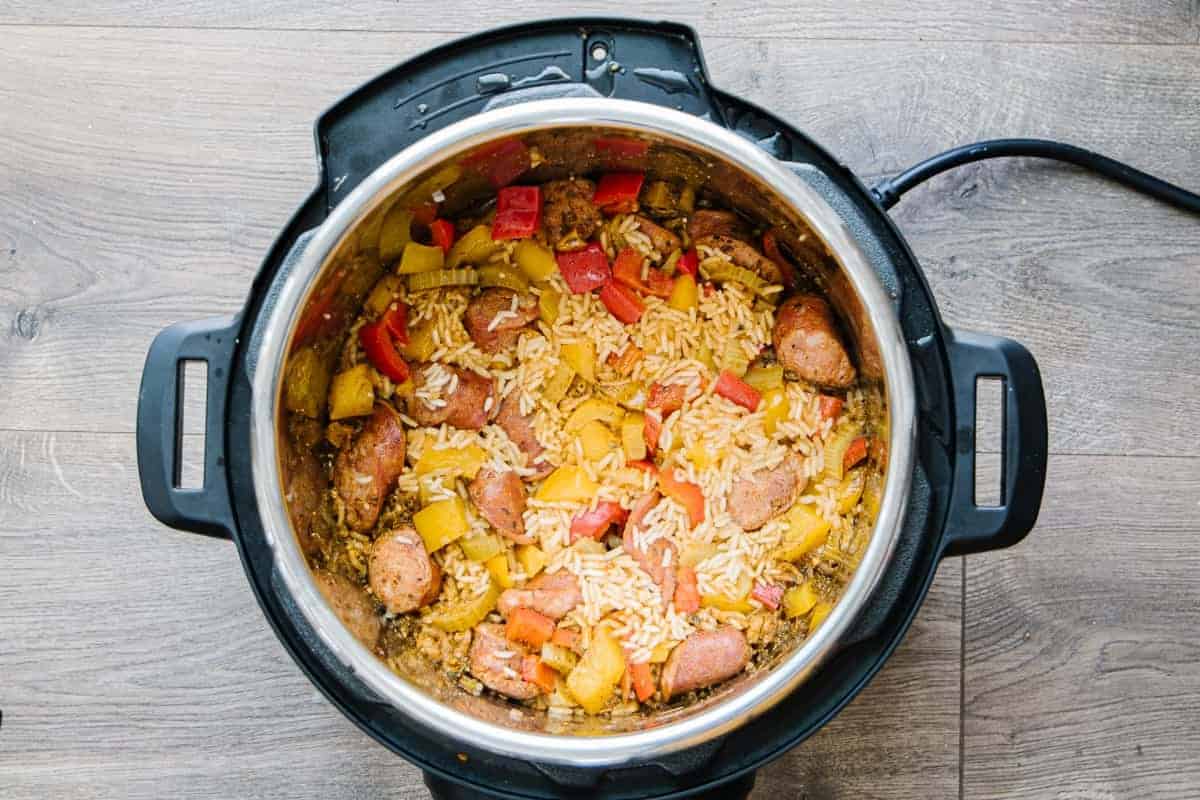 How to make Instant Pot Cajun Sausage and Rice
This recipe is as easy as 1-2-3:
Chop up your veggies and sausage, then toss them into your Instant Pot to sauté. I've found that this chopper makes my life SO much easier! Trust me—if you've never tried one, you're missing out.
After sautéing for a couple of minutes, add in the rest of the ingredients and stir.
Let everything cook for literally 3 minutes, let your Instant Pot release slowly for another 10, and that's it!
I love this recipe because it's just so easy. I know that I can take this from fridge to table in less than 25 minutes—and as a mom, quick meals are game changers!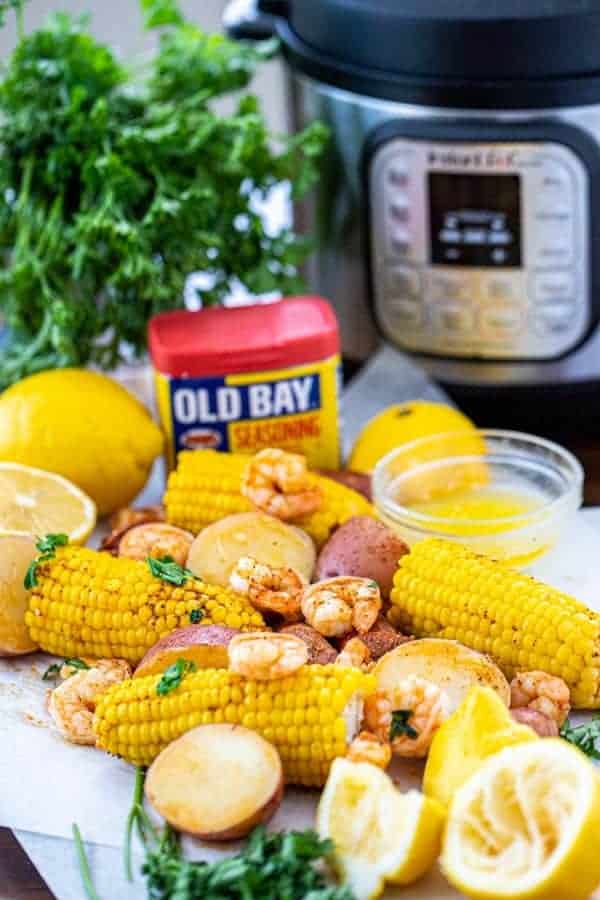 What goes with Cajun Sausage and Rice?
This recipe is a one pot meal, but if you'd like to serve it with other side dishes, I recommend: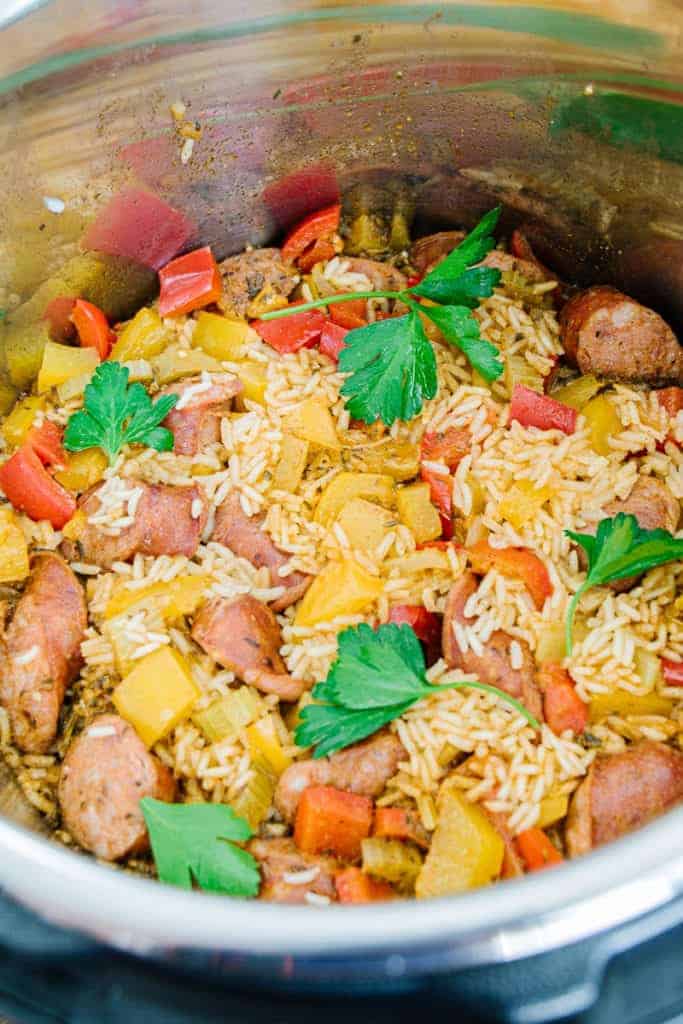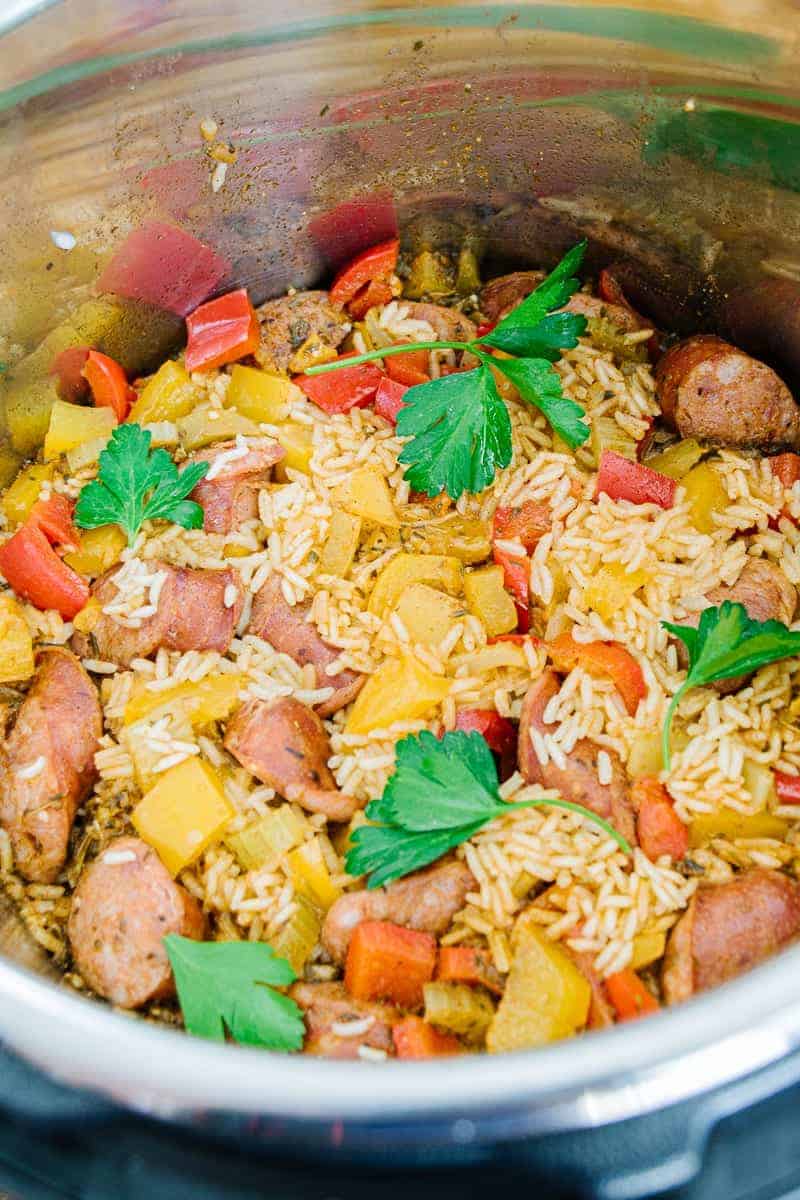 About Lisa
About Lisa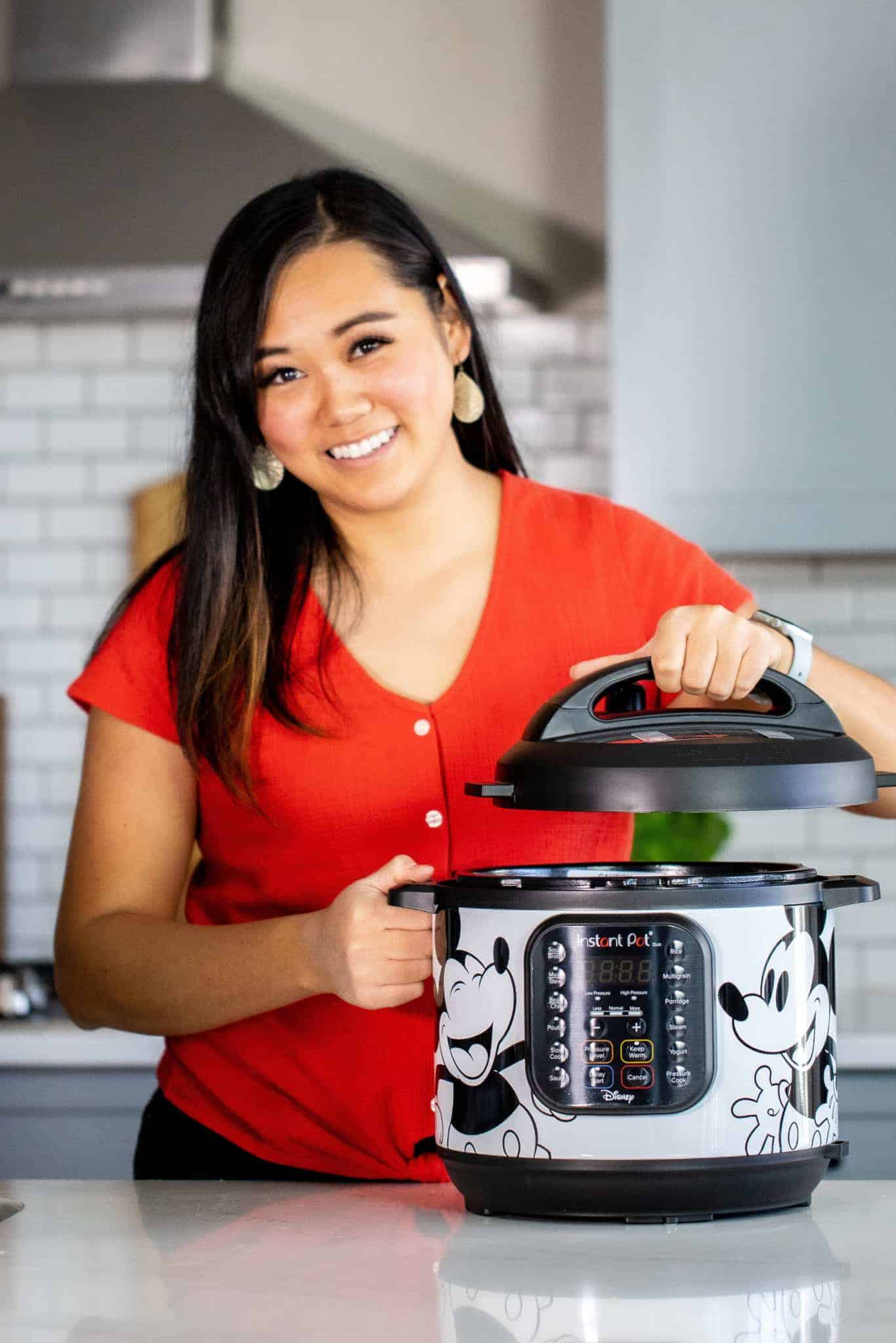 Lisa Childs is the food blogger behind Tried, Tested, and True. Join the hundreds of thousands of people each month that learn from Lisa-
Subscribe to her website, follow her on Instagram at @tried_tested_true, follow her on Pinterest, and find her on Youtube at Tried Tested and True. She is passionate about giving home cooks confidence using their Instant Pots. Make sure to sign up for our email newsletter to hear from personally from her weekly! Learn more about Lisa.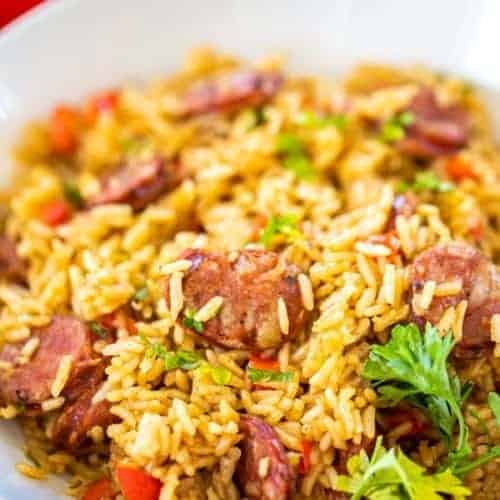 Instant Pot Cajun Sausage and Rice
Instant Pot Cajun Sausage and Rice is a hearty dish, packed with flavors and veggies! Throw it all in the Instant Pot together, and you've got a delicious one pot meal.
Ingredients
1 tablespoon extra virgin olive oil
1 large red bell pepper, diced into medium pieces
1 large yellow or orange bell pepper, diced into medium pieces
3/4 cup celery, diced into small pieces
1 tablespoon dried onion flakes OR 1/2 a medium yellow onion, diced
12-20 oz Cajun Style Andouille Sausage (I used one, 12 oz package of Aidells brand Cajun Style Andouille Sausage but you may add more if you prefer)
1 teaspoon minced garlic
3 teaspoons cajun seasoning
1/4 teaspoon dried thyme
1/4 teaspoon smoked paprika
1 teaspoon dried oregano
1 tablespoon soy sauce
1 cup chicken broth
1/2 cup water
1.5 cups long grain white rice or jasmine rice
Instructions
Press the Saute button on the Instant Pot and adjust to high. Add the olive oil and let it warm up. Add the bell peppers, onion, celery, sausage, garlic, cajun seasoning, thyme, paprika, and oregano. Saute for about 3-5 minutes or until very fragrant.
Deglaze the pot by adding the soy sauce, broth, and water. Turn off the Instant Pot and scrape all the browned bits off the bottom of the pot. Do not skip this step, or else you may get a burn notice during the pressure cook stage.
After all the browned bits are lifted from the pot, add the rice and stir to combine.
Close the lid and turn the knob from venting to sealing.
Press the manual or pressure cook button and cook for 5 minutes on high pressure. Allow a 10 minute natural pressure release.
Remove the lid and fluff the rice. Serve immediately.
Notes
If you'd like to add additional protein to this dish, you may add chicken tenderloins seasoned with cajun seasoning. Add them in to the pot after stirring in the raw rice. The cook time will stay the same (5 min/10 min)
Recommended Products
As an Amazon Associate and member of other affiliate programs, I earn from qualifying purchases.
Nutrition Information:
Yield:

4
Serving Size:

1
Amount Per Serving:
Calories:

5453
Total Fat:

484g
Saturated Fat:

159g
Trans Fat:

4g
Unsaturated Fat:

256g
Cholesterol:

1039mg
Sodium:

15349mg
Carbohydrates:

52g
Fiber:

2g
Sugar:

20g
Protein:

208g