*This post may contain affiliate links. This means as an Amazon Associate and affiliate for other products, I earn from qualifying purchases at no extra cost to you.
Ritz Chicken and Rice Casserole made in the Instant Pot is warm, creamy, buttery, and comforting! You'll love this easy dish made with quick and convenient ingredients.
Best "old school" chicken and rice casserole
This is a well-beloved casserole known by many names: sour cream chicken casserole, chicken casserole with crackers and rice, old school chicken and rice casserole, etc. Ringing any bells?
This is that casserole that your grandma used to make that was filled with flavorful, decadent chicken and rice with crunchies on top. And it's been upgraded for your Instant Pot, meaning that you'll have to spend even less time on it than your grandma did—with the same mouth-watering result.
More likely than not, you've tasted several versions of this casserole, all topped with something different. I've seen bread crumbs, panko, potato chips, and even corn flakes!
And you definitely can't go wrong with any of those toppings. Personally though, I've fallen in love with the buttery richness of crushed Ritz crackers.
This Ritz topping is light, flaky, crunchy, and packed with savory decadence, and SO easy!
How to make Ritz chicken and rice casserole
Included in this video are recipes for Instant Pot Cajun Sausage and Rice, Instant Pot Lemon Garlic Chicken and Rice, and Instant Pot Chicken Teriyaki Bowl
There are only 6 major ingredients to this old school chicken and rice casserole: Ritz crackers (of course!), sour cream, cream of chicken soup, rice, chicken broth, and chicken tenderloins! To give your casserole the best flavor, use full fat chicken soup and full fat sour cream.
Take this recipe from fridge to table in five simple steps:
Season chicken.
(Optional: use the sauté function to brown your seasoned chicken.)
Toss in rice, chicken, and broth: cook.
Add in the cream of chicken soup and sour cream: stir.
Top with crunchies: crisp.
I used this air fryer lid to achieve the crispy top in my Instant Pot, but you can easily achieve the same thing in an oven.
Simply transfer everything to a greased casserole dish after mixing in all of the ingredients. Top with your crushed Ritz crackers, then bake for about 30 minutes to heat through and crisp those crunchies.
My roommates and I used to serve this recipe as a "fancy" dinner whenever we had boys over—little did they know it was so easy! That's one of the best things about this Ritz chicken and rice casserole: it looks and tastes like you've slaved for hours, but in reality, you hardly had to put in any effort at all!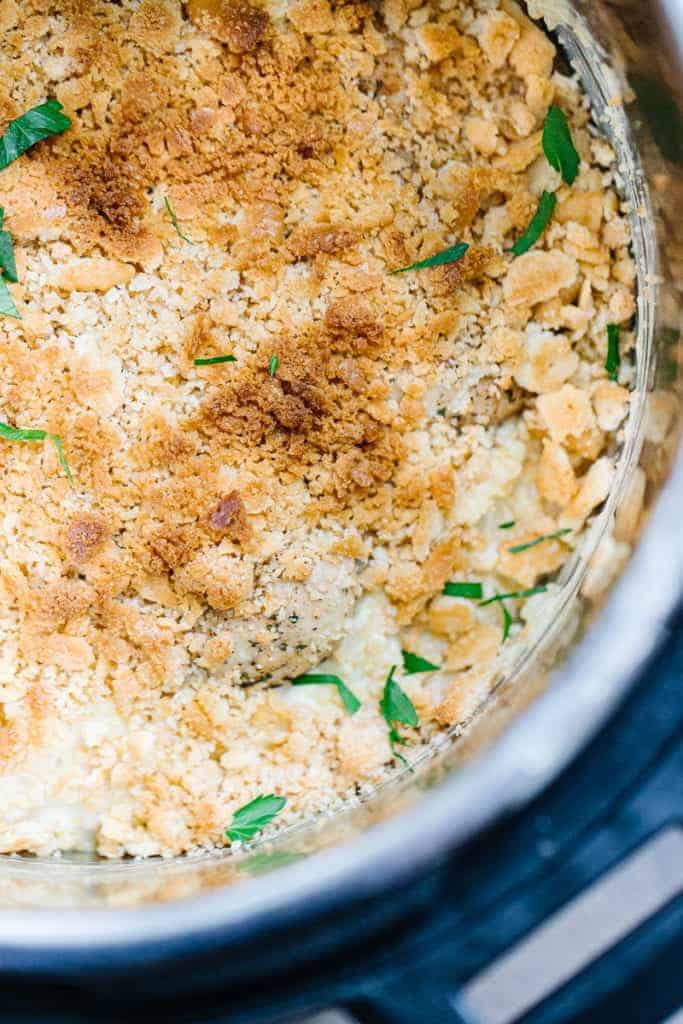 Pro tips and variations
I recommend using the sauté function to brown your chicken before cooking it with the rice—it adds a lot of flavor. If you don't have the time, don't worry about it! Your casserole will still be scrumptious.
Optional ingredients: You can add in cheese or broccoli florets to this recipe if you like them! Add them at the same time that you add the cream of chicken soup and sour cream. I like to keep it simple, but I have many friends who swear by some extra cheddar.
If you don't have Ritz crackers, you can also use other traditional toppings: saltines, crushed corn flakes, panko, breadcrumbs, potato chips, or crispy onion strings. I believe that buttery crackers are the best, though!
Use good salt. I know that it might sound silly, but good quality salt really makes a difference in the end flavor! I swear by Redmond Real Salt.
Other Easy Instant Pot Entrées
About Lisa
About Lisa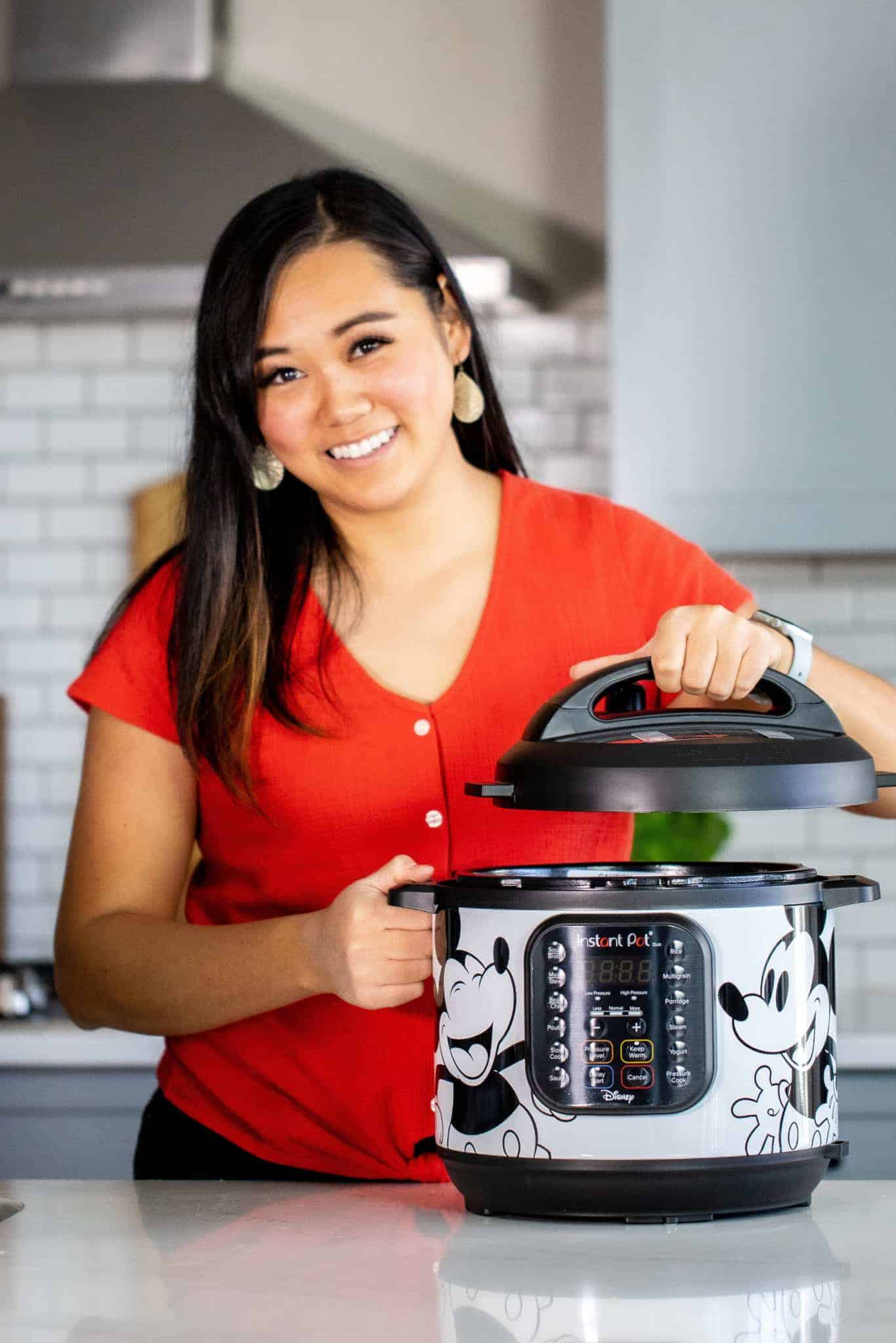 Lisa Childs is the food blogger behind Tried, Tested, and True. Join the hundreds of thousands of people each month that learn from Lisa-
Subscribe to her website, follow her on Instagram at @tried_tested_true, follow her on Pinterest, and find her on Youtube at Tried Tested and True. She is passionate about giving home cooks confidence using their Instant Pots. Make sure to sign up for our email newsletter to hear from personally from her weekly! Learn more about Lisa.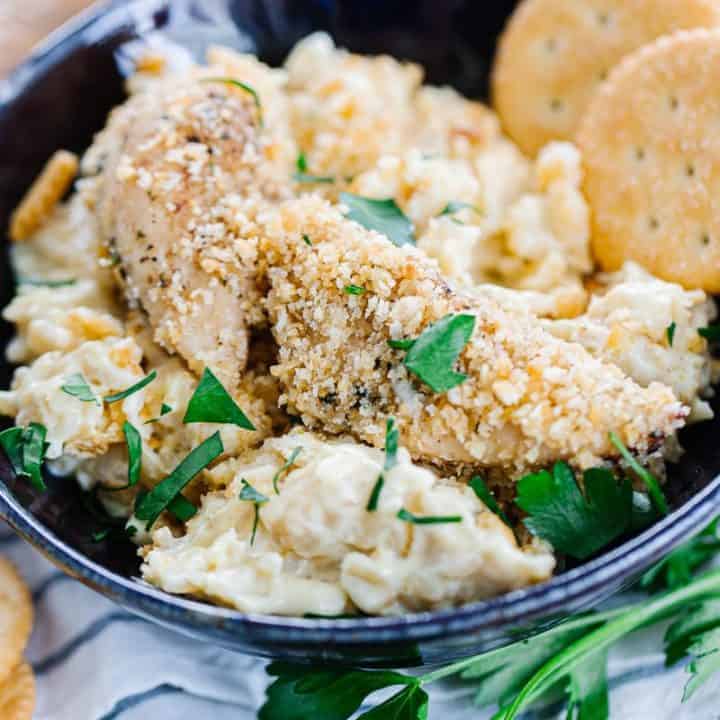 Ritz Chicken and Rice Casserole
Baking/Broiling:
10 minutes
Ritz Chicken and Rice Casserole made in the Instant Pot is warm, creamy, buttery, and comforting! You'll love this easy dish made with quick and convenient ingredients.
Ingredients
1 tablespoon butter
1 lb chicken tenderloins
2 teaspoons garlic salt
2 teaspoons parsley
1 teaspoon pepper
1 1/4 cups chicken broth
1 cup long grain white rice
1 cup sour cream
1 can cream of chicken soup
1 sleeve Ritz crackers, crushed
3 tablespoons butter, melted
Instructions
Press the Sauté button on the Instant Pot and melt the butter in the bottom of the pot.
While the butter is melting, season the chicken with garlic salt, pepper, and parsley.
Once the butter is melted and the chicken heartily seasoned, add the chicken to the Instant Pot and sear thoroughly on both sides. Don't worry too much about getting it completely cooked; just focus on getting a nice crisp sear on both sides.*
Remove the browned chicken to a plate and deglaze the pan with the chicken broth.
Add the rice and stir, taking care to make sure that no crispy chicken bits are stuck to the bottom of the pan.
Next, add the chicken back into the pot (just lay it on top), along with any juices that might've been released while the chicken was resting.
Add the lid back onto the Instant Pot and turn it from Vent to Seal, then cook for 5 minutes with a 10 minute natural release.**
Remove the chicken and place on a plate.
Stir in sour cream and cream of chicken soup. If you'll be finishing the casserole in the oven, first transition the rice mixture to a greased casserole dish, then top the rice with the chicken.
Mix the crackers with the butter, then top the casserole with the cracker mixture.
Bake in an oven for 15 min at 350, or use an air fryer lid for 10 minutes.

Notes
*When you're searing the chicken, don't move it. You'll only want to flip the chicken once. Don't worry about it burning or overcooking or undercooking: it's essential that you leave it alone and not touch it in order to develop that perfect brown exterior!
**At this point, if you don't have an air fryer lid, you'll want to begin preheating your oven to 350 degrees to crisp up that delicious Ritz topping!
Recommended Products
As an Amazon Associate and member of other affiliate programs, I earn from qualifying purchases.