*This post may contain affiliate links. This means as an Amazon Associate and affiliate for other products, I earn from qualifying purchases at no extra cost to you.
Instant Pot Chicken Pot Pie filling is the best, easiest way to make pot pie filling. Unlike most recipes, this recipe makes enough for just one standard-sized chicken pot pie.
How to make chicken pot pie in an Instant Pot
Let me answer the question I know you're thinking: no, you won't be baking the actual pie itself in the Instant Pot. You'll use the Instant Pot to make your filling in record time, then pop everything into your pie crust and bake it in the oven until it's golden.
You can use this recipe for Instant Pot Pot Pie Filling with a store bought frozen crust, or use your favorite homemade recipe.
Instant Pot chicken pot pie filling
For me, chicken pot pies are the ultimate comfort food: butter, onions, carrots, peas, chicken, and a rich, creamy, savory broth—what else can a girl want?
I designed this recipe to make only one pie. Unless you're feeding a crowd, you won't need two whole pies, so this saves you the extra math!
And if you haven't already gotten yourself a veggie chopper, seriously, do yourself the favor. It makes life so much easier, especially for recipes like this one that use lots of veggies! I use this one from Amazon.
Variation 1: Top with biscuits
Since the filling is made in an Instant Pot, it's easy to customize this topping however you'd like! To use biscuits, pour the filling into a greased pie plate or casserole dish and then add prepared biscuit dough on top of the filling.
You may use your own favorite homemade biscuit dough, bisquick, or canned biscuits. Cut the biscuits into quarters and place them evenly over the top, then bake for 30 minutes or until the biscuits are golden and cooked through.
Variation 2: Top with puff pastry
Here's another easy topping: puff pastry! Puff pastries are light, fluffy, and crackly—like you put a yummy bread pillow on top of your pot pie. I definitely recommend trying it!
For this variation, omit the crust entirely. Instead, pour the filling into a greased pie plate or casserole dish and place a piece of puff pastry on top. Brush with egg wash or heavy cream and cook for the same time as you would a pie crust.
Instant Pot chicken pot pie soup
Sometimes, you just need a warm bowl of soup.
To make this a recipe into a delicious and easy Instant Pot chicken pot pie soup, use 3 cups of chicken broth instead of the water and bouillon that the recipe originally calls for. Also, add 1 cup cream mixed with 3 tablespoons flour as the thickener.
Serve with croissants, baked puff pastry, croutons, or pie crust pieces.
Other Easy Instant Pot Entrées
About Lisa
About Lisa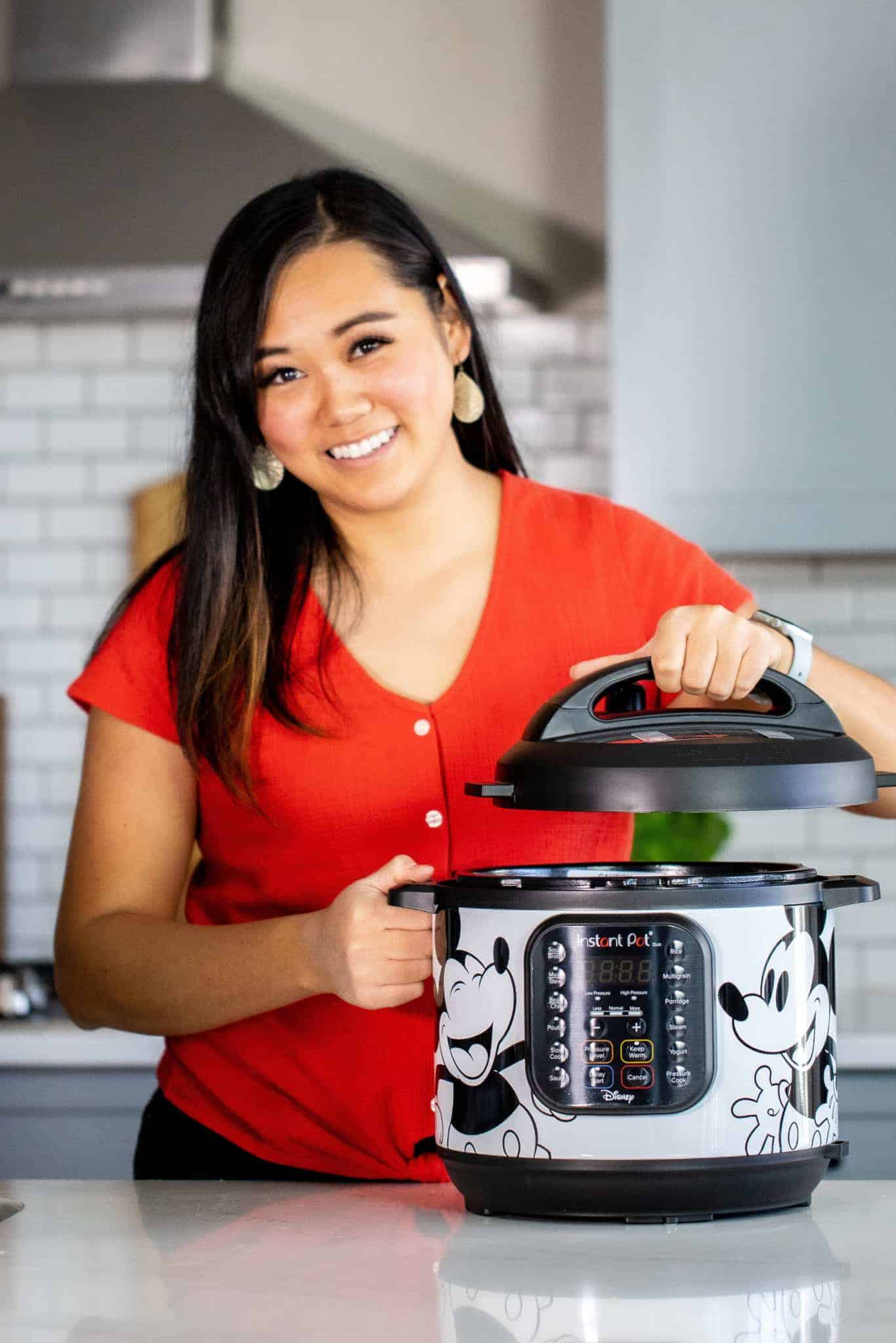 Lisa Childs is the food blogger behind Tried, Tested, and True. Join the hundreds of thousands of people each month that learn from Lisa-
Subscribe to her website, follow her on Instagram at @tried_tested_true, follow her on Pinterest, and find her on Youtube at Tried Tested and True. She is passionate about giving home cooks confidence using their Instant Pots. Make sure to sign up for our email newsletter to hear from personally from her weekly! Learn more about Lisa.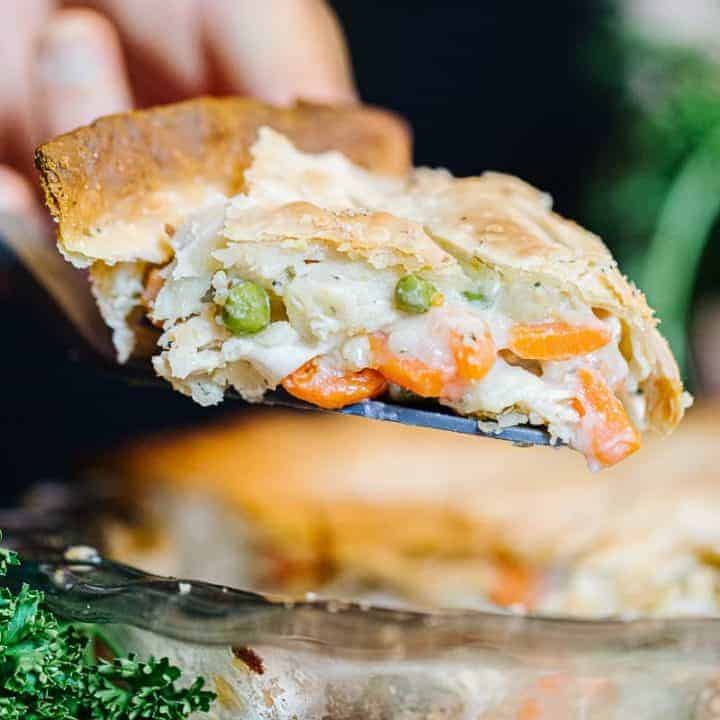 Instant Pot Chicken Pot Pie
Instant Pot Chicken Pot Pie filling is the best, easiest way to make pot pie filling. Unlike most recipes, this recipe makes enough for just one standard-sized chicken pot pie.
Ingredients
Chicken pot pie filling
1 tablespoon butter
half a large onion, diced (about 3/4 cup)
3/4 cup celery, diced
1 cup carrots, peeled and diced
3 cups Russet potatoes, peeled and diced
1 pound chicken tenderloins
3/4 cup water
1/2 tablespoon Better than Bouillon, reduced sodium chicken flavor
1 1/2 teaspoons salt
1 teaspoon pepper
1/4 teaspoon garlic powder
1/4 teaspoon dried thyme
1 teaspoon dried parsley
1/2 cup frozen peas
1/2 cup heavy cream
3 tablespoons flour
pie crust
Your favorite pie crust recipe, or one package frozen pie crust (thawed)
Egg wash or heavy cream
Instructions
Press the sauté button on the Instant Pot and adjust to High. Add the butter and melt. Add onion and sauté for 5 minutes, or until slightly translucent. Add celery, carrots, and potatoes. Stir to combine and turn off the Instant Pot.
Place chicken on top of the vegetables, then pour the water mixed with Better than Bouillon, salt, pepper, garlic powder, thyme, and parsley over the chicken. Lock the lid, turn the sealing knob to sealing, then press the Manual or Pressure Cook button and adjust the time to 2 minutes.
Preheat the oven to 425º.
Allow a 5 minute natural pressure release, then turn the knob from sealing to venting and remove the lid. Remove the chicken and shred or dice. Press the saute button on the Instant Pot and add the chicken back into the pot, along with the frozen peas.
While the mixture comes back up to a simmer, whisk together the heavy cream and flour, then pour into the Instant Pot and stir to combine until thickened. Taste the filling and add additional salt to taste. Remove from the heat and let stand while preparing the pie crust.
Roll out a store-bought or homemade pie crust in a standard 9 inch pie plate or casserole dish. Pour the pot pie filling into the pie crust, then add the top crust and seal. Cut a couple slits in the top crust to allow venting. Brush with an egg wash or heavy cream for an even more golden crust. Use a pie crust cover or foil to protect the edges of the pie crust, if desired.
Place the pot pie on a foil-lined cookie sheet and bake for 30-35 minutes, or until the crust is golden and the bottom of the pie does not have any wet spots.
Let stand, uncovered, at least 15-30 minutes before serving (it will stay hot up to 3 hours).
Recommended Products
As an Amazon Associate and member of other affiliate programs, I earn from qualifying purchases.
Nutrition Information:
Yield:

8
Serving Size:

1
Amount Per Serving:
Calories:

497
Total Fat:

22g
Saturated Fat:

10g
Trans Fat:

0g
Unsaturated Fat:

11g
Cholesterol:

99mg
Sodium:

828mg
Carbohydrates:

47g
Fiber:

5g
Sugar:

5g
Protein:

27g