28 AMAZON KITCHEN FINDS I actually USE and LOVE
---
This post may contain affiliate links, which means I earn a small commission if you purchase something I recommend - at no additional cost to you! Thank you for supporting this blog!
There's nothing better than a good kitchen gadget—and nothing worse than a bad one! I've done the sifting for you. These 28 items are my all-time favorite Amazon kitchen finds that I've used and loved.
DRINK FROTHER
If you're here for the viral drink frother, it's currently sold out, but this frother is one my friend has and has 75,000 great reviews and is the #1 choice on Amazon. It's the same price and looks incredibly powerful based on the reviews!
Shopping my Favorite Amazon Kitchen Finds
Amazon Home is where I get most of my household products. It's hard to beat the prices and convenience of shopping online! If you like this list, you'll probably like shopping my Amazon Storefront, where I have curated lists of my favorite Amazon products like my favorite products for $20 or less, or best gifts for men!
My Favorite Amazon Kitchen Finds
If you're someone who, like me, tends to make a lot of baked goods for friends and family, then you'll understand the appeal of an affordably-priced packing option. Packaging can be expensive, and I've found that these boxes are a really good value for the price.
These sturdy boxes are perfect for those baked gifts that just don't fit into a bag. Maybe it's an icing-topped sticky bun, or maybe it's a delicately-iced cake—either way, these treats deserve their own space. Add a custom sticker or a cute ribbon for that extra touch.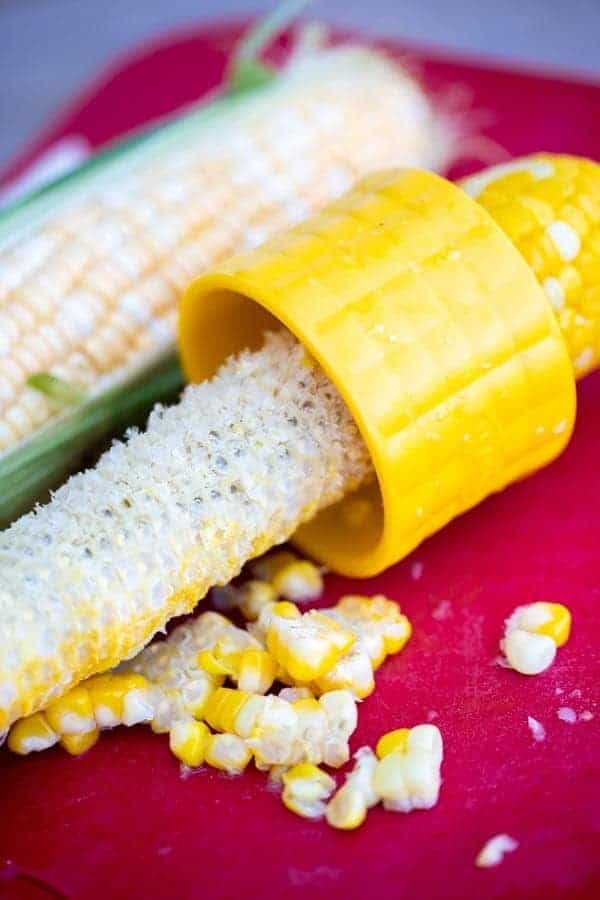 This fantastic little tool is a great way to get your kids involved in dinner prep (and keep those pesky fibers from getting stuck in your teeth). It's top rack dishwasher safe, which makes cleanup a breeze. Just put the whole cob into the hole and grind it through like a pepper grinder—it takes all of the kernels off in no time!
This bread knife is one of my favorite gifts ever. It's really inexpensive, and it cuts really, really well. Honestly, it's the best bread knife I've ever used. It's sharp, sturdy, dishwasher safe—what more can you ask for?
It cuts everything like butter. If you don't have enough budget to buy a nice knife set, you can really use this knife for most things. It's meant for bread, of course, but I frequently use mine for everything from watermelon to pineapple to leftover apples.
Wing Dust is kind of like pixie dust for chicken wings. Recommended from my brother, a master smoker/griller, this dust adds incredible flavor to chicken wings. Our two personal favorite flavors are Buffalo and Honey BBQ. Just sprinkle and cook (a little goes a long way!).
Have you ever used an electric kettle? This Cosori kettle absolutely changed the game for me. It boils water in under three minutes. There are no coils on the bottom, so cleaning it is a breeze. It even has a little tea strainer in the spout in case you want to make some loose-leaf tea!
If you've never heard of bag holders, you're not the only one. A friend of mine put me onto these—and they are game changers, especially if you're big on meal prepping or often have several portions of leftovers.
These little gadgets prop open and hold up flexible ziplock bags so that you can easily store soups and other liquid-y things without the bags flopping all over your counter as you try to fill them. Their grippy base keeps them firm and stable on the counter as you ladle in your food.
I love to use these bag holders when I make my Instant Pot freezer meal soups—they make the process of bulk-preparing several portions at once so much easier!
This can opener is magic because it creates no hard or sharp edges whatsoever! Conventional can openers set the blade down right inside the top rim of a can, creating a harsh, jagged edge of metal that's quite sharp and dangerous, especially for kids.
This can opener opens cans by moving along the outer rim of the can and actually removing the seam that attaches the lid to the rest of the can—no harsh edges to be seen!
Macaron mats are the ideal tool for perfect macarons, eclairs, and even cookie dough balls. They're basic cooking mats that've been overlaid with size guides for macarons, so really they have double functionality: as basic cooking mats for everything or as specialized guides!
This little oil sprayer converts any oil you'd like into a spray. It's made of glass and comes in a two pack with a convenient carrying tray. I love to use it for several of my air fryer recipes or when I'm dressing a salad and just want a small spritz of oil.
They're also lovely for vinegars, lemon juice, and cooking wines—and because they come in two, it's easy to pick your favorites! Perfectly portable, they're a wonderful option for picnic and barbeques—dressing your salad on the spot means no soggy salad.
These Bentgo boxes are the best for school lunches! My kids love using them to make snack boxes for themselves. They have two snaps and a perfectly-sealing lid so that everything stays contained inside of its own little compartment.
And—those compartments are perfectly sized to encourage good portion control for your littles. Put food in, snap it shut, and you're good to go! These boxes come in several really cute designs, so all of your kids (or you!) can pick the box that they'll love.
If you've ever ventured into a kitchen or home makeover, you likely know that cabinet pulls can be almost frighteningly expensive. These pulls are a fraction of the price of others and SO pretty! We used them in our whole kitchen.
These in particular have 6 ¼ inch holes. Just screw them into your cabinets and you'll have quality, modern, sleek cabinet pulls for a fraction of the price you'd find in stores.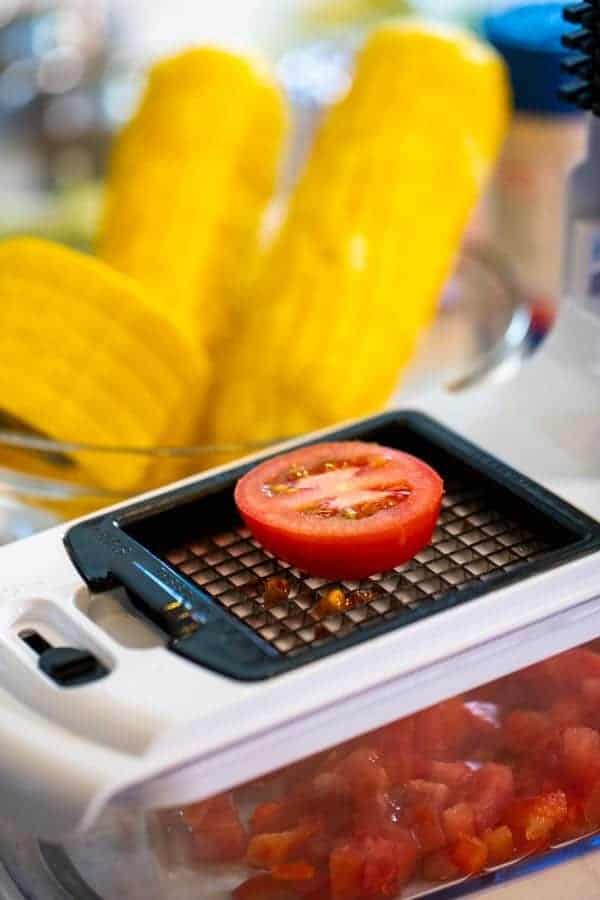 Thanks to its many attachments, this one gadget actually works as nine different ones! Not only is it a chopper, it's a peeler, spiralizer, zoodler, juicer, and egg slicer.
I use this gadget for SO MANY things: salsa, hash browns, french fries, sweet potato tempura, scalloped potatoes—you name it. My favorite attachments are definitely the dicing blades (both small and large) and the mandoline slicer: I use them all the time to get perfectly sliced and diced veggies.
Not only does an even cut give my food a more elevated appearance, it also ensures that every piece cooks evenly. No need to worry about smaller pieces burning while the bigger ones are still cooking!
Dawn Powerwash: This spray has a cult following—and for good reason. It cuts grease like no other, and its formula is gentle enough for kids and the environment around you.
I like to use it for all kinds of things, but mainly when I need a quick sanitizer or grease remover. It works wonders on my dutch oven, which I keep on my stove. It tends to get splotched in grease from the cooktop, but a quick wipe of Dawn removes the grease right away!
Did you know that egg slicers are good for more than just hard boiled eggs? Use them for any soft food—strawberries, mushrooms, olives, mozzarella, bananas, and canned fruit are a few of the most common.
If the deluxe vegetable chopper sounds like just a bit too much for you, this individual egg slicer might be just perfect. Housed in sleek and shiny stainless steel, this egg slicer is both durable and convenient.
With its three different settings, it's the perfect tool for any soft food you might have lying around. And if you're one of us who struggles to remember how long to boil your eggs, check out my method for no-fail Instant Pot boiled eggs.
Are you making your Instant Pot Hard Boiled Eggs WRONG?
Have you ever gone to make a quick dinner—only to realize that your Instant Pot liner is already occupied and sitting happily in your fridge?
It's not the end of the world, perhaps, but it's a hassle to take the liner out, find a suitable tupperware container, rehouse the leftovers, and then clean the liner—especially if you're in a rush. My solution? Keep a few extra Instant Pot liners on hand.
An extra liner or two (or three or four!) let you cook and store multiple things without having to even bother with tupperware. It might seem like a small thing, but trust me—right after dinner when you want nothing more than to roll into bed, it makes a world of difference.
No list of kitchen gadgets would be complete without an air fryer. I got mine years ago and I swear by it. It's perfect for veggies, leftovers, or even steak! I love to use it to get perfectly crispy, "fried" edges on all kinds of foods—without the extra oil that comes from frying.
I have two, and this is the one I use almost exclusively now.
This plastic sheeting is like infinite plastic tablecloths, but better: It's a whole roll of plastic tablecloths. I use it for craft projects with the kids, hosting events, charcuterie boards that cover the whole counter—anywhere you'd need a tablecloth or any kind of covering.
The Gobe snack spinner is the perfect spill-proof snack container for kids. It has a little door that opens only one compartment at a time, making it the perfect option to give your toddlers just enough independence—but not so much that you find snacks spilled everywhere!
I love using it to let my kids pack their own snacks for school. It's also great for road trips to keep messiness to a minimum. Best of all? The main snack portion is dishwasher safe, making cleanup and reuse a breeze.
This shelf is a great way to maximize your storage space. I use it to keep my pots and pans on two levels; you can use it for cleaning supplies, spices, pantry items—you name it. It might not replace custom cabinets, but it's a great stopgap to make what you have go just a bit farther.
I love this can organizer! I've experimented with a couple of different types of can organizers and found that this one in particular boasts high quality and attention to detail. These organizers make it so much easier to keep tabs on which cans I have in stock—and to access them.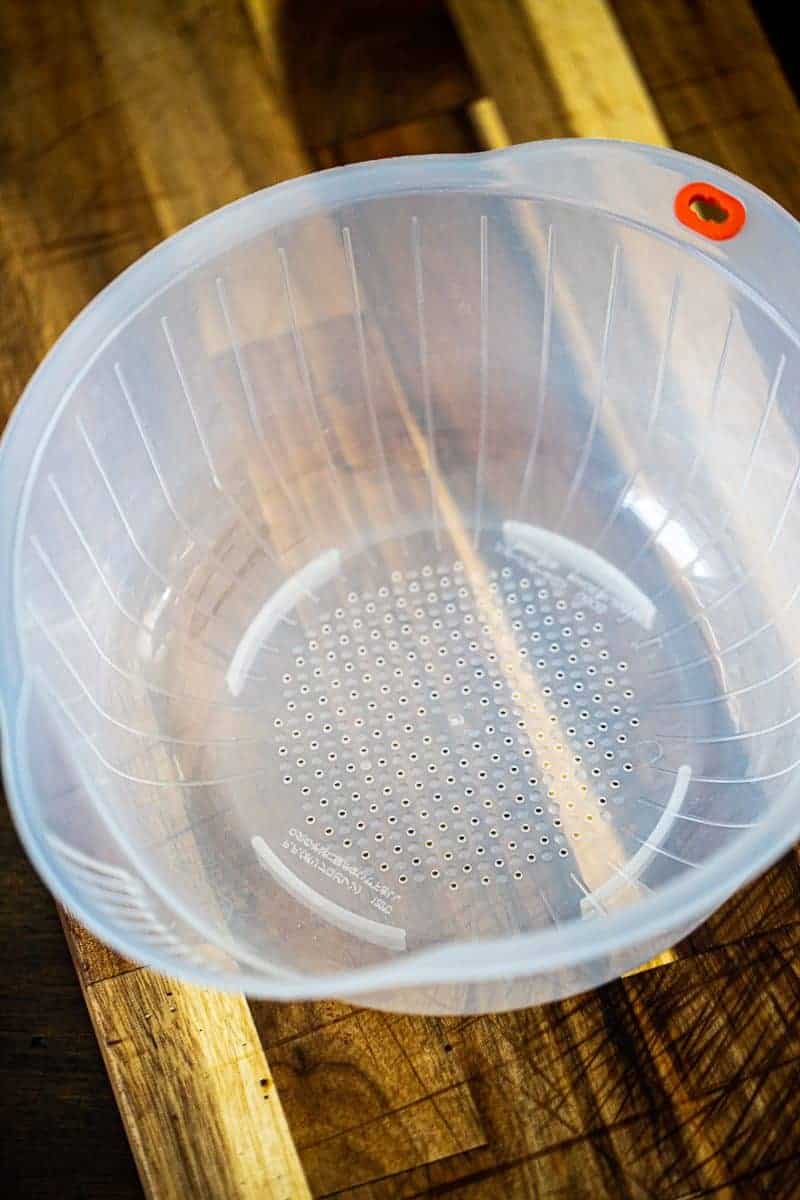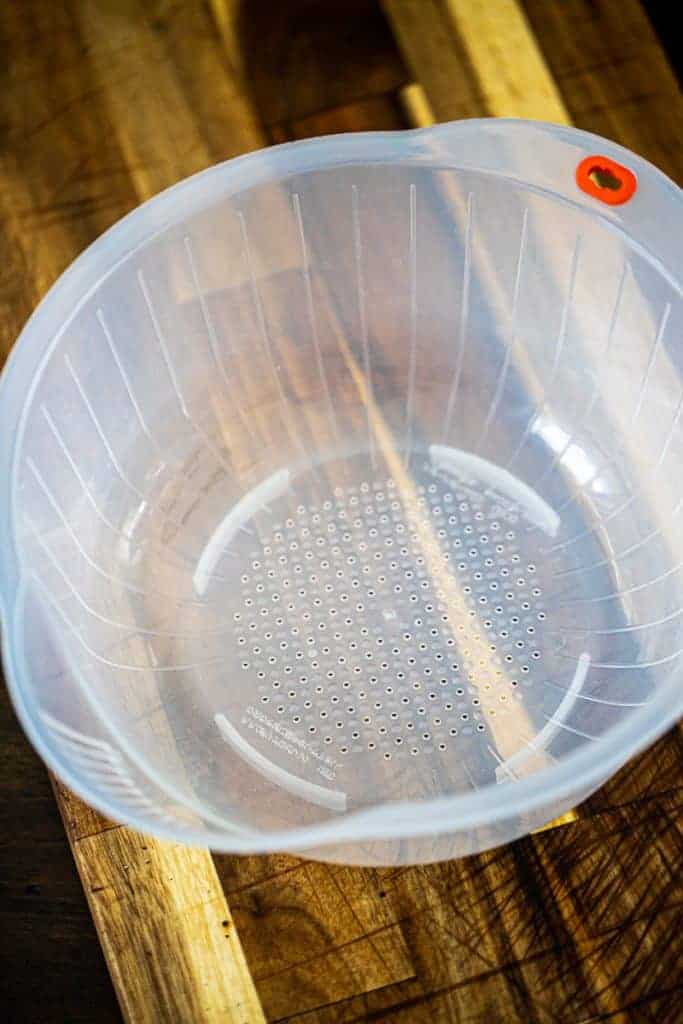 If you've been with me for a while, you'll notice that I tend to mention this rice basket all the time! I love it and swear by it, and I know hundreds of you do as well! Rice comes covered in starch powder, and this rinsing basket makes rinsing off all of that starch so much easier.
It has specialized holes in the bottom, ridges on the sides, and a little strainer spout, making it perfect for agitating and cleaning rice without losing any of those precious grains.
A steamer basket is the perfect addition to any Instant Pot accessory collection. It opens the door of possibility to everything from perfect sweet potatoes veggies to savory stuffed artichokes and Instant Pot corn on the cob!
Here's 12+ ways to use an Instant Pot steamer basket!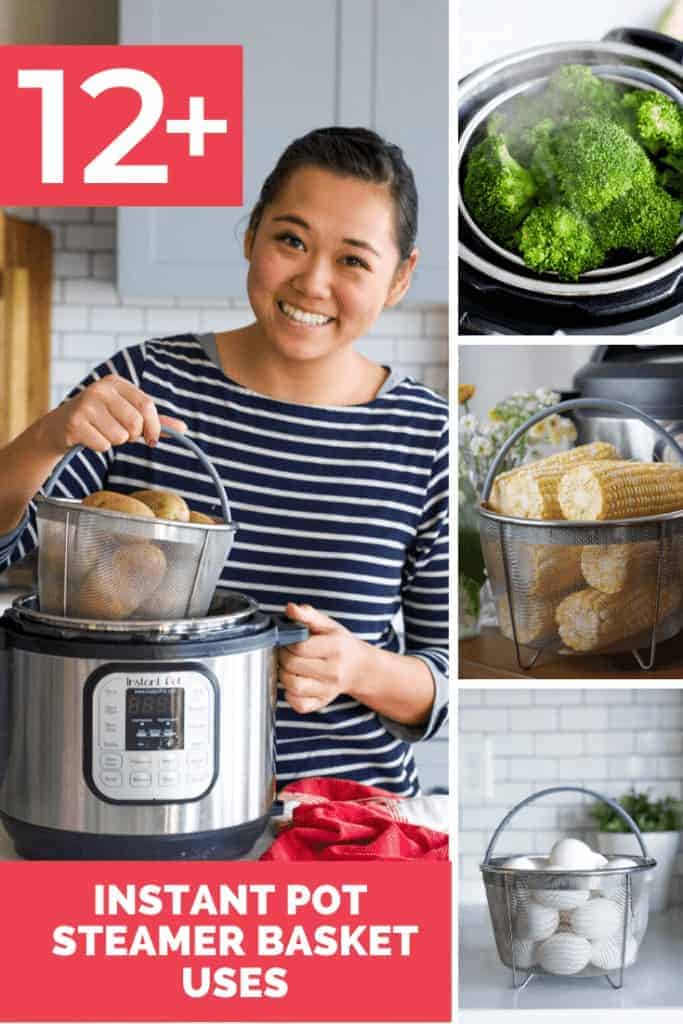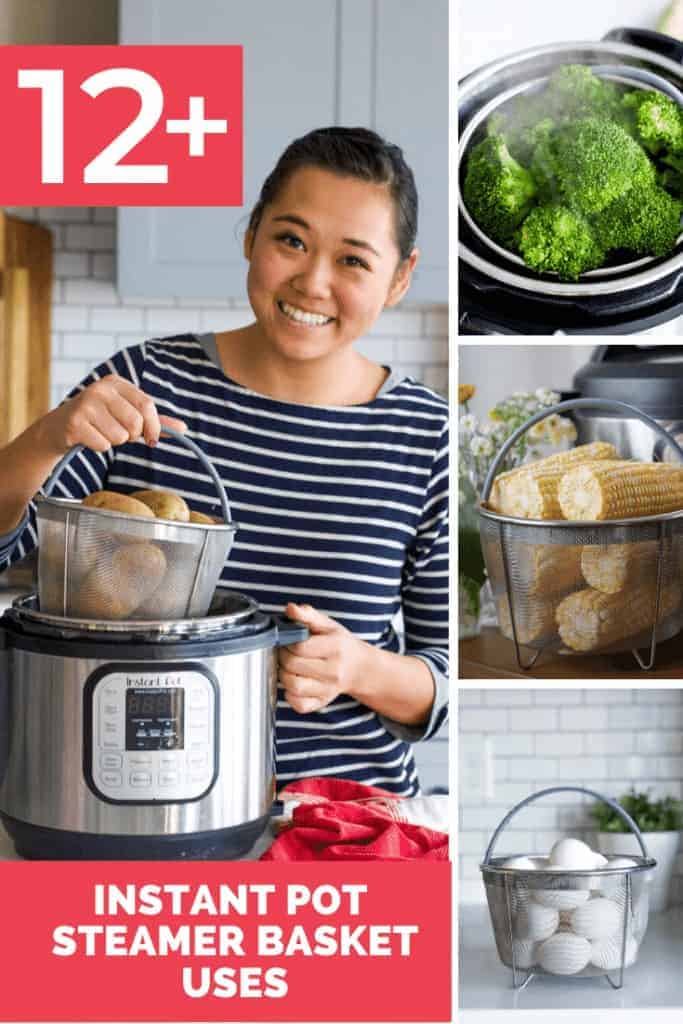 There's nothing worse than finding that your kitchen's become infested with ants. Unfortunately, it happens to the best of us—but that doesn't mean that those pesky ants have to stay!
We used these exact bait stations when our kitchen had a bit of an ant problem a while back, and I can personally attest to their effectiveness.
During Covid-19, I immersed myself into the world of sourdough bread. One of my favorite sourdough-related finds? The banneton bread basket. This basket isn't the exact one that I have, but it's quite similar.
While you certainly can (and should!) bake sourdough bread even without specialized tools, if you find yourself making it at all regularly, it's worth investing in a good banneton basket.
Made from a particular kind of timber-vine weave called rattan, these specialized proofing baskets come with a washable linen cloth lid, scraper, scoring lame w/ blades, and a handful of other tools that will elevate your sourdough experience to the next level.
Have you ever purchased one of those big five-gallon food buckets? They're usually filled with bulk foods like oats, wheat, or even honey! They're fantastic for emergency preparedness—but quite difficult to open!
Life hack: There's a tool designed to open these things. This bucket opener is just $2 on—compared to about $15 in stores!
Two years ago, when I was working on my cookbook, I had to do 175 recipes in 14 weeks. It was the hardest thing I've ever done, and it required me to really be mindful about my time. One thing that I got to help me stay organized was this mega calendar!
I researched for easily three hours, sifting through all of the different listings online to find this specific calendar—and I'm beyond happy with it. It's 52 inches across and 36 inches high, making it the perfect size for my family and I to easily track all of the events in our busy lives.
The dates aren't stamped in, which means that my family and I can keep reusing it as time ticks on. I wanted to share it because it is honestly a lifesaver. It even comes with little stickers for important dates!
Believe it or not, anti-fatigue mats make a huge difference for your feet. I bought several when I was working on my cookbook, and I learned throughout that process that it's important to get a high quality mat: it should stay flat on the edges and be reasonably flexible.
These bread bags are perfect for giving away loaves of bread, cookies, or any other kind of yummy baked treat. They're also great to keep leftover breads and rolls fresh. The 100 bags come with 100 twist ties, keeping you covered for 100 goodie gift deliveries.
I like to customize my bags with my personalized Erin Condren gift labels to add a personal touch! Use this link to get a $10 gift card sent to your email for new EC customers!
My favorite Amazon Kitchen Finds
Your kitchen is the heart of your home—treat it as such. Investing in a few key gadgets (at reasonable prices!) will help you to take your kitchen from great to fabulous. Have some favorites of your own? Let me know in the comments!
---
---