This post may contain affiliate links, which means I earn a small commission if you purchase something I recommend - at no additional cost to you! Thank you for supporting this blog!
A curated, versatile Father's Day gift guide for the men in your life. Useful, thoughtful, functional, and just plain fun–this list surely includes the perfect gift for your guy!
It's that time of year when we're reminded how difficult it is to shop for men.
Whether you're celebrating your dad, husband, stepdad, grandpa, father-in-law, uncle, neighbor, or brother, I have created a versatile gift guide. These ideas address a variety of passions and functional needs for any man in your life.
I have found that quality is usually better than quantity. Although this list has gift ideas at several different price points, many are on the higher end. My best advice: get him ONE gift to love and appreciate frequently for years to come!
However, these ideas don't have to break the budget! I often crowdfund a more expensive gift with my siblings or other family members. Or combine holidays, such as his birthday and Father's Day.
If you've been procrastinating, all these links are on Amazon. Can't beat that two day shipping!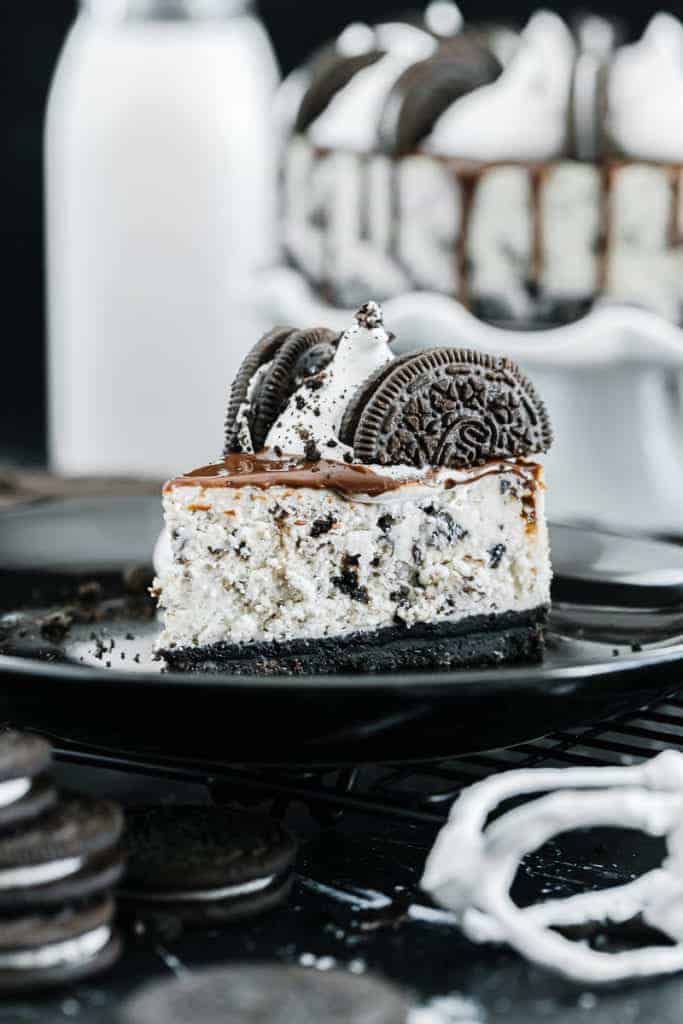 Creative Gift Guide for Men
I feel like a lot of Father's Day gift guides for men include the following: clothes, cologne, books, and grilling stuff.
You'll find some of those items on this list, but I think the most creative gifts are the ones that are useful, practical, needed, or sentimental.
Ideally, a gift that's all of those things is amazing! Here are a couple of ideas to help you think of a creative gift if you don't find something on this list:
Think of the person's day or routine from start to finish. What do they do first thing in the morning, or right after work? Is there something in their routine they do before bed? Think of a gift that could compliment or enhance any specific ritual or task they do each day. For example, if the man in your life drinks coffee every morning, think of some accessories or new ingredients, cups, frothers, etc. that could enhance that task.
Does this person have any specific hobbies? Sometimes if that's the case, they may already have very specific brands or products they are looking at getting for those hobbies, and it's best not to purchase anything they may not use. You can always ask if there's something really specific they want, or a gift card or complimentary experience may be a good idea. My husband just started picking up his guitar again, so I just got him a couple fun things like a guitar stand (with 13,000+ positive reviews!) and a music stand kit to help support growing that hobby.
New hobby? As adults, we often think of things we desire to start doing or learning, but never get around to. Is there a new hobby or skill this person might be interested in? Maybe a cooking class, music class, voice lesson, or an instructional class of some kind would be cool. A gift card to a specialty store could also be the push someone needs to start something new!
Subscriptions or Lessons– Like I just mentioned above, something new that's a regular occurrence could be a fun gift. Subscriptions for food or clothing are always a super fun gift.
Experiences– I love gifting experiences like skydiving, escape rooms, go-karting, helicopter or airplane rides, etc. We've done all of those things and they're such fun memories. I usually find something fun near me on Groupon. Something that's also really fun is picking a new and/or fancy restaurant or type of cuisine you've never been to before, and gifting that.
Gifting to Charity– Another way you can honor someone is by making a donation to the charity or cause of their choice.
Something ALIVE!– whether that's a plant, flower, or herb garden, something alive can bring beauty and freshness into any space. If you DO gift a pet, please do so responsibly to ensure that the animal doesn't end up on the streets or a shelter in a couple days or weeks.
Office Decor – If the man in your life works in an office away from home, think of some desk ornaments, decorations, or things that might help make work more enjoyable. I love these little mini desk games, photo albums, digital photo albums, framed photos, mugs, electric blankets (if it's cold!), a fan (if it's hot!), some desk exercise equipment, or something pretty that'll look nice on a desk.
What kind of guy is he? If your guy is outdoorsy and likes to hike, a Thermodrop clip on thermometer might be a fun gift. I like putting it on my jacket for when I go outside! Car guy? Golf guy? Book guy? Gamer guy? Think of things he loves or wants to love, and go with that!
Amazon Father's Day Gift Guide for 2022
If you like this list, you'll love my Amazon Storefront, where I share all my favorite amazon finds in one place! Without further ado, here's our 2022 Father's Day gift guide.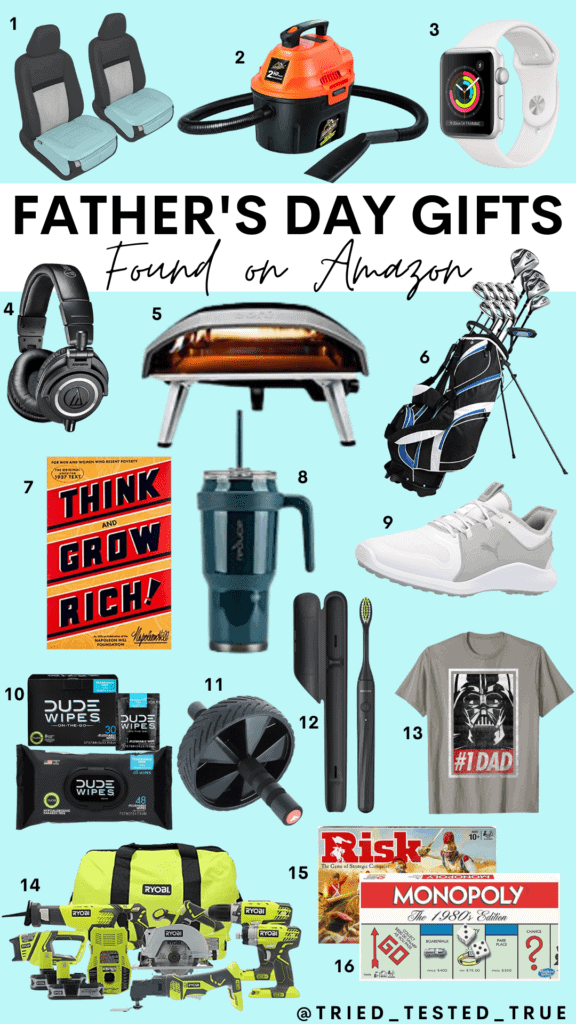 Family life can be hard on vehicles. These high-quality microfiber leather seat cushions will protect his ride and add extra storage! They're both soft and waterproof.
Skip the line at the carwash vacuum! This all utility vacuum is designed to clean the interior of your car. It handles wet and dry pickup, includes all accessories needed for complete interior cleaning, and easily converts to a blower to dry motorcycles, car grills and wheels.
The Apple Watch is the perfect life accessory! It's a convenient way to manage messages and phone calls without your phone. Track fitness, activity, and heart rate. Bonus–it's water resistant.
My husband loves these headphones. He says they provide more comfort and durability than earbuds. The audio is critically acclaimed and the cord is removable for a wireless option.
Here's another less expensive set, wireless gaming headset with noise canceling microphone!
This item is on our personal wishlist this year. Is there anything better than a fresh outdoor pizza in the summertime?!
This pizza oven is portable, easy to store, and cooks an authentic, stone baked pizza in just 60 seconds.
Golf is a sport that can last a lifetime! Here is a reasonable, complete golf club set.
Brett, my husband, is a big reader. He especially enjoys motivational, leadership, and business books. This book is one of his top recommendations!
I personally think it's easier to stay hydrated with a handle and straw. Don't sweat those water rings on his desk or table, it won't happen with this sweat-proof tumbler!
The men in my life tell me golf shoes are a gamechanger on the course. Help him improve his stance and swing with these stylish, lightweight golf shoes.
"Friends don't let friends ruin their butt with toilet paper." Sewer and septic tank safe Dude Wipes provide a more clean, refreshing finish.
This is one of the most effective pieces of home exercise equipment. Build stronger abs and muscles, burn calories, and improve overall endurance.
Give a gift that he'll use every single day. A high-quality toothbrush is life changing. I definitely had to include this in my Father's Day gift guide.
It takes a true Star Wars fan to appreciate this graphic t-shirt!
Does your guy love DIY? This isn't just the average tool kit. It's the perfect set of power tools for any project.
I have learned that men are basically giant kids. They love anything resembling a game or toy! Risk is Brett's favorite strategy game. Him and his friends play this any chance they get.
Can't go wrong with the fun and nostalgia of classic monopoly! Play together for a memorable Father's Day celebration. Brett's also obsessed with Monopoly. Good luck finding anyone to play with you, dear! (We actually have special "house rules" that make it way more fun).
Give the gift of a detailed car for years to come! This mini vacuum is compact, lightweight, and easy to use. It's ready for everything from dust to drive-thru spills. Plus, it includes a complete detailing kit.
This stylish, heavy duty insulated ice chest keeps ice cold for days. Perfect for fishing, camping, and all other memory-making!
No Father's Day gift guide would be complete without a massager lol. The gift of a foot rub that you don't have to give by hand!
Now that he has the golf clubs and shoes (see links above), this golf equipment rack is the perfect storage solution.
It's tricky taking care of business in the middle of the night. The options include risk stubbing a toe in the dark, or turn on those blinding bathroom lights. This motion sensor toilet night light saves the night. Worth the $11!
Conveniently connect with friends and family. Move freely, stay in frame, and always be heard with this self-adjusting, smart video camera. Call anyone, from anywhere on Messenger, WhatsApp, Zoom, and more.
They say a cluttered desk is a sign of a cluttered mind. This handsome, wooden docking station will keep his most important items nearby and organized.
No more hair all over the counter and sink! This beard apron catches beard, sideburns, and hair trimmings to make cleanup a breeze.
A quality cornhole set provides hours of fun and friendly competition. Host friend and family tournaments. Play at tailgates, holiday weekends, cookouts, campsites, and more.
This basic set is easily customizable with decals or a little paint.
This wallet is elegant, convenient, and quality. There's nothing worse than a bulky wallet. He'll hardly notice the slim fit in his pocket.
These are sturdy, simple, and classy glasses. The set includes 24 glasses!
As expected in every Father's Day gift guide, we've got something grill related. Your grillmaster needs this portable grill, ideal for camping, traveling, cookouts, and more! It's lightweight and compact.
The two independently controlled burners allow you to set different heat zones for cooking a variety of barbeque foods. Plus, it includes a built-in thermometer to monitor the grill temperature.
Speaking of grilling, if you don't have a Thermapen One, you're not doing cooking right! This is the absolute world standard in temperature, and their products are amazing. You already know I'm a huge fangirl of ANYTHING Thermoworks. I rave about them in my Best Instant Pot Accessories to buy (and AVOID!) post!
Fun fact, my husband is a wonderful musician. This guitar stand helps him safely store and display his instruments.
This adjustable single guitar stand is another great option.
This quiet, cordless massage gun relieves daily muscle soreness, helps with recovery after workouts, and unwinds stress.
Once he has a shop vacuum, he'll use it for everything from small spills to major workshop cleanups. This one is fantastic quality.
Keep the men in your life well-groomed with this nifty all-in-one trimmer!
This airpods accessories kit helps keep track of those tiny earbuds. It includes ear hooks, an apple watch airpods holder, and a keychain cover.
These candles don't just smell incredible, but also are a sentimental gift. Do you have a meaningful location in your relationship? Remind him with this thoughtful candle.
This fog free, shatterproof shower mirror is a gift he'll use daily. And actually, I love using it too! It helps me get all my makeup off in the shower!
There isn't a more useful, classic Father's Day gift than quality socks! Brett LOVES new socks, and he has a couple packs of these.
Here's a fun way to serve his favorite beverage.
This sleek bluetooth speaker is compatible with mobile phones, computers, and tablets. He can take his music to the living room, backyard, office, or anywhere!
This external hard drive fits in your pocket, making it ideal for travel. There's tons of space for photos, videos, work data, etc. Plus, it has exceptional transfer speeds.
This map is a gorgeous piece of artwork that will be the focal point of his living room, dining room, or office. Travel enthusiasts can track previous adventures and decide where to explore next.
This tower fan is bladeless, effective, and, most importantly, quiet.
Amazon Gift Lists
Thanks for reading our 2022 Father's Day gift guide!
It's hard to beat the prices and convenience of online shopping. If you like this list, you'll love my Amazon Storefront, where I have curated lists of my favorite products like 26 Amazon Kitchen Favs, or Favorites $20 or Less!
Happy Shopping!
---
---