The BEST Prime Day Deals (Instant Pot!)
---
This post may contain affiliate links, which means I earn a small commission if you purchase something I recommend - at no additional cost to you! Thank you for supporting this blog!
After a 3 month delay, it's finally time for one of the biggest Instant Pot sales of the year! For the next two days, I'll be sharing with you the best Instant Pot related deals (and some of my other favorite things) on Amazon Prime Day 2020!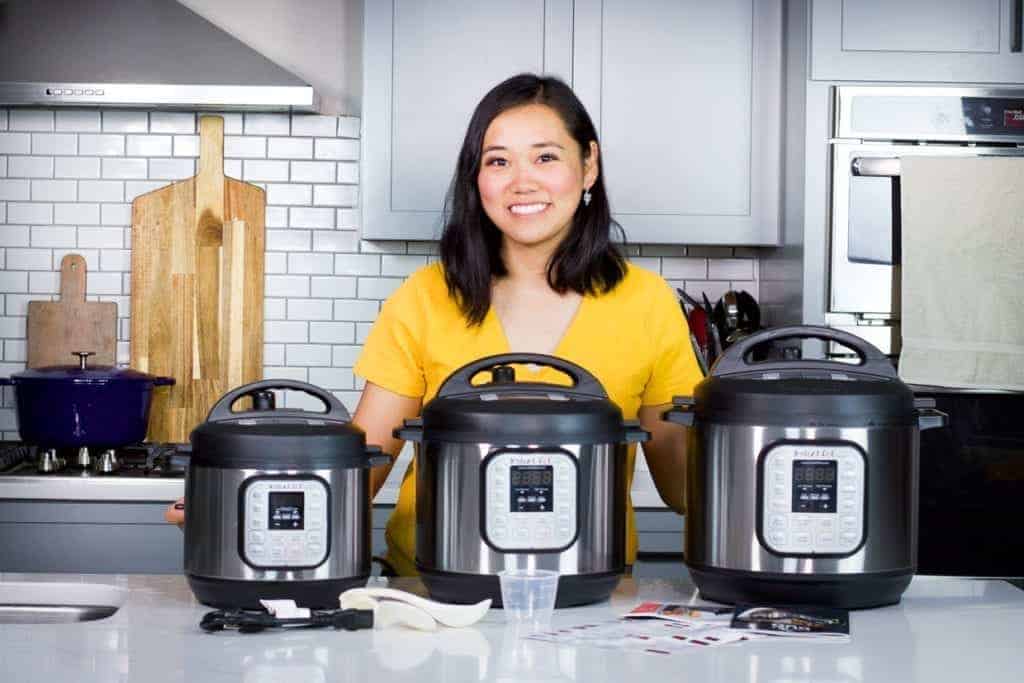 This post will be updated throughout the week during the Prime Day sale!
I also wanted to THANK YOU so much for shopping through my links. Like I mentioned above, I may earn a small commission off of your purchases if you use my links to shop (at no additional cost to you!) This just really helps support my business. So thank you!
When is Amazon Prime Day 2020?
Amazon Prime Day is usually in July, but of course, it's 2020 so nothing is the same! This year, Amazon Prime Day is on Tuesday, October 13th and Wednesday, October 14th. That's right, two full days of deals! Keep checking back on this post for updated deals.
NOt an amazon prime member?
Amazon Prime offers free, 2-day shipping (even 1 day for some areas!) for all its members. You also get awesome access to free unlimited streaming on Amazon Music and Amazon Video, Prime Photo (I store and share all my photos with friends and family here for FREE), Prime Fashion, Prime Reading, Amazon Fresh, Amazon Pantry, etc. etc. etc.
You'll get early access to Amazon's lightning deals and lots of other great perks. It's basically a Costco or Sam's Club membership for Amazon, which has EVERYTHING.
You can read a full list of Amazon Prime Benefits HERE.
Plus, if you're not already a member, you can get a FREE 30 day trial!
Best Instant Pot to Buy
First, go ahead and read my comprehensive guide on the best Instant Pot to buy. If there's one you're specifically wanting, check out the links in that post and see if it's on sale!
Read: BEST Instant Pot To Buy
What's on Sale
The Ultra is on sale for over 50% off! That's actually an incredible deal on ANY 3 quart Instant Pot, let alone one of the top of the line versions! I'd definitely get this today if you're wanting a mini Instant Pot- they're perfect for gifts or as an extra pot for side dishes.
Allows custom temperature control for saute and slow cook options.
It also has the "Ultra" option, which gives you complete control of the pressure cooking conditions.
Allows slightly more robust time options on pressure cooking.
No Sous Vide.
Smart lid with the automatic sealing knob, and the central dial to control the Instant Pot.
This is the newer 10 quart Instant Pot. Yes, you read that right. 10 QUARTS. I DO NOT recommend that you purchase this for yourself or as a gift as your first Instant Pot. This thing is HUGE like HUGE and you will not need or use this as a day-to-day Instant Pot unless you're regularly cooking for 15 adults.
99% of Instant Pot recipes are developed for 6 quart Instant Pots that usually can be adjusted for 3 or 8 quart, but I've never seen a post specifically for this size. Purchase this if and only if you're an experienced Instant Pot cook and you feel comfortable adjusting recipes and cook times on your own.
That being said, it is on sale for 33% off, which is the lowest this will probably go.
The duo crisp is on sale…. and yes, if you've had your eye on it- go ahead and get it! It's a good deal.
However, I do have my reservations which you can read in this post. The 8 quart size is really big for your first Instant Pot. and I think you're better off getting a standalone air fryer. Just go read my post for my thoughts.
KEY FEATURE: Doubles as an air fryer with an attached air fryer lid.
DOES NOT HAVE YOGURT FEATURE.
Easy Seal Lid takes the thought out of sealing.
Doesn't come with a lot of the more "advanced" features or bells and whistles- no special stuff with the lid/sealing/steam release.
Only comes in 8 quart size.
This is NOT an Instant Pot Pressure Cooker- this is an Instant Pot BRAND SLOW COOKER and Sous Vide machine. If you're in the market for a new slow cooker, this one is large and on sale for a great deal. Again, it is NOT a pressure cooker and "Instant Pot" recipes are NOT compatible with this!
I'm happy to see that my favorite Instant Pot is on sale this year- this year, the sale is $20 off. It's not a slam dunk, no-brainer price, but it's pretty average with the sale price on Amazon. I almost never see it at its "full retail price."
BUY NOW: Instant Pot Duo at 21% off
Instant Pot Duo 3 Quart (Instant Pot Mini)
I won't bore you with all the reasons I LOVE my mini 3 quart Instant Pot but it's truly a great purchase. Especially if you already have an Instant Pot, this is a great one to buy as a second.
The 3 quart rarely goes on sale, so I'm happy to see it on sale right now. The lowest price I've ever seen on this is $45, so right now at 25% off, it's a pretty good deal. I'd snag this one if I were you.
BUY NOW: Instant Pot Mini 3 Quart
This is the cutest white Instant Pot. These colored ones never go on sale so for $20 off, it's a good deal if you're looking for this specific one!
GET $20 OFF THE WHITE INSTANT POT
Instant Pot Accessory Deals
First, RUN and get 17% off on my favorite 717 steamer basket. Get the deal with my code, 717PRIMEDAY to give you this price. Add the code at checkout. This is better than the usual 10% discount my readers get!
Read: 12 Ways to Use an Instant Pot Steamer Basket
This egg bite mold is actually really good! They're on sale for $2 off, which is a good deal since it rarely goes on sale. I would get two of these if you're thinking of getting them so you can stack two at the same time. Otherwise, they don't hold a ton.
BUY NOW: SILICONE EGG BITE MOLD
This air fryer is very similar to the one I have and I use it every single day! I love using my air fryer for reheating anything and crisping up foods instead of turning on my oven. It's fast and easy! I do not recommend buying an air fryer smaller than 5.5 quarts at the very low end. Mine is 6 quarts and this one is 7. You need the space, I promise.
BUY NOW- don't forget to clip the $25 off coupon!
These are almost 50% off! If you haven't used silicone baking mats in your cooking yet, grab these! These would also be an amazing stocking stuffer or neighbor/friend/coworker gift.
I use these when making Chocolate Covered Strawberries (Instant Pot) | Baby Shower Food Ideas
I got an immersion blender last year for Christmas (thanks to my mother in law!) and it is one of my favorite kitchen tools!! I use it to puree soups, smooth out frostings, blend up sauces, make whipped cream, make dressing, etc. I LOVE using it and this is a great deal!!
Comes in several cute colors like this one!
BUY NOW: Immersion blender, only $22!
If you picked up sourdough baking during 2020 like I did, you'll want to pick up some banneton proofing baskets! These are on sale for prime day, but I also like this set that comes with 2 baskets and a couple good accessories.
My Amazon Storefront
If you'd like to check out more of my favorite products, check out my Amazon storefront where I have lots of curated lists of my favorite products, kitchen products, gifts for men, babies and children, and gifts under $20!
Other Deals that are AMAZING
Apple AirPods
Possibly one of the greatest inventions of our time- Airpods! They're wireless earbuds! I use mine daily. It's so convenient to just be able to pop one in while I'm cleaning, cooking, or moving around. They're incredible for exercising as well!! I'm gonna pick some of these up!
Save almost $50 on these babies! HURRY! Just so you know, these would make ANY human/child/teen/friend ecstatic!
Waterpik
Ok I know this is random but this waterpik water flosser is AMAZING. I bought it a couple months ago and it has transformed my oral hygiene! It's basically a power washer for your teeth!
Instead of flossing, you just use this and it blasts all the junk out from between your teeth. Seriously life changing! I just bought mine a couple months ago for $75 so this is a REALLY good deal! Don't delay. Your dentist will thank you!
BUY NOW: WATERPIK WATER FLOSSER
Revlon One-Step Hair Dryer And Volumizer Hot Air Brush
This Revlon hair dryer and volumizer is one of my favorite things and 30% off! I can dry and style my hair in 5 minutes flat from wet! You know I'm all about efficiency! It usually costs $60 and only goes on sale a couple times a year so I would get it now!! Plus amazon has an additional $2 off coupon!
Deebot Robot Vacuum
This is basically our family pet and we LOVE it! This deal is the same deal I got on Black Friday 2 years ago when I bought it. Definitely snag it!
BUY NOW: Deebot Robot Vacuum (life changing!)
I bought these for my kids as a back to school gift and they LOVE them!!! We play with them every single day and I honestly love playing with them too.
A very smart, creative toy that is good for the brain. This is a great deal on them! Would be an amazing present for any child in your life.
Not that this year was like… spectacular or anything, but if you want to commemorate the craziest year we've ever had then these cute ornaments are super cute and 50% off! Great, inexpensive gift idea!
6 ft Christmas Tree with Bag and lights
---
---