This post may contain affiliate links, which means I earn a small commission if you purchase something I recommend - at no additional cost to you! Thank you for supporting this blog!
After four years, we finally gave our front porch a makeover and it's somewhere we love to spend our time. I intentionally designed the space to be both practical and functional while staying in budget. Here are my best tips, products, and ideas to help you create a space you love.
CREATING BEAUTIFUL, INTENTIONAL SPACES
We've lived in our current home for over four years now, and it's finally starting to feel like MINE.
Homes are always a work in progress! As our tastes and needs in life change, so do our styles and decor. There's also always the ever-present restriction of what falls in our budget.
Thankfully, I feel like there's wonderful ways to add your personal touch to every space in your home, even on a budget.
FINDING INSPIRATION
My good friend Jennie from Jenuine Home is all about helping you find your personal home design style, and creating intentional spaces you love in your budget. We've been talking through Marco Polo, and she recently shared with me her experience finally making her front porch area a place she loves.
Jennie always has such beautiful and wise words to describe her craft, so I've asked her to share some of her thoughts on the how and why of creating intentional, beautiful spaces.
Front Porch Chi with Jennie Whiting
The front door and porch (if you have one) is a vital part of your home. In Feng Shui, this is where chi enters into your home and life. Chi is life force energy and represents all things that help you live a life of wellness and abundance.
Your front porch is also where you welcome yourself, friends, family and strangers to your home. You want to make this area as beautiful and welcoming as possible.
Creating good chi by raising the energetic vibration of your front porch helps bring abundance and success in your life.
Here are some easy ways to create a welcoming front porch:
Clean the front porch and door. Remove any debris or broken items.
Make sure your front door is in good condition and opens easily without squeaking or getting stuck.
Place a clean welcome mat at the doorstep.
Add any plants that bring you joy and makes the space feel beautiful to you.
If you have room, creating a sitting area to allow you to enjoy spending time on your porch.
Create a clear pathway to your front door, removing any blockages or large plants that would prevent chi flowing easily into your home. This also helps guests to feel safe as they approach your home.
As you spend time beautifying your front entrance, you are setting the intention of gratitude for your home. Gratitude is a high vibration where chi flows. You are infusing your energy into your home and this will be felt by those who visit.
CONTACT JENNIE
Wow! Isn't Jennie just phenomenal? She's one of my cherished friends, and I know you'll love her just as much as I do. You can enjoy all Jennie shares on Instagram, purchase her cookbooks, or book a virtual design consultation with her to get started designing the home of your dreams.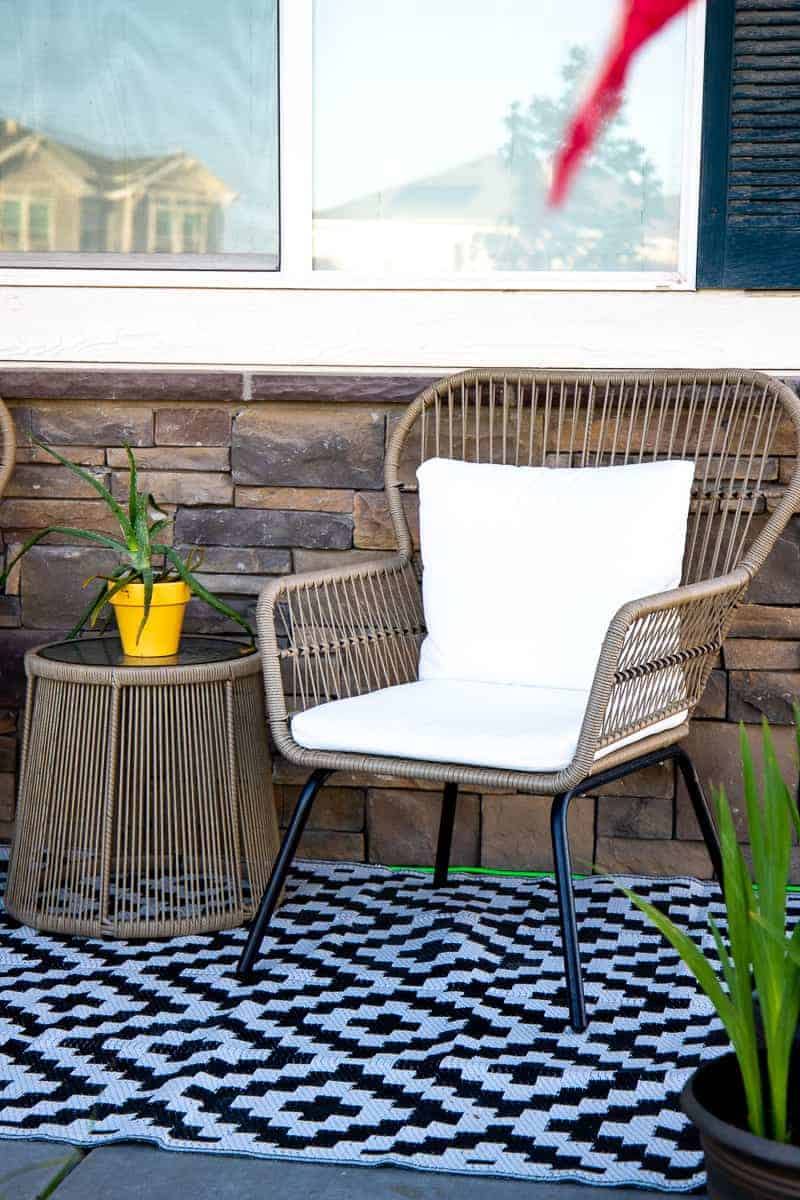 OUR FRONT PORCH MAKEOVER
(All links to these products are at the end of this post in an easy to read list).
I want the exterior of our home to help reflect what's inside. It's important to me to create an inviting and beautiful space that we can enjoy, and not stress about.
It's been a work in progress, but I've finally created a spot where neighbor kids can gather. Brett and I can read our books outside, and watch our kids play with their friends in the circle. It's warm, cozy, stylish, ME, and most importantly, we LOVE being there.
It's nothing fancy, but after saving and looking for good deals, I did it! I used my budget to purchase as many good quality items that would make as big an impact as possible. We'll keep adding to this space, but for now, it's perfect for us!
LIKE THIS POST? YOU NEED TO READ MY 28 AMAZON HOME KITCHEN FINDS I ACTUALLY USE AND LOVE!
THE BEFORE
When we moved to our current home four years ago, we had a very "stock" front porch. The builder put in super generic lights, two shrubs, two bushes, and a tree in our yard. Nothing was wrong with it, but it was very, very… plain.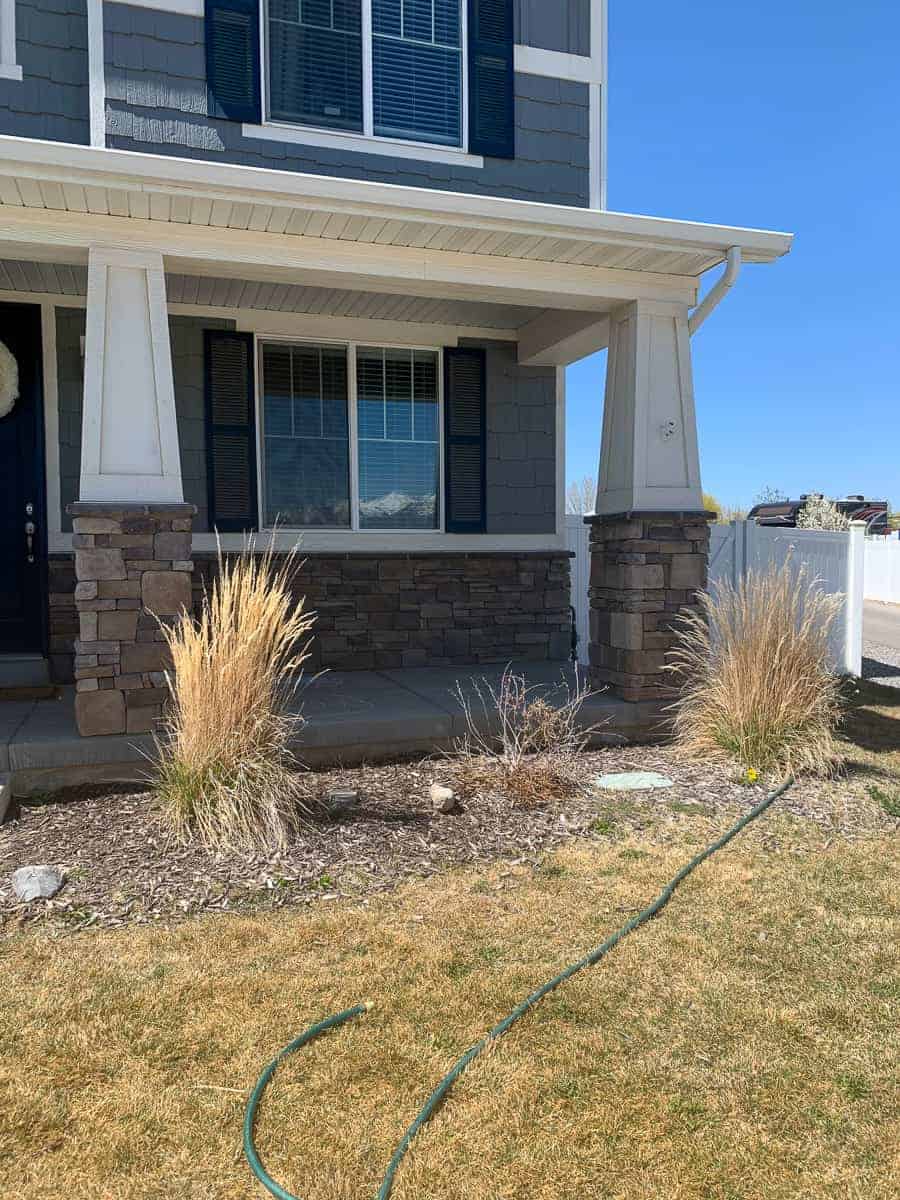 Whenever we wanted to spend time in the front of our house, we just pulled out our camp chairs and sat in the driveway. The front porch spot was just too depressing and ugly to want to spend time in!
Last summer, Brett and I decided to revamp the space a little. All I said is that we should add some flowers to the front porch. Well, that turned into a highly technical (and expensive) flowerbed build.
We tested our midsize SUV to its very limits as we hand loaded and unloaded dozens of super heavy stones from Home Depot to our driveway. Brett mapped it out, used a special saw to adjust some of the stones, and then glued them together using construction-grade adhesive.
MY FLOWERBED
We then filled it with tons of dirt and good soil from the nursery, and started planting flowers! I'd never done a flower bed before, so it was a fun experiment to go to the nursery and pick the beautiful things that spoke to me.
The things that I planted last year (that survived 😅) are some lilies, hostas, dianthus, clematis (though only one of my plants is actually growing right now…?), and some other small flowers whose names escape me.
This year, I added some gladiolus to the flowerbeds (and I always do some wave petunias in the front). I planted some peony bushes and lily of the valley in our backyard.
I've definitely unlocked a new level of adulting, because the only thing I'm interested in when I go on my daily walks is what other people are planting and admiring their landscaping! I've turned into a total flower lady, and I love it.
If you're interested, I've included links to all my flowerbed accessories and such at the bottom of this post.
THE KEY TO STUNNING FLOWER POTS
I also purchased huge flower pots from Costco and filled them with stunning flowers on each side of my garages.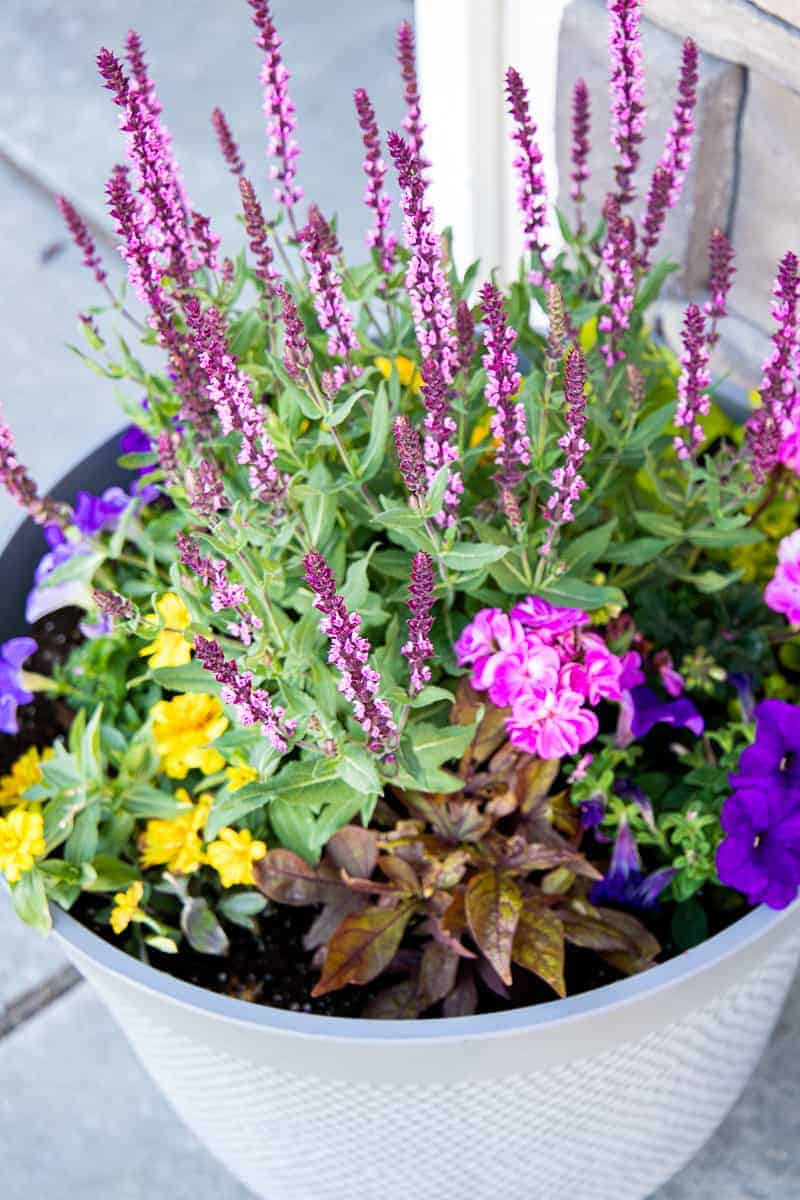 The secret to creating the perfect summer flower pot is threefold. You need three elements:
A "thriller" – A thriller is the focal point of the pot. It's a plant in the center that is tall and stunning. Something like tall fountain grass is very popular. Other good options are salvia (the tall purple ones I chose), dahlias, cosmos, or canna lilies.
A "filler" – Fillers are mid-sized flowers and plants that fill the space in your pots. There's so many different varieties, but I chose some geranium flowers and wave petunias in a variety of complimentary colors.
A "spiller" – Spillers are plants and flowers that spill out over the sides of the flower pots, creating a super full, stunning pot. This year, I chose purple and green potato vines, creeping jenny, and wave petunias.
If you go to your local nursery, you'll more likely than not see a section that is labeled "Thrillers, Fillers, and Spillers." And you'll definitely get personalized help in your region if you go and ask someone who works at the nursery!
Make sure you're including WHITE in your flower beds and pots! White helps bring balance and contrast to all the green, pink, blue, purple, red, and orange that many flower beds have.
Another thing I've done is just go talk to people who have beautiful flower pots! I'll see them outside their homes while on my walks and just ask them. If there's anything I've learned, it's that flower people LOVE talking about their flowers!
FRONT PORCH MAKEOVER REVEAL
PATIO FURNITURE
My biggest wish list item for years has been front porch furniture. Little did I know, it is NOT cheap. I thought that it would be max $100 to get a couple chairs and a little table to sit on. Well, if you know anything about being a real adult, you'll know porch or patio furniture can get into the thousands.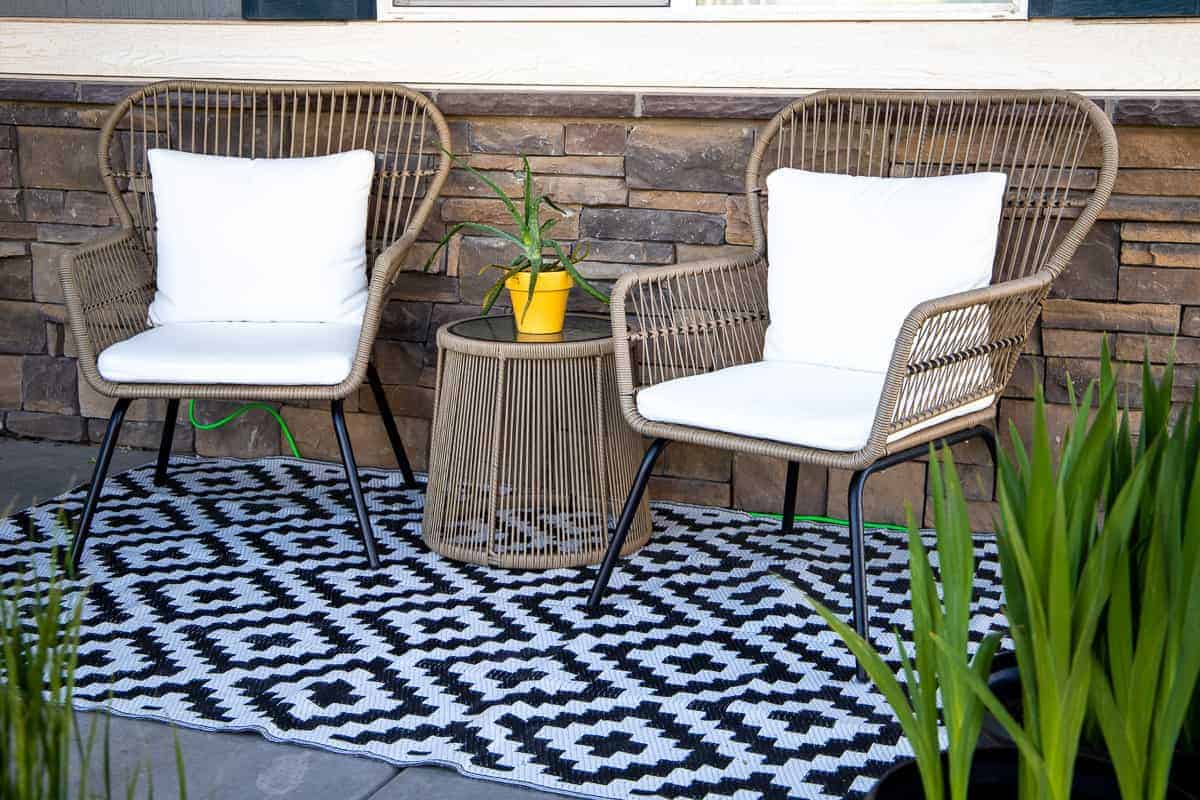 A simple adirondack chair can be a couple hundred dollars, EACH.
That's why I was thrilled when I was able to find this patio set on Amazon. This set hit everything on my mental checklist. It had high reviews and ratings, the chairs were large and oversized, it came with weather resistant cushions, and it was stylish. It also came in under my budget, which was even better!
I chose the tan frame with white cushions, because I wanted some contrast under my shaded porch. I sprayed the cushions with outdoor sun and water shield Scotchgard to further protect them. My front porch makeover is finally starting to take shape!
PORCH DECOR FOR MY FRONT PORCH MAKEOVER
Something that will make an instant impact on your front porch is an outdoor patio rug. Everything in the flowerbed is green and colorful and the chairs are neutral, so I wanted to add a statement rug that would give personality and pattern to the space.
I ordered this 5×8 outdoor rug with over 3,500 reviews and 4.5 stars! It's supposedly reversible, but there's definitely seams on one side that clearly look like the bottom. It fits my space perfectly, and I like that I can just wash it off with a hose when it gets dirty.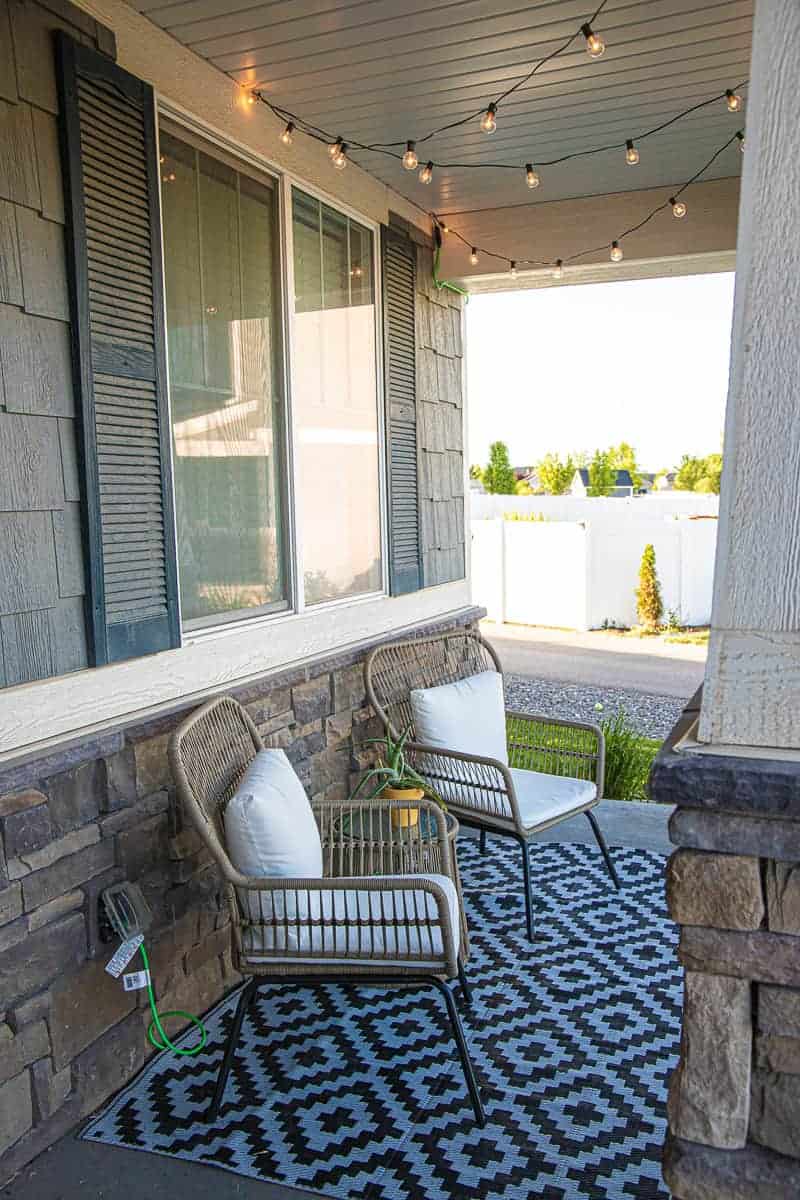 Another big impact addition was adding hanging lights! Sometimes these are called bistro lights. Wow, they really transformed the space! I bought two, 25 foot lengths and strung them together. I had purchased a box of hanging lights at Costco last year, but I like these lights better because they're smaller and more dainty.
It was easy to apply them to the porch using these Command brand clips. They are super durable, and had fantastic reviews. The clips are specially made for hanging outdoor lights, so I trust they'll hold up.
FAST FRONT PORCH MAKEOVER – Lemon Wreath AND RUG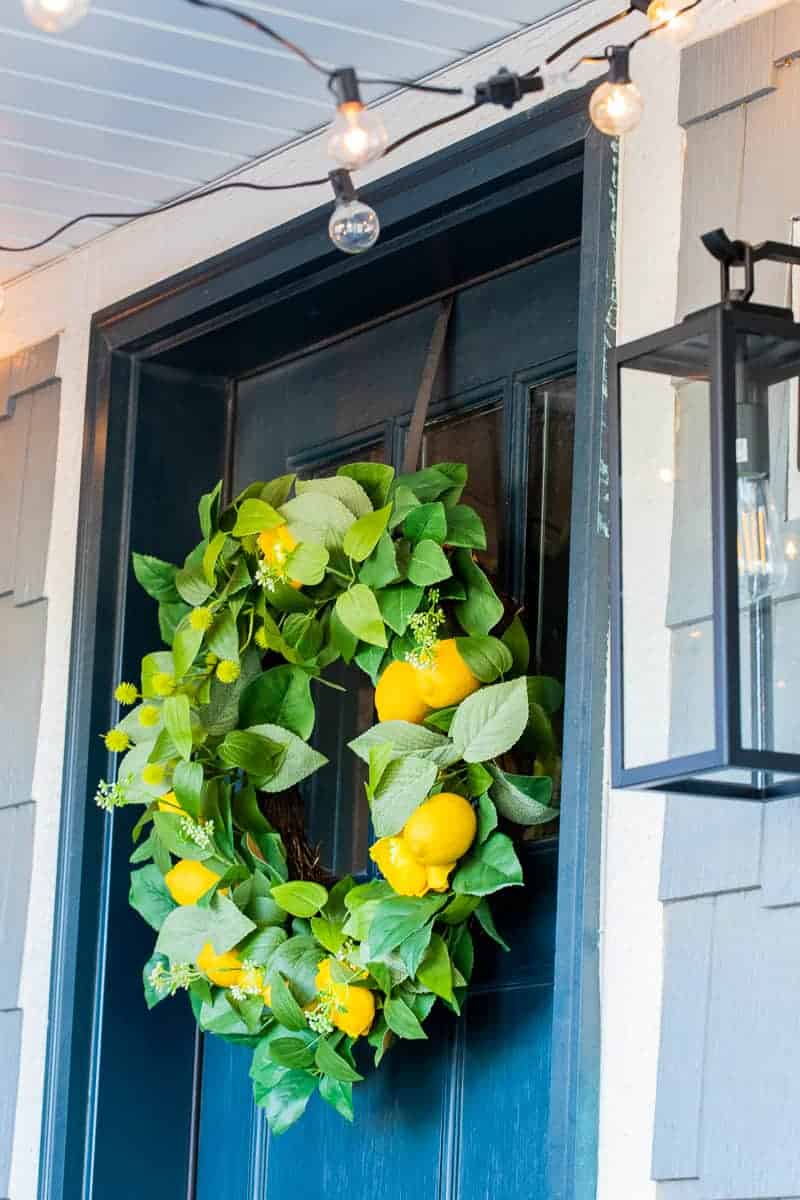 Since my front door is a dark navy color, I wanted a bright and summery wreath that would contrast nicely. My exact lemon wreath is from Sam's Club and is sold out, but here's a very similar one.
Adding an inviting and clean wreath and door mat is probably one of the first things you can do to give your front porch a budget-friendly makeover.
AMERICAN FLAG
The American flag we fly was a housewarming gift and we love flying it in front of our home! It's beautiful, and feels like the perfect finishing touch to our home decor.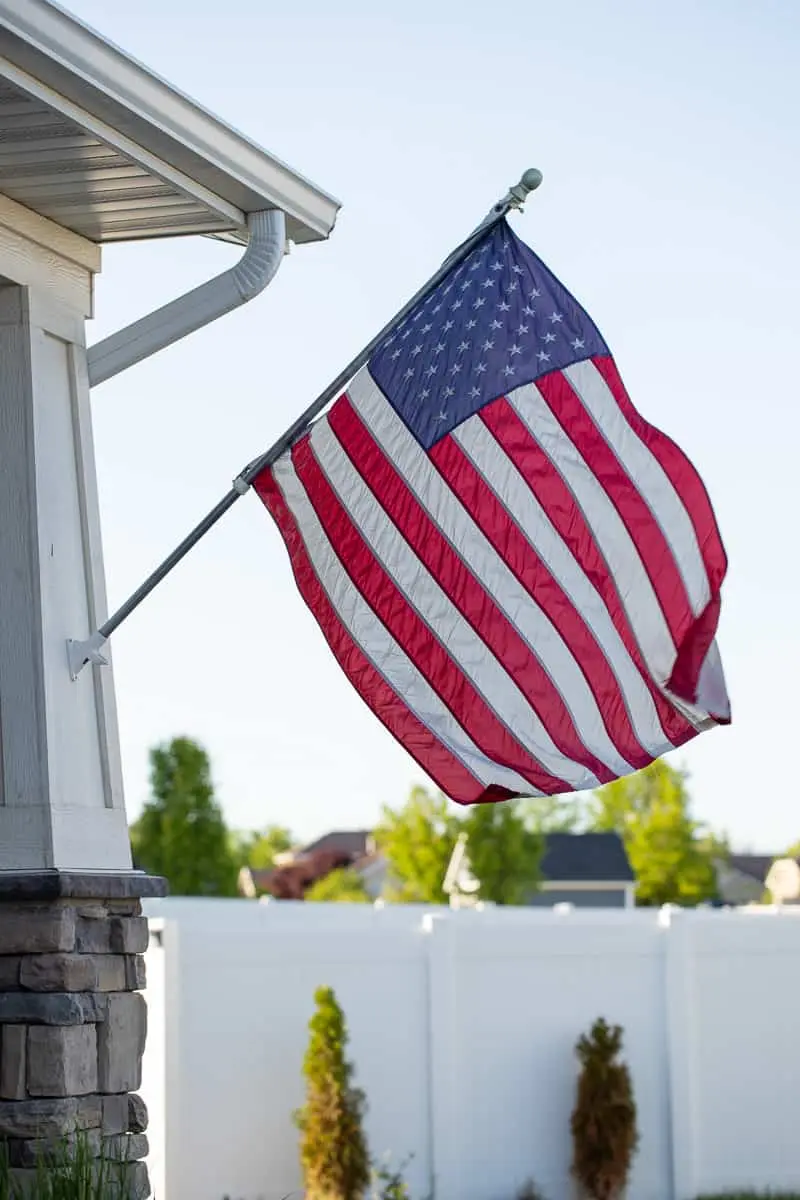 LED SOLAR LIGHTS
We love spending time outside when it gets dark, and we've been known to have some very late nights spent with neighbors in the summer!
I bought these LED solar lights from Sam's Club, and I'm absolutely LOVING THEM! They bring such a beautiful touch in the evening to the house and garden.
I love these especially because the really bright light makes a stunning sun-ray design out under our tree and flowers, and not just a little flood of light. Here are some similar ones from Amazon.
FRONT PORCH LIGHTS
Someone I know who has a super eclectic, DIY, stylish home once explained that "lights are like jewelry for your home."
I've absolutely found that to be true! The first thing we replaced when we moved into our builder-grade home was the light fixtures! It totally gave the house (inside and out) a makeover!
We've replaced most of the light fixtures in our home with modern black ones with Edison bulbs. I like the style, and it reflects a lot of the decor we have in each room. I especially love this 3-light pendant we put in our stairway. It makes a huge difference when you walk into a home and the lights bring as much personality as anything!
Since I wanted to transform the outside of our home to match the style of the interior, I chose these stunning and modern lights to replace the garage and porch lights.
The key difference with these lights I chose and some of the others online are the size. The lights are nearly 18 inches tall, which is about double what the old lights were.
Choosing larger pieces will add an instant impact to your home. It's better to have a couple large, statement pieces (whether that's pillows, lights, mirrors, decorations, or artwork) than a ton of smaller little things that look cluttered.
GARAGE LIGHTS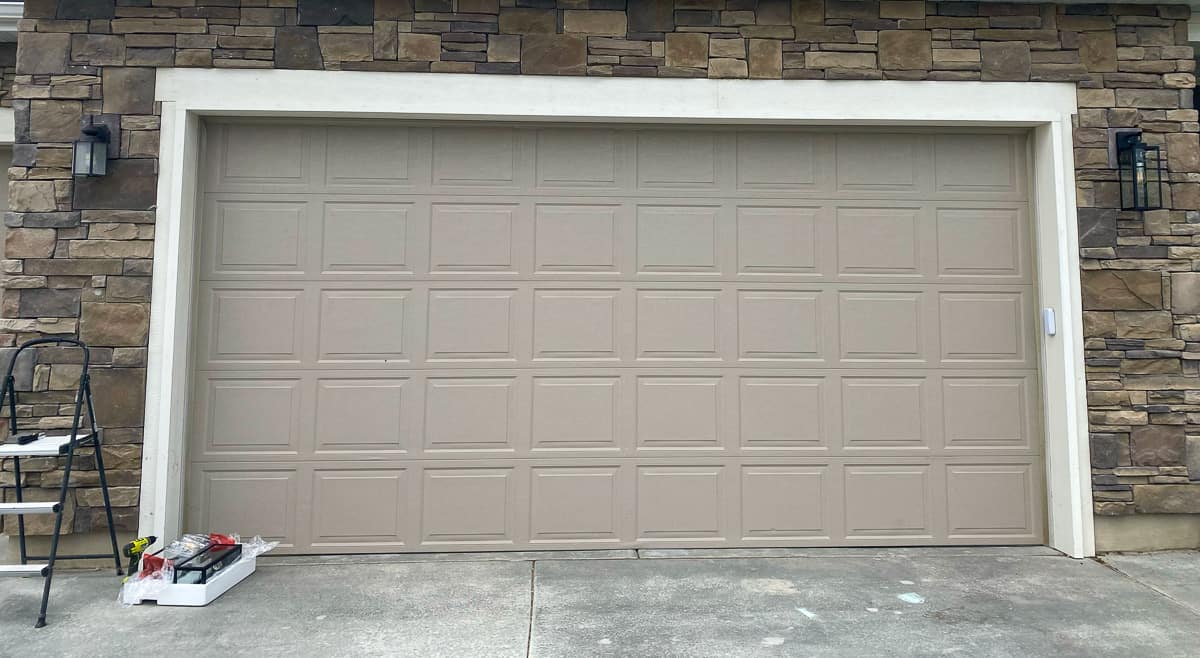 I absolutely loved the design, but I also loved the price and that they came in a set of two. You're not going to find lights like these at a hardware store for less than $150 each.
The other feature I really loved was the Dawn to Dusk feature. I've never seen lights like that before, but unlike motion sensors, these lights automatically turn on and off when exposed to sunlight. That means no matter what, they'll pop on at night and protect our home, and turn off in the morning.
This is a game changer for when we leave town or aren't home at night. We'll always come home to a lit house! It's no secret that porch or outdoor lights deter crime, so it also gives me added peace of mind.
These are the exact same ones. Sometimes these sell out quickly, so I've linked some that are almost identical, just a couple inches smaller. I also really love these large ones with the long light bulbs. Very modern and chic.
OTHER FRONT PORCH MAKEOVER ITEMS
You can find all these items and more in my Amazon Storefront shopping list!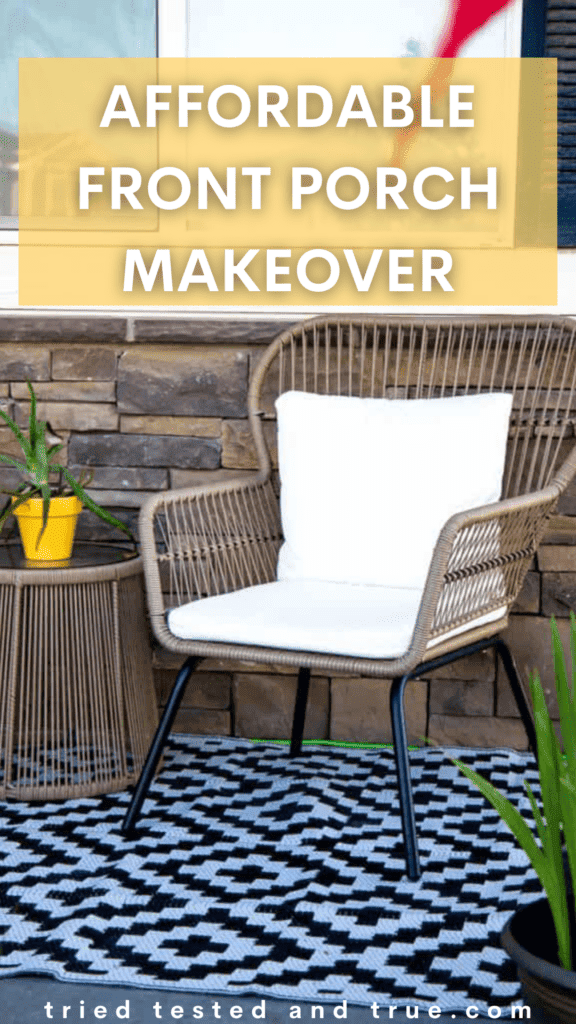 FLOWER BED SUPPLIES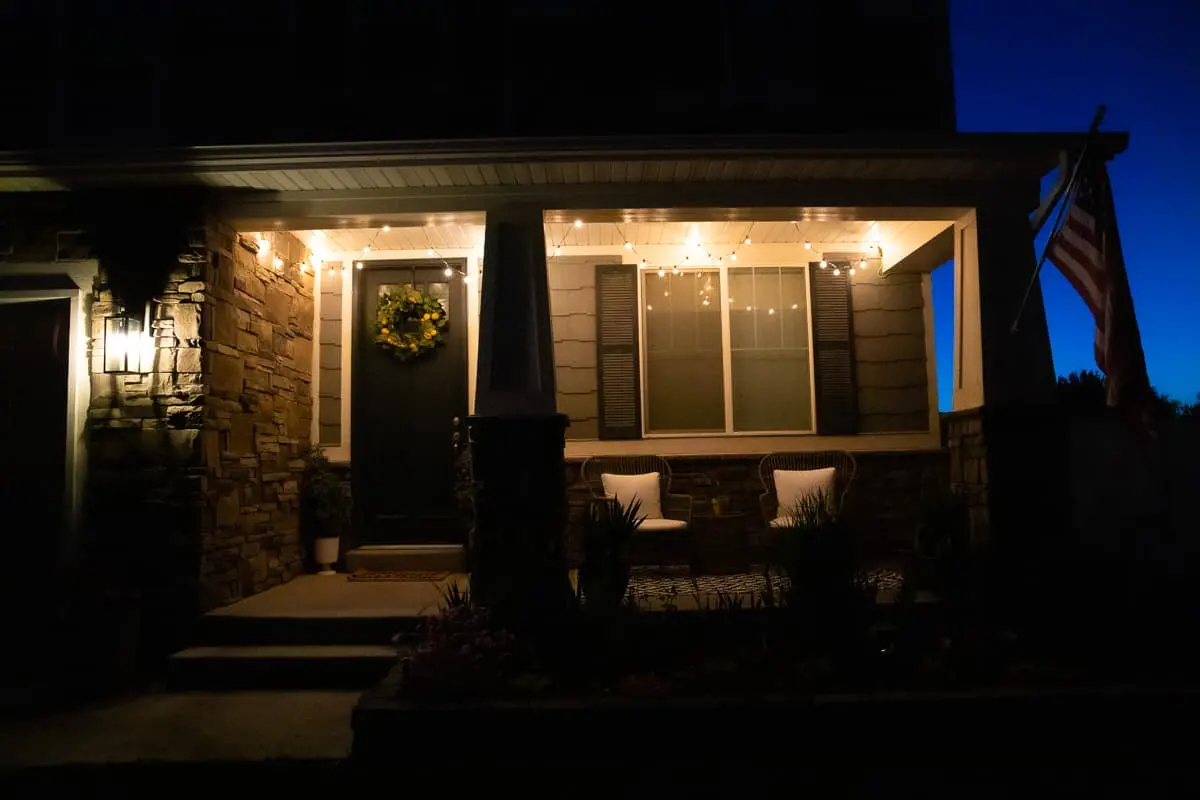 OTHER FRONT PORCH ITEMS
FRONT PORCH MAKEOVER
Thanks for reading about my years-long project to create my dream front yard! I hope I've inspired you with some ideas on how you can make your outdoor living spaces somewhere you love to spend time with my front porch makeover.
---
---