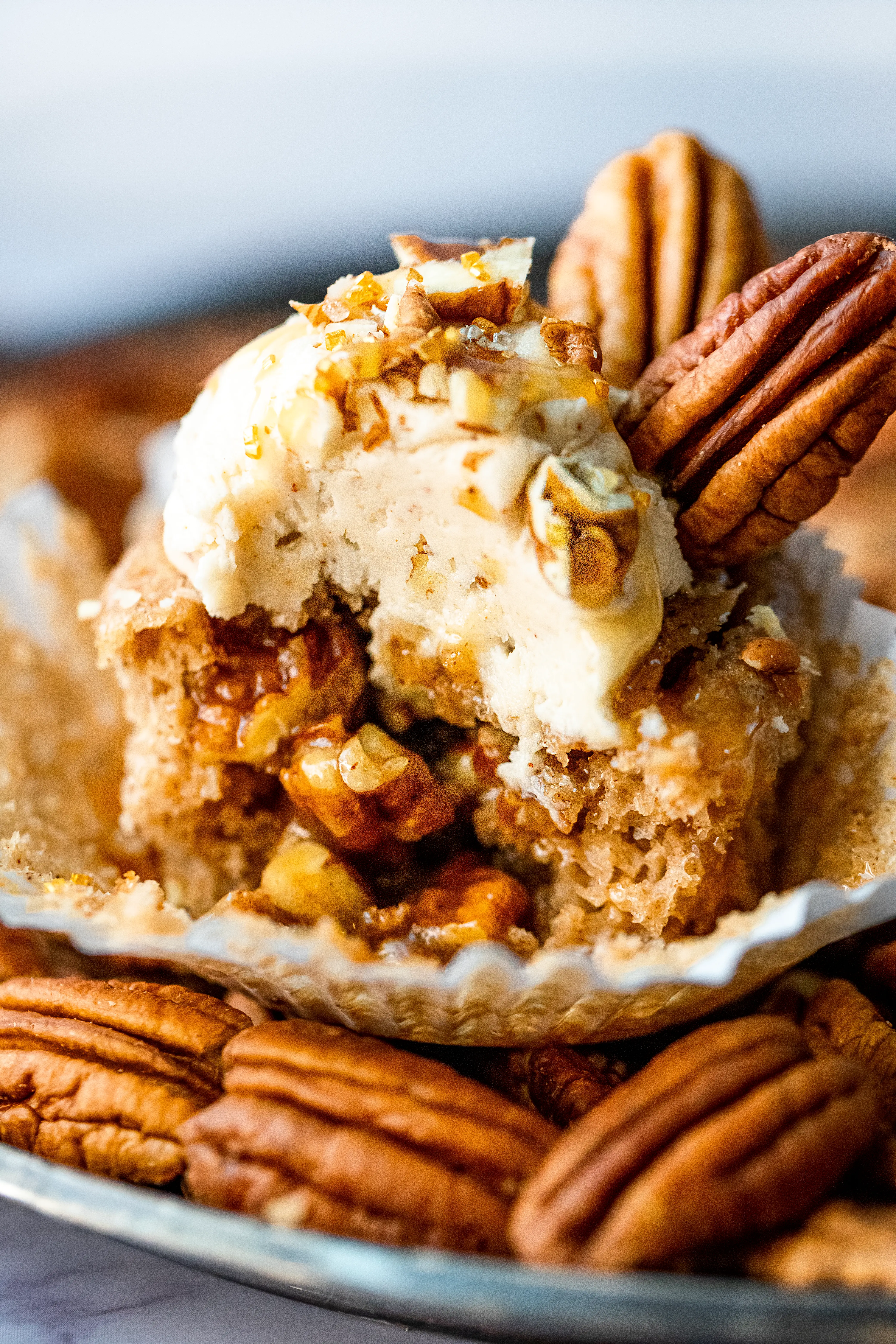 Fisher Nuts® Pecan Pie Cupcakes with Brown Butter Pecan Frosting
---
This post may contain affiliate links, which means I earn a small commission if you purchase something I recommend - at no additional cost to you! Thank you for supporting this blog!
Thank you to Fisher Nuts for sponsoring this post. You can read my whole article with Fisher Nuts on Allrecipes!
Read: Every Version of Pecan Pie You'll Ever Need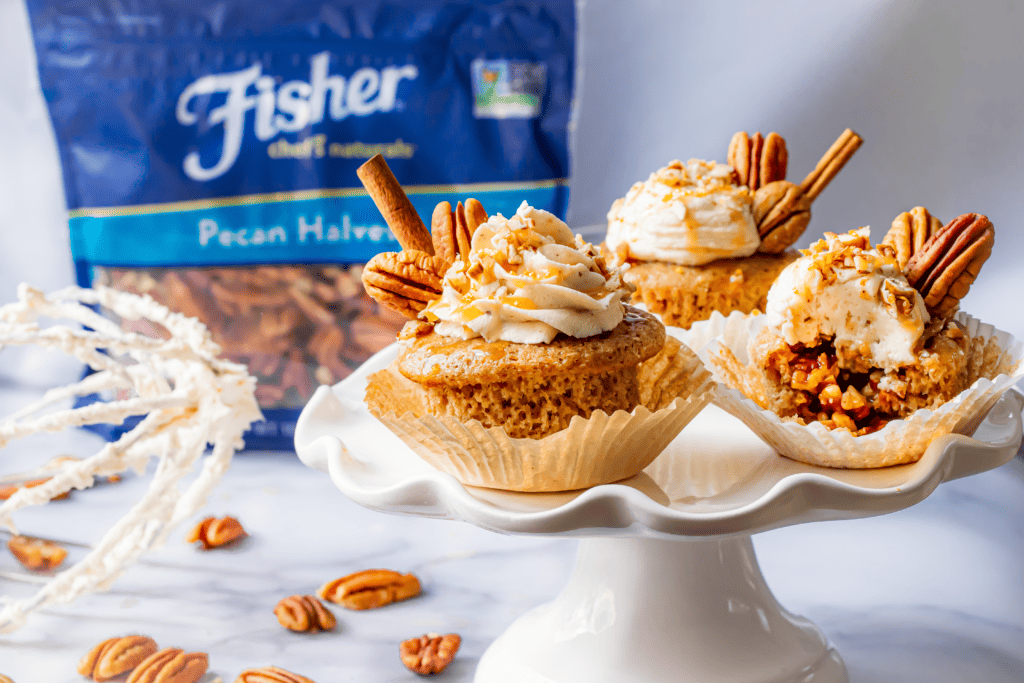 Fisher Nuts® pecans are the star in these show-stopping pecan pie cupcakes!
Spiced cupcakes are packed with a gooey, toasted pecan pie filling and topped with a nutty browned butter pecan frosting.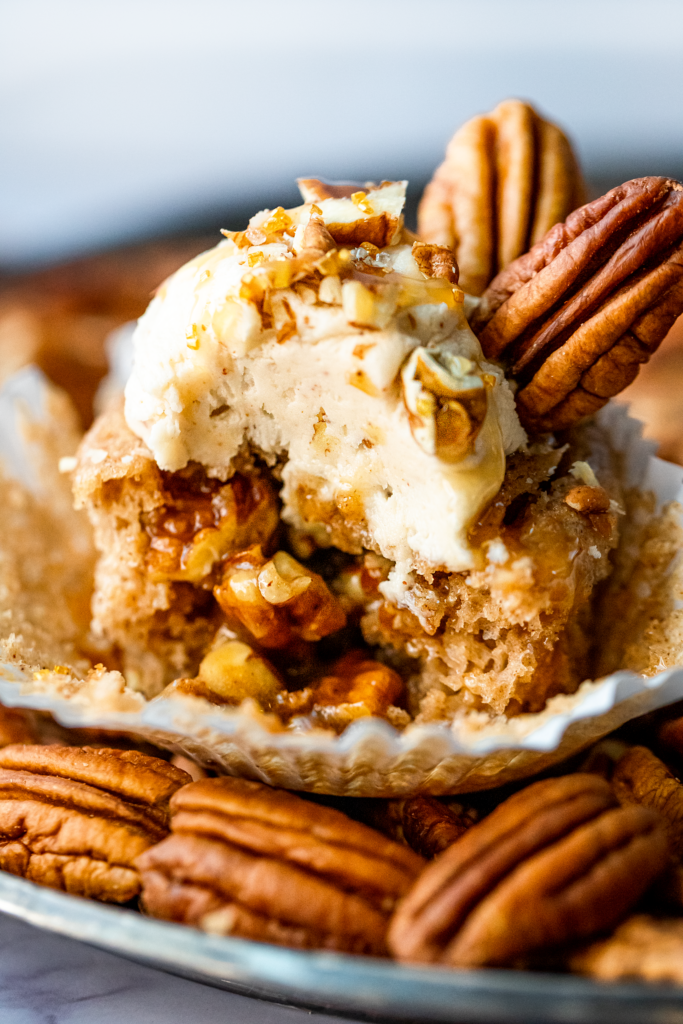 Tip: Prepare the cupcakes and filling the day before serving, then assemble the cupcakes the day-of.
Each element is simple to make, and the one extra step of making the pecan pie filling takes simple box cake mix cupcakes over the top!
Pecan Pie Cupcakes with Brown Butter Pecan Frosting
Yield:
2 dozen (24) cupcakes
Assembly and decorating time:
30 minutes
Total Time:
1 hour
50 minutes
Fisher Nuts® pecans are the star in these show-stopping pecan pie cupcakes! Spiced cupcakes are packed with a gooey, toasted pecan pie filling and topped with a nutty browned butter pecan frosting.
Ingredients
Cupcakes
Ingredients
1, 15,22 oz spice cake mix (plus ingredients on box)
½ cup sour cream
1 teaspoon vanilla
Pecan Pie Filling
2 cups Fisher Nuts Pecans, finely chopped
½ cup unsalted butter, cut into 1 tablespoon pieces
2 tablespoons heavy cream
1 cup light brown sugar
1 ½ tablespoon all purpose flour
½ teaspoon ground cinnamon
¼ teaspoon salt
2 eggs, beaten
1 teaspoon pure vanilla extract
Brown Butter Pecan Frosting
¾ cup room temperature unsalted butter, divided
3 tablespoons heavy cream
¼ teaspoon salt
½ teaspoon pure vanilla extract
4 cups powdered sugar, divided
½ cup reserved pecan pie filling
Decorations, if desired
Caramel sauce
Sugar sprinkles
Cinnamon sticks
Chopped, toasted pecans
Instructions
Cupcake Instructions
Preheat oven to 350º F
Prepare two muffin tins with 24 cupcake liners.
Prepare spice cake mix with ingredients and directions on the box (typically water, eggs, oil) with the addition of sour cream and vanilla.
Scoop batter into cupcake liners ⅔ full.
Bake for 15-18 minutes or until cupcakes reach an internal temperature of 200º F.
Let cool in the muffin tin for 5 minutes, then carefully remove to a cooling rack and let cool completely.
Pecan Pie Filling Instructions
In a large saucepan, toast nuts over medium heat until fragrant and toasty, about 3-5 minutes. Stir constantly to avoid burning. Turn off heat and remove nuts to a heatproof bowl or plate.
In the same pan, add butter and melt over low heat until just melted.
Turn off the heat and remove the pan to a heat proof surface. Add cream, brown sugar, flour, cinnamon, salt, and reserved nuts. Using a wooden spoon or heat proof silicone spatula, stir ingredients until fully incorporated into the butter.
While stirring vigorously, pour in the beaten eggs until the mixture is completely smooth and eggs are incorporated.
Place the pan on the stovetop over medium low heat and stir until just slightly thickened or until the mixture reaches 150º F, about 5 minutes. Do not boil or over-cook this mixture.
Remove ½ cup of the pecan pie mixture and reserve in a separate bowl. Remove the pan from the heat and set aside. Let cool to room temperature. Mixture will thicken as it cools.
Brown Butter Pecan Frosting Instructions
In a small pot, add ½ cup (1 stick) butter, cut into one tablespoon pieces. Over medium low heat, stir the butter until melted. When the butter starts to slightly brown, reduce the heat to low and stir constantly to brown. The butter will foam and smell nutty. Remove from the heat and pour into a heat proof bowl or liquid measuring cup and let cool to room temperature.
In a stand mixer, add remaining ¼ cup butter and whip until smooth and creamy. Add the cooled browned butter and whip together until fully incorporated. Add heavy cream, salt, vanilla, and 2 cups powdered sugar and whip on high speed until creamy, about 2 minutes.
Scrape down the sides of the bowl, then add the reserved pecan pie filling and remaining 2 cups powdered sugar. Whip on high speed until creamy and thick, about 3 minutes.
Using a wooden spoon, stir the frosting and beat any large air bubbles out of the frosting.
Cupcake Assembly
Using a sharp paring knife, cut a cone out of each cooled cupcake by holding the knife at a 45º angle. Cut the bottom tip off of each cut-out piece so only a "cap" remains per cupcake.
Fill each cupcake with about 1 tablespoon of pecan pie filling, then replace the top of the cupcake.
Frost each cupcake with a generous scoop of frosting. Alternatively, add frosting to a piping bag fitted with a large, open tip (using too small of a tip may result in a clogged or broken piping bag). Top with each cupcake with chopped pecans, caramel sauce, and/or golden sprinkles and a cinnamon stick, if desired.
Notes
Because the pecan filling contains eggs, cupcakes should be stored in the refrigerator.
Store filling in the refrigerator if not used to fill the cupcakes on the same day. Remove from the refrigerator and microwave in 20 second increments until softened when ready to use. The filling may be thinned with heavy cream or milk added in 1 teaspoon increments if needed.
Recommended Products
As an Amazon Associate and member of other affiliate programs, I earn from qualifying purchases.
---
---