This is part one of a two part series where I dive into the nitty gritty of how bloggers and influencers make money (myself included!) I know that everyone will have a different reaction to his post, and that I will get some judgement. But that's ok and I hope you see this series as a chance to learn.
This post contains affiliate links, meaning I could possibly earn a small commission if you decide to purchase one of the products I recommend through my link (you'll learn more about those below!)
Where the conversation started…
Last week, we had this conversation on Instagram. The comments and messages that came pouring in were so amazing. This is what my post said, and this blog post is a follow up to that conversation.

Sooo…. last night in my stories I mentioned a comment I received asking me not to do sponsored posts because it makes me lose credibility. I haven't been able to stop thinking about my many thoughts on the subject. Just so you know, very few people start things like this with the pure intention of making money.

It is busy moms like me who start sharing what they are making for dinner on Instagram because they LOVE it. Its passion and education and connection. At least it is for me!

Yes, I have made money over the last two years, but I also spent between 3-5 hours a day, and now more like 6-8 hours a day working on this because i love it so much.

To be absolutely CLEAR- I have ALWAYS disclosed when I am getting paid to advertise a product through the brand I've built, and I NEVER advertise or share products/restaurants/services I don't personally use/like and think are valuable to YOU, my friends! (Paid or unpaid)

I have literally sent money BACK to companies (and even LOST MONEY) after using/reviewing/cooking/photographing their products because I could not sleep at night if I made money lying to you. Your trust means SO much to me.


Instant Pot Cooking Instagram
Why I'm writing this post
I've been running my blog for exactly a week tomorrow. It's been a crazy and fun week. I haven't been so excited about something in years! And I couldn't be more grateful for YOU for being here, supporting me. You can read about how I became an accidental food blogger here.

This comment I received had me thinking a lot about a topic I could educate my readers on. All your comments were so enlightening to read, and I agreed with so many of you! Thank you for participating in that conversation!
I'm writing this post not to brag about how much money I made/make (I'll tell you exactly how much I made tomorrow). I'm writing this to share with you a side of Instagram or the internet you may not know much about.
My goal is to ALWAYS educate, and many people reached out and said they would appreciate this candid post about MONEY.
How "bloggers" or "influencers" make money, and why.

Bloggers can make money in a variety of different ways. Ad revenue, selling their own products (ebooks, clothes, courses), or advertising a specific brand. These are very common ways for online business owners to make money.
Why do bloggers make money? Because they are content creators, marketers, and their influence matters.
They spend time sharing interesting or helpful content to populate Pinterest and help solve problems. They have very specific and targeted audiences, and brands/companies know that. Instead of paying a celebrity to advertise to the masses, they're turning to influencers on social media.
There, they can advertise to a specific niche/target population and use the author's authority to help educate customers on their products. They know bloggers have loyal tribes that respect their suggestions, and that's why they make money advertising their products.
Oh. And because they have bills, mortgages, food, and kid's school pictures to pay for.
The two ways I currently earn income is through two channels:

Affiliate Marketing
Sponsored Content
What is Affiliate marketing?
Affiliate marketing is sharing a product link, and getting a small commission if someone decides to purchase that product after you recommended it at no additional charge or work for you.

How I make Money Through Affiliate Marketing
I am part of the Amazon Affiliates network, which means Amazon pays me a small commision (literally cents) on a product someone buys through my link. This does not change or increase the price for the buyer at all, and not all products are even eligible for the commission.
I include or share links when people ask about a certain product I am using. I also have an Amazon store where I have curated all my favorite and recommended products into lists like Cooking/Home, Baby/Toddler, Favorite Products $20 or less, and Gifts for Men. It's Amazon's way of thanking me for recommending a product on their website.

I also made money by being an affiliate for Ebates, which is a service I've used for many years on my own. I just realized this year that they have a referral program.
Ebates is a service that sends you CASH money BACK to you as a rebate. You get money back by shopping at thousands of vendors like Walmart, Amazon, Target, Old Navy, Expedia, Bluehost, etc. just like normal.

I never make a purchase online before checking eBates because I just get free money, no strings attached. It's not a scam and I trust it completely. So when people sign up and make a purchase after I refer them, I earn a commission plus that person gets $10 cash back automatically.
I think it's a great service and for that first purchase, you can really get a GREAT deal! Since you'll get a percentage of your initial purchase back plus the $10! If you buy a $100 product on Amazon and they are doing 3% cash back, you'll get $13 mailed to you as a check or deposited into your PayPal account.

My favorite products and Why I recommend them
If you follow me on Instagram, you see me using and talking about:
ALL the time, right?

It's because I actually use and love all these things and I talk about them the way I would when I get together with my sisters, aunts, coworkers, or girlfriends. I purchased all of these products on my own and want to share the things I love, food related or not.
SO many people have told me they love the products I recommend, which builds trust. And that trust is not something I take lightly.

Amazon has NEVER sent me a product for free to hawk to my audience. I have only ever shared products that I bought with my own money and actually use, or one instance where I was given the product to try and ended up loving enough to share on my own.
If I can't find the exact same product I have, I share a reasonably priced alternative that I would buy myself. I also share whenever I see or find a slammin good deal!

Someone messaged me this week saying how grateful they were that I share things with my reasoning explained. She purchased the Deebot robot vacuum after I posted how much I love it and why. I picked this robot vacuum for its great reviews, customer service, and price.
It was less than $200. I didn't know if I would like it, so I wanted to get something middle of the road that was still a quality product. She said that she really appreciated it since others could easily recommend the $700 vacuum they loved (obviously they're gonna love it if they got a $700 vacuum for free!)

I have skin in the game, since it's my money I work hard for. I do a LOT of research on just about every single thing I purchase online. I look up reviews, compare brands, and make a pro/con list. So rest assured, I truly only share things I love and feel confident to back.
What is Sponsored Content?

Sponsored content is when I earn income by partnering with a brand/company. They pay me to advertise their product to my audience using the brand I built. Brands pay for my time, expertise, knowledge, and influence to describe their product, give suggestions on creative uses, and educate people on how their product works to add value to their lives.
It's also not just snapping a picture on my iPhone and posting it with a caption. It's hours of emails, drafts, contracts, thinking of an idea or concept that highlights the brand PLUS still resonates with my readers, approving content, scheduling it into social media, photographing and editing images, and testing recipes.
I really take pride in offering a great, professional experience for the brands I work with, so I am extremely responsive and respectful. After all, they trust me, just like you do, and I want to give them my best too.
Losing money on sponsored content

I have been paid for sponsored content upfront, then upon receiving and trying whatever they sent, given the money back. This happened a couple of times over the last two years and it's HARD to do that to a brand.
It's 100x harder to have that conversation than it is to return the cash! One was with a national DREAM brand that I have admired since I was 10. I tried their product they sent me and HATED it.

I had spent about 6 hours communicating, planning, cooking, photographing content, writing copy, etc for this brand. This was all before I even got to the taste test. I loved and trusted the brand so much, I wasn't worried a single bit. They had only sent one sample, so I had to do it right the first time.
Learned my lesson with that one!
That meant I needed to have everything ready before and document as I went. Well, It was disgusting and I couldn't even eat it. My family spit it out (so did I!) They sent me more in case it was a bad batch.
SAME THING.
I apologized and explained I wouldn't be able to share the type of content they had asked for. How could I endorse their product after that huge fail? Even though I was grateful for the chance I had to try it, I couldn't tell others to spend their hard earned money on it.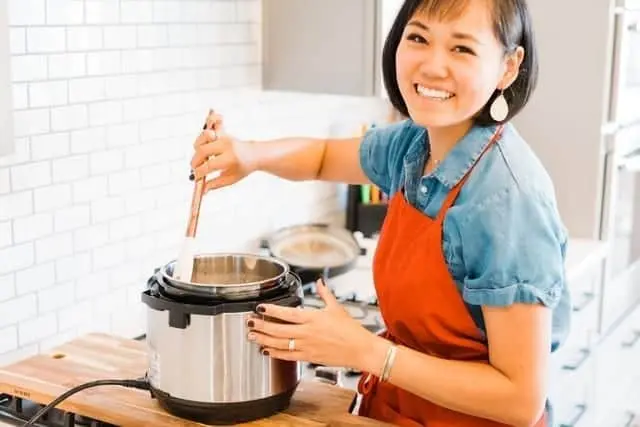 I have tried several products that just don't cut it. Either they aren't something I would use in my day to day cooking, would only be used in very specific instances, or I just don't see the value of it helping me in my life.
In these cases, I either tell the brand that I can give a review and share the product with my honest thoughts, or just return their money and I'll accept the time/money lost.
Some bloggers don't do this or can't afford to lose the money. So saying yes to things they don't believe in is one way how bloggers make money. It's sad, but it happens.
How bloggers make money, Continued Tomorrow
This post turned into an 8 page document, so I'm saving the rest for tomorrow. Tomorrow, I'll continue our candid conversation about MONEY and address these topics:
When I say YES and NO to Sponsored Opportunities
My Commitment to You (and myself!)
Why Sponsored Content Should be CELEBRATED!
Why I work for Money so I can post for FREE
How much MONEY I made in 2018 through Instant Pot Cooking
I hope you'll join me tomorrow! Thanks for reading!